Explosion-Proof LED Light Tower has height-adjustable design.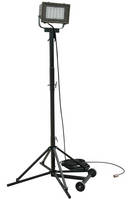 Explosion-Proof LED Light Tower has height-adjustable design.
February 18, 2013 - Featuring 4-leg, rubber-wheeled base and tower constructed of powder-coated, 1/8 in. thick steel, HAL-QP-1X150LED-100LED is adjustable from 7–10 ft in height and uses 150 W LED lamp that produces 14,790 lm in flood pattern to illuminate up to 18,000 ft². Class 1 Division 2 hazardous location-approved tower, also suited for outdoor marine use (UL1598), operates with universal 120/277 Vac, 50/60Hz current and comes with 100 ft of SOOW cord fitted with explosion-proof straight blade plug.

Original Press release

Larson Electronics, LLC
9419 E US Hwy. 175
Kemp, TX, 75143
USA



Larson Electronics Releases Adjustable LED Light Tower Designed for Hazardous Location Use


Larson Electronics has announced the release of an explosion proof approved LED light tower that provides the reliability and high output of LEDs combined with the versatility of a rugged adjustable tower mount. The HAL-QP-1X150LED-100LED Hazardous Location Light Tower features heavy duty construction and a high output LED lamp that produces output comparable to 400 watt metal halide lamps while using less than half as much power.

The Larson Electronics HAL-QP-1X150LED-100 hazardous location LED light tower is designed for use in demanding industrial and commercial applications where high output, durability, and explosion proof protection is critical. This hazardous location light tower features a high output LED lamp producing 14,790 lumens mounted to an adjustable tower constructed of powder coated heavy gauge steel, and a four leg wheeled base for high stability and easy relocation. The LED lamp on this tower is a 150 watt unit producing 14,790 lumens in a flood pattern and is capable of illuminating 18,000 square feet of area effectively. The high power LED lamp tower is encased within a housing formed from die cast aluminum and features a hinged, removable front-access door with two captive closure screws for easy servicing and heat/impact-resistant tempered flat door glass. The lamp can be easily adjusted through vertical and horizontal positions for precise beam control, and can be removed from the tower for transport or deployment. This lamp assembly is IP65 rated, suitable for wet and marine locations, and is resistant to the effects of rust and corrosion. The tower assembly features heavy 1/8" thick steel construction that has been powder coated for a durable finish and is adjustable from 7 to 10 feet in height for maximum coverage of large work spaces. This light tower also features a four leg quadpod base design to provide superior stability, and is fitted with a pair of rugged rubber wheels for easy relocation of the tower simply by leaning the unit back and rolling it into the desired position. Also included in this lighting package is 100 feet of SOOW cord fitted with an explosion proof straight blade plug for ample length and safe and secure connections. This versatile light tower operates with universal 120/277 VAC 50/60Hz current and is ideal for a wide variety of applications including offshore petrochemical processing operations, plant turnarounds, and can be easily broken down and passed through manways, reassembled, and then deployed inside containers and tanks for maintenance and cleaning applications. Approvals for this tower include Class 1 Division 2 hazardous locations, UL1598 outdoor marine use, and a T1 temperature rating.

"The HAL-QP-1X150LED-100 is an alternative to 400 watt metal halide hazardous location lighting," said Rob Bresnahan with LarsonElectronics.com. "This elevated Class 1 Division 2 LED light provides exceptionally bright area lighting for operators in confined spaces or open areas.   The elevated positioning of the lights enables multiple operators to work without creating shadows."

Larson Electronics offers a wide selection of LED work lights, LED light towers, explosion proof LED lights, intrinsically safe LEDs and LED work lights. The entire Larson Electronics line of industrial grade lighting equipment can be viewed by visiting them on the web at Larsonelectronics.com. You can also call 1-800-369-6671 to learn more about all of Larson Electronics lighting products or call 1-214-616-6180 for international inquires.

---