Explosion-Proof Connectors suit firedamp environments.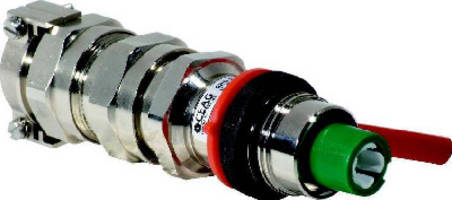 Explosion-Proof Connectors suit firedamp environments.
September 1, 2010 - With eXLink Mining Connectors, engineers can commission and decommission electrical equipment installed in underground mines without using special tools and without having to isolate, and then disconnect equipment. Units are designed with armoured cables, which are certified for use in hazardous firedamp areas. Any electrical device with power consumption up to 16 A can be plugged in and out, including light fittings, alarms, sensors, motors, and drives.

(Archive News Story - Products mentioned in this Archive News Story may or may not be available from the manufacturer.)
Original Press release

Cooper Industries
P.O. Box 4446
Houston, TX, 77210
USA



Novel Connectors Simplify Commissioning of Electrical Equipment in Hazardous Firedamp Environments


A range of innovative, explosion-proof connectors has been developed, which simplifies the commissioning and decommissioning of electrical equipment installed in hazardous firedamp environments, including underground mines.

Firedamp is a flammable gas predominantly found in coal mines, which normally comprises a number of different flammable gases, particularly methane. Firedamp is commonly found in areas where the coal is bituminous. The gas accumulates in pockets in the coal and adjacent strata, and when these are penetrated, the release of the gas can trigger an explosion.

The new eXLink Mining connector from Cooper Crouse-Hinds is certified for use in hazardous fire-damp areas. The connector enables engineers to commission and decommission a wide range of electrical equipment in underground mines, without having to use any special tools and without having to isolate, then disconnect the equipment. This means the installation, maintenance and repair of any electrical apparatus in firedamp areas can be carried out in a simple, safe but cost-effective manner.

The eXLink Mining connector is designed with armoured cables, which are certified for use in ha-zardous firedamp areas. This means that any electrical device with power consumption up to 16A - light fittings, alarms, sensors, motors and drives - can simply be plugged in and out using the con-nector.

Light fittings, for example, which are connected using eXLink can be serviced or replaced at any time without having to disconnect the complete lighting circuit. Actuators and sensors that use eXLink connectors can now be replaced quickly and safely at all times. Similarly, components on large machines can be replaced much faster and more safely, with minimal effort.

By using the eXLink 6+1 connector, current consumers with 3 phases up to 16A, PE and 2-wire control lead can be connected by using just a small plug.

The eXLink series of Ex-de protected plugs and couplers are easy to handle and compact. The contact sockets are fitted with well-proven CEAG lamellar contacts made from punched, specially treated copper beryllium tape, which, due to a large number of contact points, ensures proper electrical connection at all times. An Ex-d housing and the plug pins ensure reliable protection against firedamp in hazardous areas, both during connection and disconnection of the connector. As with other eXLink products, the plugs and sockets can be coded.

Depending on the application, the customer can choose between 4-pole plus PE (eXLink 4+1) or 6-pole plus PE (eXLink 6+1) versions. The enclosures are available in nickel-plated brass or stainless steel.

For more information on Cooper Crouse-Hinds' eXLink Mining connectors, please contact the UK sales office on 02476 308930 or email sales@ceag-crouse-hinds.co.uk or visit www.ceag.de

Cooper Crouse-Hinds (UK) Ltd

As part of the Cooper Industries Group, Cooper Crouse-Hinds (UK) Ltd is the number one company in the field of explosion protection. Committed to technological progress, the company develops and manufactures a range of products that cover all the requirements currently placed on modern, explosion-protected, electrical installation technology, including illumination, safeguarding, signalling, controlling, instrumentation and distribution of electrical energy in potentially explosive atmospheres. In the company's production plants in Germany, England and Spain, the company manufactures a wide range of products for explosion protection.

Cooper Crouse-Hinds supplies products that comply with all the latest directives and standards - worldwide. In addition to systems and components built to ATEX Directives and European Standards, the company also provides solutions that have been certified to both IEC and NEC standards. Moreover, the company also has a large number of other national approvals, e.g. for Eastern European countries, China and North America. With Cooper Crouse-Hinds you can get all you need from one source.

---