Product News: Test & Measuring Instruments
Evaluation Tool calibrates projected capacitive touchpanels.
Press Release Summary: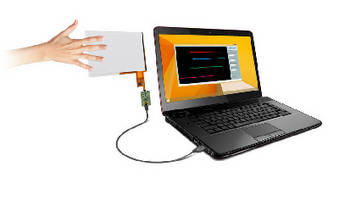 May 9, 2014 - With IPCT Improved Projected Capacitive Touchpanel Evaluation Tool, users can adjust key parameters in order to integrate PCAP Panel into application. Adjustment tool comes with USB Bridge Board controlling IPCT from notebook via USB and software. Users can change values for Threshold, Gain, Offset X, and Offset Y. If cover glass is required, IPCT can have touch sensor function and this adaption can be realized by adjusting parameters.
Original Press Release
Adjustment Tool announced for Evervision Projected Capacitive Touchpanels
Press release date: April 30, 2014
New Evaluation Tool for IPCT (Improved Projected Capacitive Touchpanel) Calibration

Gilching, Bavaria, Germany, and Karlsruhe, Germany

Display Solution AG introduced Evervision Electronics Europe's new IPCT (Improved Projected Capacitive Touchpanel) Evaluation Tool, which allows users to adjust the key parameter in order to integrate the PCAP Panel into the application.

The adjustment tool comes with a USB Bridge Board controlling the IPCT from a notebook via the USB and a Software which can be easily installed and operated with its intuitive interface.

It offers users the ability to change the values for Threshold, Gain, Offset X and Offset Y. If a cover glass is required, the IPCT can have the function as a touch sensor and this adaption can be realized by adjusting the parameters. Also the use of gloves is possible using this adjustment procedure.

The X / Y parameter adjustment can become necessary when using the cover glass. The weaker touch signals close to the edges leads to the reduction of active area of the IPCT. The X / Y offset compensates for this phenomenon in order to obtain the full active area again. 

The self-explanatory Tool Menu is easy to handle and displays the touch occurences of the IPCT. A maximum of ten touch points can be shown by separate colors, allowing a quick judgement and quality of the touch detection.

Distributor Display Solution AG offers Evervision`s standalone standard IPCT's at sizes from 3.5" to 10.2". Larger sizes from 10.4" to 17.0" will be handled, on a case by case basis, upon request.   

About Display Solution AG
Display Solution, based in Gilching, Bavaria, Germany, is a leading developer and marketer of customized LCD solutions for existing and future markets, combining leading-edge screen and electronic technologies. Products range from single components to complete system solutions built around TFT displays for commercial and industrial use with application in such areas as digital signage, point-of-sale, point-of-information, automation, measurement engineering, medical instruments, and other mobile and embedded applications. www.display-solution.com/en

About Evervision Electronics Europe
EVERVISION ELECTRONICS LTD is a Taiwanese manufacturer of high quality customized LC displays and modules, as well as industrial TFT modules and projected capacitive touch panels. Two factories with 1600 employees providing the suitable capacity and flexibility to meet the needs of professional applications. EVERVISION has a branch office in Germany for local service and moreover is represented by pan-European distributors.
www.evervisionlcd.de

Trademarks are the property of the respective parties.

Press Contact
Doris Froitzheim
Marketing Communication at Display Solution
dfroitzheim@display-solution.com 
+49 +89 (0)8105 73403-12