Product News: Test & Measuring Instruments, Computer Hardware & Peripherals, Green & Clean
Evaluation Module suits video and data display applications.
Press Release Summary: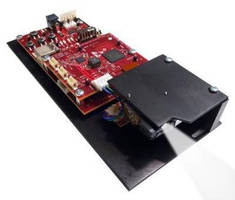 September 2, 2014 - Featuring standard HDMI interface and plug-and-play functionality, DLP® LightCrafter™ Display 2010 Evaluation Module allows quick assessment of DLP Pico™ 0.2 in. TRP WVGA display chipset. Ultra low power chipset, rated at 180 mW, consists of DLP2010 digital micromirror device, DLPC3435 display controller, and DLPA2005 power management/LED driver. Evaluation module includes 50-pin board-to-board connector that enables interface with broad range of optical engines.
Original Press Release
TI Announces First DLP® LightCrafter(TM) Evaluation Module for Video and Data Display Applications
Press release date: August 26, 2014
Evaluation module features smallest, brightest and most efficient DLP® Pico™ WVGA display chipset

DALLAS, -- Texas Instruments (TI) (NASDAQ: TXN) today announced the availability of the DLP® LightCrafter™ Display 2010 evaluation module, a developer tool that allows quick assessment of TI's 0.2" (5.29 mm) TRP WVGA display chipset. The 180-mW, ultra-low power chipset, consisting of a DLP2010 digital micromirror device, a DLPC3435 display controller and a DLPA2005 power management/LED driver, is now shipping in volume and is available through TI's worldwide distributor network.

The pico display chipset is designed to produce brighter, more efficient, next-generation projection displays from small form factors, such as smartphones, tablets, digital cameras, mobile accessories, interactive surface computing, digital signage, aftermarket head-up displays and near-eye displays.

Simple to use, the DLP LightCrafter Display 2010 evaluation module features a standard HDMI interface and "plug and play" functionality for quick assessment. The evaluation module's standard 50-pin board-to-board connector allows system designers to easily interface with a broad range of optical engines. The evaluation module comes bundled with an optical engine and a graphical user interface (GUI) for chipset configuration.

Key benefits of the DLP LightCrafter Display 2010 evaluation module

-- Quick assessment of TI's 0.2" TRP WVGA display chipset, enabling a faster product development cycle.
-- Standard HDMI-input interface offers plug-and-play functionality with various devices.
-- Simple-to-use, USB-based GUI allows for real-time chipset programming.
-- 50-pin board-to-board connector enables interface with broad range of optical engines.

Based on proven DLP Cinema® technology, the 0.2" TRP WVGA chipset leverages TI's proprietary DLP TRP architecture and adaptive DLP IntelliBright™ suite of algorithms to deliver up to 100 percent higher brightness or up to 50 percent lower power consumption than previous DLP Pico chipset architectures. Additionally, the TRP pixel architecture allows the chipset to achieve twice the resolution of its same-size predecessor.

"By offering the DLP LightCrafter Display 2010 evaluation module for sale on ti.com, developers worldwide can easily acquire and rapidly assess TI's 0.2" TRP WVGA DLP display chipset," said Frank Moizio, manager of TI's DLP Pico business unit. "Brands, system integrators and developers interested in creating bright, efficient innovative display products in the smallest form factors can learn more about the DLP LightCrafter Display 2010 evaluation module and 0.2" TRP WVGA chipset on ti.com."

To accelerate developers' ability to bring their innovative products to market, TI maintains the most extensive pico ecosystem of optical engine manufacturers in the industry. For more details, please contact a member of TI's DLP Pico ecosystem of leading optical engine manufacturers.

"TI's innovative 0.2" TRP WVGA chipset has enabled Asia Optical to develop differentiated optical modules that empower system integrators to rapidly develop and bring innovative display products to market" said Robert Lai, CEO of Asia Optical. "We've had a longstanding relationship with TI and are excited about the DLP LightCrafter Display 2010 evaluation module as well as the many and varied applications to come."

Availability
The DLP LightCrafter Display 2010 evaluation module is for sale on ti.com, and the 0.2" TRP WVGA display chipset is available through TI's worldwide distributor network.

Find out more by visiting the below links:
-- Visit TI's DLP ecosystem of leading optical engine manufacturers.
-- Visit the "Getting Started" page to begin working with DLP Pico technology.
-- View a video of the DLP LightCrafter Display 2010 evaluation module.
-- Check out TI's E2E community to search for solutions, get help, share knowledge and solve problems with fellow engineers and TI experts.
-- View a video to see example applications enabled by TI's DLP Pico technology.

About Texas Instruments DLP Products
Since 1996, award-winning DLP technology from Texas Instruments has powered the world's top display devices to deliver high resolution images rich with color, contrast, clarity and brightness for a wide range of applications, including industrial, automotive, medical and interactive displays. DLP technology is being used in movie theaters (DLP Cinema®) and large-scale, professional venues and conference rooms, classrooms and home theaters. With mobile devices enabled by DLP Pico technology, users have the ability to display images from the palm of their hand. Every DLP chipset features an array of microscopic mirrors that switch on and off up to ten thousand times per second. To learn more, please visit www.DLP.com, or follow TI's DLP technology on Twitter at www.Twitter.com/TI_DLP.

About Texas Instruments
Texas Instruments Incorporated (TI) is a global semiconductor design and manufacturing company that develops analog ICs and embedded processors. By employing the world's brightest minds, TI creates innovations that shape the future of technology. TI is helping more than 100,000 customers transform the future, today. Learn more at www.ti.com.

Trademarks
DLP and DLP Cinema are registered trademarks and DLP Pico and IntelliBright are trademarks of Texas Instruments. All registered trademarks and other trademarks belong to their respective owners.

CONTACT:
Kevin Walters
Texas Instruments
Phone, 214.479.0740
walters@ti.com