Product News: Computer Hardware & Peripherals, Electronic Components & Devices
Ethernet Transceiver supports 10 Gbps data rates.
Press Release Summary: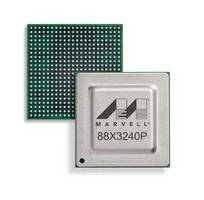 March 21, 2014 - Housed in 23 x 23 mm package, Alaska® X 88X3240P 4-Port Ethernet PHY brings benefits of IEEE 10GBASE-T standard to equipment ranging from data center and enterprise switches to storage and server equipment. Unit delivers 10 Gbps Ethernet connectivity over unshielded twisted-pair copper cabling, adhering to structured wiring rules and distances in excess of 100 m. Single chip, 28 nm monolithic device features Energy Efficient Ethernet, IEEE 1588 PTP, and MACsec link security encryption support.
Original Press Release
Marvell Unveils Groundbreaking 10G Alaska X Device for Blazing Data Speeds over Standard Twisted-Pair Cables
Press release date: March 17, 2014
Advanced 28nm lithography node enables extremely low power dissipation and high performance, setting the stage for mainstream adoption of IEEE 10GBASE-T standard

SANTA CLARA, Calif. -- Marvell (NASDAQ: MRVL) today announced the Marvell(®) Alaska® X 88X3240P quad-port Ethernet PHY, designed to bring the benefits of IEEE 10GBASE-T standard to a host of equipment types, ranging from data center and enterprise switches to storage and server equipment.

"I am very proud of our proven track record and success in the 1GBASE-T industry over a decade and now extending our leadership to the 10GBASE-T. I believe our revolutionary Alaska X 88X3240P device enables applications ranging from data centers to enterprise environments to small office computing, accelerating its adoption by the mainstream market," said Weili Dai, President and Co-Founder of Marvell. "Today's cloud-based solutions and services require vey high performance 10G Ethernet connectivity for the new era of 'Smart Life and Smart Lifestyle.' I am very thankful for our innovative and dedicated engineering teams for once again raising the technology bar and leading the pack in delivering 10G technology to the global tier-one OEMs."

According to Crehan Research, 10GBASE-T shipments have almost doubled year-over-year, outpacing the growth of all other 10 Gbps Ethernet connections. "Marvell's new 28nm device should further accelerate 10GBASE-T adoption by providing breakthrough power dissipation capabilities in an ultra-small package, positioning the technology for future computing, switching, and storage application deployments," said Seamus Crehan, President of Crehan Research.

The 88X3240P delivers 10Gbps Ethernet connectivity over unshielded twisted-pair copper cabling adhering to structured wiring rules and distances in excess of 100 meters. With industry leading low power consumption and an ultra-small 23mm x 23mm package, the device is ideally suited for high-density applications such as top of rack switches.

In addition, the 88X3240P is capable of superior Electro-Magnetic Interference (EMI) mitigation using common mode sense algorithms that do not rely on expensive so-called "5th channel" magnetics. The single chip monolithic device contains advanced features such as Energy Efficient Ethernet (EEE), IEEE 1588 Precision Timing Protocol (PTP), and MACsec link security encryption support.

Marvell's 88X3240P is the company's first Ethernet transceiver manufactured in 28nm lithography and is a true game changer. Until now, 100 meter - 10Gbps data rates were dominated by the use of more expensive optical module technology and thus did not gain traction with conventional applications. The transceiver is a lower cost alternative to optical modules and can bring 10Gps data rates to mainstream applications.

Key Facts:

--  Marvell PHYs deliver lower power and deployment costs, which are the main drivers for 10GBASE-T adoption
--  Marvell is one of the industry leaders in the Ethernet PHY market and the X3240 is the company's first 28nm 10GBASE-T PHYs
--  Marvell offers a complete portfolio of networking components with storage, PHYs, switches and CPU solutions

X3240 Product Highlights:

--  Energy Efficient Ethernet, IEEE 1588 PTP and MACsec support
--  Lower power and latency for short data center cables
--  Dual media support and auto-media detection for plug-and-play connectivity to either copper or fiber media
--  Integrated Marvell Virtual Cable Testing(®) (VCT) technology

For more information please visit http://www.marvell.com/transceivers/alaska-x-gbe/88X3240P/

About Marvell
Marvell (NASDAQ: MRVL) is a global leader in providing complete silicon solutions and Kinoma® software enabling the "Smart Life and Smart Lifestyle." From mobile communications to storage, cloud infrastructure, digital entertainment and in-home content delivery, Marvell's diverse product portfolio aligns complete platform designs with industry-leading performance, security, reliability and efficiency. At the core of the world's most powerful consumer, network and enterprise systems, Marvell empowers partners and their customers to always stand at the forefront of innovation, performance and mass appeal. By providing people around the world with mobility and ease of access to services adding value to their social, private and work lives, Marvell is committed to enhancing the human experience.

As used in this release, the term "Marvell" refers to Marvell Technology Group Ltd. and its subsidiaries. For more information, please visit www.Marvell.com.

Marvell, Alaska, Kinoma, Virtual Cable Tester, and the M logo are registered trademarks of Marvell and/or its affiliates. Other names and brands may be claimed as the property of others.

For Further Information Contact:
Marvell Media Relations
Holly Zheng
408-222-9202
hollyz@marvell.com