Ethernet Switches target high density applications.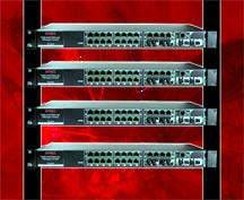 Ethernet Switches target high density applications.
December 20, 2006 - Offered in 16-, 25- and 32-port models, RK series of industrial switches are configurable with up to 4 flexible slots, accepting wide range of modules. With 1U high design, CE and UL rated switches operate from -40 to +85°C, and are NEMA-TS2, NEBS Layer3/ETSI compliant for traffic control systems and mission critical applications, respectively. Switches also feature software capabilities for network management, optimization, and security.

(Archive News Story - Products mentioned in this Archive News Story may or may not be available from the manufacturer.)
Original Press release

SIXNET
331 Ushers Rd., P.O. Box 767
Clifton Park, NY, 12065 0767
USA



Rack-Mount Managed Ethernet Switches from SIXNET


SIXNET is pleased to introduce its new RK series of rack-mount industrial Ethernet managed switches offered in 16, 25 and 32-port models. The rugged 1U 19" rack-mount packaging was designed for heavy-duty carrier class and industrial applications that require high density in order to save cost and space. The RK16, RK25 and RK32 switches are extremely configurable with up to four flexible slots that accept a wide range of modules including 10/100 Mbps and 10/100/1000 Mbps copper RJ45 ports; 10, 100 or 1000 Mbps fiber optic ports for distances up to 120 km; plus Power Over Ethernet (POE) ports.

The ruggedness and reliability of the RK switches come from their wide temperature operation (up to -40 to +85°C), as well as their truly industrial ratings. These switches are fully CE and UL rated; NEMA-TS2 compliant for traffic control systems; NEBS Layer3 and ETSI compliant for mission critical applications; and IEEE 1613 and IEC 61850 rated for power substations.

All the RK switches are a space efficient 1U high design and can be easily mounted in an industry standard 19", 23" or ETSI rack. Two of the RK16 switches can be mounted side by side in a 19" rack for the highest port density. The RK25 and RK32 are offered in front or reverse mount models to best fit any application. Plus the reverse mount models have status LEDs conveniently duplicated on both the front and back of the unit so that they can always be easily viewed.

The RK switches are loaded with the most advanced software capabilities for network management, network optimization, and most of all, network security. Real-time performance is ensured with RSTP for fast redundant rings, VLANs for virtual network segregation, QoS for priority queuing, IGMP for multicast filtering, port rate limiting and more. Network management and advanced diagnostics are provided with SNMP, RMON and port mirroring. Plus true network security with authentication and encryption is offered through SNMPv3; HTTPS / SSL for secure web management; RADIUS / TACACS for secure logins; and MAC-based port security.

For additional information about the RK series of Ethernet managed switches, contact SIXNET at 518-877-5173, e-mail sales@sixnetswitch.com, or visit SIXNET online at http://www.sixnetswitch.com. SIXNET's full line of industrial connectivity products and automation products can also be found on the website.

Product graphics and additional information available at: http://www.sixnetio.com/html_files/press_releases/press.htm

Media contact for more information:
Mike O'Connor
SIXNET Product Manager
MikeO@sixnetio.com
+1 (518) 877-5173

URL: www.sixnetswitch.com

---


Start Your

Free


Subscription to


Industry Market Trends

.