Product News: Computer Hardware & Peripherals, Electrical Equipment & Systems, Electronic Components & Devices
Ethernet Switch SoCs offer 10G connectivity.
Press Release Summary: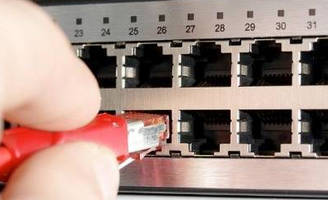 June 10, 2014 - To provide Layer 2 connectivity for 4G LTE, storage, micro-server, and SMB markets, BCM534xx StrataConnect™ Series offers 160 Gbps total bandwidth and 10 GbE I/O. Devices integrate ARM Cortex-A9 CPU and 10 Gigabit SerDes, consolidating functions of multiple chips onto single chip. Other features include advanced single-stage ContentAware Engine for ACLs and QoS, timestamping support with 1588 TC and SyncE, low-power Energy Efficient Ethernet support, and enterprise-class L2/L2+ scalability.
Original Press Release
Broadcom Announces New Multiport 10 Gigabit Ethernet Switch for Embedded Connectivity
Press release date: June 3, 2014
Latest Family of StrataConnect™ Devices Deliver 160 Gbps Bandwidth with 10G Connectivity

TAIPEI, Taiwan, – COMPUTEX 2014 -Broadcom Corporation (NASDAQ: BRCM), a global innovation leader in semiconductor solutions for wired and wireless communications, today introduced a new family of 10 Gigabit multiport Ethernet switches, adding to Broadcom's leading StrataConnect switch portfolio.  Broadcom's new system-on-chip (SoC) family is designed to improve and future proof control plane and data plane connectivity by combining 1G, 2.5G, and 10G performance and diverse and flexible input/outputs (I/Os) at very low power consumption. For more news, visit Broadcom's Newsroom.

Network equipment managers and service providers are continuously looking at high speed network technologies to serve growing bandwidth demands, while maintaining low total cost of ownership, flexibility and agility. To provide Layer 2 connectivity for 4G LTE, storage, micro-server and SMB markets, the BCM534xx StrataConnect™ family of products offers high performance and low latency, 160 gigabits per second (Gbps) total bandwidth, and 10 gigabit Ethernet (GbE) I/O that can be flexibly configured for diverse applications. When coupled with Broadcom's market leading PHYs, this new SoC family enables new generations of cost effective SMB switches either to aggregate uplinks or connect 802.11ac Wave 2 access points.

"Network topologies and operations have been transformed by the advent of smart Gigabit Ethernet (GbE) Switching. To respond to market trends and customer requirements, 10 Gigabit Ethernet switching is being rapidly deployed, not only to increase the speed of Ethernet to 10 Gbps but also to lower latency of Layer 2 interconnectivity," said Ram Velaga, Broadcom Senior Vice President & General Manager, Network Switch. "With high performance 10 Gbps, advanced Layer 2 functionality, low power and the flexible I/O configuration, Broadcom's new SoC family is ideal for embedded control plane, backplane, unmanaged and WebSmart switch applications."

According to a recent report by Dell'Oro Group, the Layer 2-3 Ethernet Switch market exceeded $22 billion in 2013, with most segments achieving record revenues during the year(1). The new Broadcom switch provides low-power capabilities ideal for product application areas such as SMB 10G aggregation switching, 802.11ac access point switching and high-capacity embedded Layer 2 connectivity.

The BCM534xx family integrates an ARM Cortex-A9 CPU and 10 Gigabit SerDes, consolidating the functions of multiple chips onto a single chip, resulting in dramatic improvements across the systems from heat, to cost, to power.  By leveraging Broadcom's unified APIs for software reuse, the SoCs enable faster time-to-market, and integrated IPv6 support helps customers future-proof the network for next-generation datacenters.

Key Features of the BCM5340x and BCM5341x Switches

--  160 Gbps Switching Capacity Bandwidth
--  Optional integrated ARM Cortex A9 CPU
--  Integrated 10G SerDes with diverse I/O for multiple configurations
--  Advanced single-stage ContentAware Engine for ACLs and QoS
--  Timestamping support with 1588 TC and SyncE
--  Low-power Energy Efficient Ethernet (EEE) support
--  Enterprise-class L2/L2+ scalability

Availability
The BCM534xx SoC family is now sampling.

For ongoing Broadcom news visit our Newsroom, read our B-Connected Blog, or visit us on Facebook or Twitter. And to stay connected, subscribe to our RSS Feed.

Resources
(1 )The Dell'Oro Group Ethernet Switch Quarterly Report

About Broadcom
Broadcom Corporation (NASDAQ: BRCM), a FORTUNE 500® company, is a global leader and innovator in semiconductor solutions for wired and wireless communications. Broadcom® products seamlessly deliver voice, video, data and multimedia connectivity in the home, office and mobile environments. With the industry's broadest portfolio of state-of-the-art system-on-a-chip solutions, Broadcom is changing the world by Connecting everything®. For more information, go to www.broadcom.com.

Broadcom®, the pulse logo, Connecting everything®, and the Connecting everything logo are among the trademarks of Broadcom Corporation and/or its affiliates in the United States, certain other countries and/or the EU.  Any other trademarks or trade names mentioned are the property of their respective owners.

Contacts:
Press
Jyotsna Grover
Manager, Product Communications
408-919-4274
jyotsna.grover@broadcom.com