Product News: Computer Hardware & Peripherals
Ethernet Line Extender supports data rates up to 30.4 Mbps.
Press Release Summary: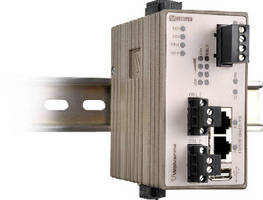 May 7, 2014 - Using SHDSL technology, DDW-142-485 establishes high-speed connection between Ethernet networks using existing copper cables. Fully managed device with Layer 2 switch functionality supports Ethernet networks over distances up to 15 km. Integral 2-port 100 Mbit switch allows 2 Ethernet devices to be attached, while RS-422/485 port enables legacy devices to be incorporated into IP network. Operating from -40 to +70°C, device is suited for mission critical railway and utility applications.
Original Press Release
Ethernet Line Extender Provides High-speed Network Connections over Existing Cabling
Press release date: April 25, 2014
Easy-to-use, compact device for mission critical railway, industrial and utility applications

Westermo has enhanced its' series of Ethernet line extenders with the release of a high-speed, compact device that is capable of meeting the increasing data transfer demands within industrial applications. The DDW-142-485 is the latest addition to the Wolverine range, which uses SHDSL technology to establish a high-speed connection between Ethernet networks using any existing copper cables. This can enable considerable cost savings to be made when installing new systems where in the past the only option would have been fibre.

The DDW-142-485 is a fully managed device with Layer 2 switch functionality that enables effective Ethernet networks to be created over distances of up to 15 km. Data rates of up to 30.4 Mbits/s are possible, making the device suitable for connecting complex networks that may include a large number of devices requiring high bandwidth. An integral 2-port 100 Mbit switch allows two Ethernet devices to be attached and a RS-422/485 port enables legacy devices to be easily incorporated into the IP network.

To support engineers that are installing and maintaining ever increasingly complex networks, the DDW-142-485 has been designed to be extremely easy to set up, requiring no configuration for simple point-to-point communications. For larger networks, a web interface is provided and a CLI allows even more complex configuration. The Wolverine range is also supplied with a unique cable distance calculator. This uses data from real world applications to enable installers to calculate the speed and achievable distances using different types of cable. Once installed, SHDSL diagnostics and management functions enable indication of line degradation allowing planned maintenance. Should maintenance be required, a back-up and restore facility enables configurations to be quickly downloaded from a USB stick.

The DDW-142-485 is designed for use in tough environments and mission critical railway, road or utility applications where device failure could result in significant costs. The rugged and very compact unit can operate in extreme temperatures (-40 to +70°C) and where EMC and vibration levels are high. Total galvanic isolation and transient protection of the electronics contribute to a MTBF of 437,000 hours, ensuring high operational reliability and a long service life.

The Wolverine's WeOS operating system provides an extensive suite of IP networking standards allowing resilient and flexible networks to be created. Developed to allow cross platform and future proof solutions, WeOS delivers a unique level of security and enables the DDW-142-485 to form part of a point-to-point, multi-drop or resilient ring network. In the event of any link or hardware failure, Westermo's unique FRNT technology is able to re-configure a large network.

The DDW-142-485 is transparent for multicast addressing, allows VPN (Virtual Private Network) pass-through for IPSec (Internet Protocol Security) and can be used with protocols like Modbus/TCP and PROFINET I/O. The DDW-142-485 also features a Link Fault Forward (LFF) functionality whereby the Ethernet link status is sent over the SHDSL link between two units.

Additional information
Bo Jansson, Product Manager
Phone   +46 16 428 000
E-Mail   bo.jansson@westermo.com

Press contact
Magnus Jansson
Phone   +46 16 428 042
E-Mail   magnus.jansson@westermo.com

Westermo provides a full range of industrial data communications solutions for demanding applications in the transport, water and energy markets among others. For more than 35 years Westermo has been at the forefront of technological development and often pushed the limits of what is technically possible. In order to provide the best possible support, we have local presence in more than 35 countries through our authorized distributors and own offices. Since 2008 Westermo has been part of the Beijer Electronics Group, a fast growing technology company with extensive experience of industrial automation, developing and marketing competitive products and solutions with focus on the user.

Link to productpage:
http://westermo.com/web/web_en_idc_com.nsf/AllDocuments/F9BCB90E95D86B3DC1257CBC00428B05

Emma Johansson
Market Communications
Westermo Teleindustri AB
SE-640 40  Stora Sundby
Phone: +46 16 42 80 19 Mobile:
Switchboard:
Web: www.westermo.com
E-mail: emma.johansson@westermo.com