Product News: Test & Measuring Instruments, Computer Hardware & Peripherals, Materials & Material Processing
Ethernet Extenders transmit data up to 10,000 ft. .
Press Release Summary: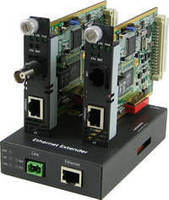 February 21, 2013 - Designed for environments where network services are needed beyond Ethernet limit of 328 ft, Ethernet Copper Extenders expand Ethernet data transmission up to 10,000 ft over copper wiring. Over 40 models of 10/100 and 10/100/1000 extenders are available, operating in temperature range of -40 to 167°F. All have on-board microcontroller to deal with link error detection and recovery.
Original Press Release
Perle Launches Ethernet Copper Extenders
Press release date: November 29, 2012
Perle Ethernet Extenders provide an economical alternative to expand a network from 100 meters to 3km, without installing any new cables.

NASHVILLE, TN—Perle Systems, a global provider of advanced Ethernet over fiber and secure device networking solutions, today introduces Ethernet Copper Extenders. Perle Ethernet Extenders are designed for environments where network services are needed beyond the Ethernet limit of 328 feet (100 meters).

With network demands often outpacing the original design, Network Administrators are frequently faced with their infrastructure operating at the brink of its capabilities. Copper-based Ethernet connections are limited to a data transmission distance of 328 feet. Perle Ethernet Extenders provide a cost effective solution to expand Ethernet data transmission up to 10,000 feet (3 kilometres) over copper wiring.

"To deal with network expansion additional copper or fiber cabling is usually installed," says John Feeney, Chief Operating Officer at Perle Systems. "However, this is an extremely costly solution. Most buildings have unused copper wiring installations left over from telephones, alarm circuits, serial applications, CATV and other equipment. Ethernet Extenders tap into that existing copper wire to transmit Ethernet frames up to 10,000 feet to Ethernet attached devices like routers, switches, PCs, digital sensors, VoIP phones, Wi-Fi Access points and IP cameras."

Perle offers over 40 models of 10/100 and 10/100/1000 Ethernet Copper Extenders that can operate in commercial grade or industrial grade (-40F to 167F / -40C to 75C) environments. All Perle Ethernet Extenders use high-end components and have an on-board microcontroller to deal with link error detection and recovery. Perle supplies a Lifetime Warranty on all Ethernet Copper Extenders.

About Perle Systems www.perle.com
Perle Systems is a leading developer, manufacturer and vendor of high-reliability and richly featured connectivity and device networking products. These products are used to connect remote users reliably and securely to central servers for a wide variety of business applications. Product lines include Console Servers, Terminal Servers, Device Servers, Media Converters, Ethernet Copper Extenders, Ethernet I/O, Serial Cards, Parallel Cards, Remote Power Switches and Multimodem Cards. Since 1976, Perle has distinguished itself through extensive networking technology, depth of experience in major real-world network environments and long-term distribution and VAR channel relationships in major world markets. Perle has offices in 9 countries in North America, Europe and Asia and sells its products through distribution and OEM/ODE channels worldwide.

Contact
pr@perle.com