Product News: Controls & Controllers, Mechanical Power Transmission
EtherCAT Servo Drive delivers 4,000 W of power.
Press Release Summary: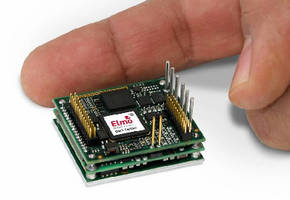 June 3, 2014 - At less than 1 oz, Gold Twitter Nano Drive delivers ultra high current of 50 A/100 V with support for EtherCAT and CANopen fieldbus communication standards. Unit runs on any servo motor and operates in current, velocity, and advanced position modes. With FASST Fast and Soft Switching Technology, drive provides >99% efficiency with negligible EMI. Gold Twitter can operate as single-axis control solution or as part of multi-axis control system in distributed configuration real-time network.
Original Press Release
Major Record Advance in the Motion Control Industry: The Gold Twitter - the Smallest EtherCAT Servo Drive
Press release date: May 20, 2014
Gold Twitter Nano Drive Delivers Ultra High Power – 4000 W in Any Industrial Environment

Petach Tikva, Israel – Elmo Motion Control, a leading provider of advanced and cost-effective motion control solutions, announced a major record-setting advance with the release of its flagship Gold Twitter product, the smallest, high-power servo drive available on the market today.

At just 18 grams (less than 1 ounce) in weight, and less than 13 cm3, the Gold Twitter delivers up to 4000 W of qualitative power, ultra high current such as 50 A / 100 V with the most advanced servo capabilities and support for EtherCAT and CANopen field-bus communication standards for deployment in a variety of application configurations, compliant with international safety, EMC standards and STO certification.

"At a record-setting power density while delivering ultra high power of 4000 W, we improved the efficiency by 200%, reduced the volume by 75% and increased the power density by more than 400%.

The GOLD Twitter is an excellent solution for applications that require very high servo performance but are very limited with space. In addition, the GOLD Twitter is rugged to meet the growing needs to mount the drives "on the motor", "next to the motor", or "on the moving mechanical load", thus ensuring the high servo performance and saving huge costs in hardware and cabling.

We're not aware of anything in the industry that approaches this power and size density," Haim Monhait, Elmo CEO concluded.

The Gold Twitter runs optimally on any servo motor and operates in current, velocity, and advanced position modes.

The Gold Twitter supports "any feedback" sensor in single, dual and gantry loop configurations.

Based on the premise that "the best way to dissipate heat is not to generate it in the first place," the Gold Twitter incorporates Elmo's proprietary FASST (Fast and Soft Switching Technology) resulting in >99% efficiency with negligible EMI.

Easily set up and tuned using the Windows® based Elmo Application Studio II (EASII) software, Gold Twitter servo drive can operate as a single-axis control solution or as part of a multi-axis control system in a distributed configuration real-time network. Among its expanded features, the Gold Twitter incorporates a powerful internal breaking shunt resistor and multi extended I/O interface.

About Elmo Motion Control
Elmo designs and manufactures cutting-edge servo drives and network motion controllers that are one-stop solutions for any motion control technology. As a leading global company with over 25 years of experience and millions of servos at work worldwide, we bring our clients profitability and success. With a focus on performance, reliability, safety and standards compliance, our solutions are integrated in a wide variety of applications from industrial to military. Visit us at www.elmomc.com.

Elmo Motion Control Inc.
42 Technology Way
Nashua, NH 03060
U.S.A.
Phone : +1(603)821-9979
Fax : +1(603)821-9943
info-us@elmomc.com

Elmo Motion Control Ltd.
Media Contact:
HARTAL Tamar
Phone : +972-3-929-2377
Fax : +972-3-929-2322
tamarh@elmomc.com