Product News: Test & Measuring Instruments
EtherCAT Box I/O Modules feature IP69K protection.
Press Release Summary: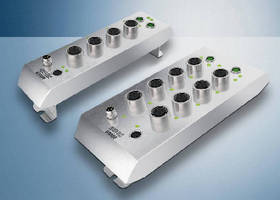 June 20, 2014 - Featuring stainless steel finish, EQxxxx EtherCAT Box I/O Series can measure, evaluate, and control processes and signals directly on machine in hygienically critical areas. Each box comprises self-contained EtherCAT device and EtherCAT slave, which can be connected directly to any other EtherCAT device via standard Ethernet cable with 100BASE-TX. Qualified for extended temperature range of -25 to +60°C, modules offer resistance to corrosion as well as impermeability to moisture.
Original Press Release
Beckhoff Releases New Stainless Steel EtherCAT Box I/O with IP 69K Protection
Press release date: June 10, 2014
Stainless steel product portfolio extended for food, beverage, pharma and chemical applications

SAVAGE, Minnesota, – The new Beckhoff EQxxxx EtherCAT Box I/O series in durable V2A stainless steel housings are rated at protection class IP 69K. As a result, these rugged and robust I/O modules are designed for use directly on machines in application areas with demanding hygienic requirements, such as in the food, packaging, chemical and pharmaceutical industries. In addition to excellent protection in harsh production environments, a wide range of digital and analog units in this new product series covers numerous I/O signal requirements.

With the new EQ series EtherCAT Box modules featuring IP 69K protection and stainless steel finish, processes and signals in hygienically critical areas can be measured, evaluated and controlled directly on the machine with the high performance of EtherCAT. The EQ series EtherCAT Box meets all "hygienic design" requirements and thrives outside of electrical cabinets: the housing and all screw connections are made entirely of stainless steel. The screws are fitted flush without grime-collecting contours. These distributed I/O boxes are mounted to the machine or equipment by means of mounting brackets. This avoids unwanted cavities and joints in which dirt can settle while ensuring proper cleaning procedures.

Due to the housing tightness in accordance with protection class IP 69K, the stainless steel box modules ensure resistance to corrosion as well as impermeability to moisture and can be cleaned with high-pressure cleaners. The EQxxxx EtherCAT Box series is qualified for the extended temperature range of -25 to +60 °C (storage temperature -40 to +85 °C) and can be used in extreme climatic zones. 

Through the integrated EtherCAT interface, the EQxxxx modules can be connected directly to an EtherCAT network without an additional Coupler Box. The high-performance of the EtherCAT industrial Ethernet system, with communication speeds in the microsecond range, is maintained into each module. Each box is a 100% self-contained EtherCAT device and an EtherCAT slave, which can be connected directly to any other EtherCAT device via a standard Ethernet cable with 100BASE-TX. 

The EtherCAT Box modules from the new EQxxxx series already cover an extensive range of I/O signal requirements:

– EQ1008-0002:    8-channel digital input, filter 3.0 ms
– EQ1809-0022:    16-channel digital input, filter 3.0 ms
– EQ2008-0002:    8-channel digital output, Imax = 0.5 A
– EQ2809-0022:    16-channel digital output, Imax = 0.5 A
– EQ2339-0022:    16-channel digital input or output, freely selectable
– EQ3174-0002:    4-channel analog input ±10 V or 0/4…20 mA, parameterizable
– EQ3204-0002:    4-channel analog input PT100 (RTD)
– EQ3314-0002:    4-channel analog input, thermocouple 

The signals are connected via rugged M12 connectors.

As with all EtherCAT Box solutions, the stainless steel box modules are exceptionally compact: the EQxxxx-0002 modules have housing dimensions of just 39 x 160 x 43 mm (W x H x D); the EQxxxx-0022 series, with 16 channels, measures 72 x 160 x 43 mm (W x H x D). 

With these new EtherCAT Box modules, Beckhoff has extended its broad product range of automation solutions with stainless steel design. Beckhoff also offers stainless steel Control Panels and Panel PCs with gap-free and flush fitting housing designs and the Beckhoff AM8800 servomotor series is also available in stainless steel. All these devices meet strict "hygienic design" requirements and are ideally suited for use in the food and beverage industry, the pharmaceutical  and chemical industries as well as in packaging technology.

For more information:
EQxxxx EtherCAT Box modules

Beckhoff Automation is a provider of advanced and open automation solutions based upon proven technologies for customers to implement high performance control systems faster and at a lower overall cost than traditional PLC and motion control systems. Beckhoff's "New Automation Technology" product range includes PC-based control, industrial PCs, automation controllers, operator interfaces, I/O, servo drives and motors. With representation in more than 60 countries, Beckhoff is well-positioned to provide global sales and service to its customers. Beckhoff sales and service are handled directly, with no intermediaries involved for exceptional customer service and consultation.

Please send readers' questions regarding "Beckhoff EQxxxx EtherCAT Box I/O series" to:

Beckhoff Automation LLC
13130 Dakota Ave
Savage, MN 55378
Toll-free: 1-877-TwinCAT
Local: 952-890-0000
Fax: 952-890-2888
email: beckhoff.usa@beckhoff.com
www.beckhoffautomation.com