Product News: Test & Measuring Instruments, Green & Clean
Entry Level Oscilloscopes offer sampling rates to 2 GS/s.
Press Release Summary: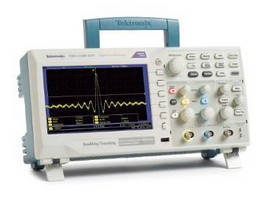 March 24, 2014 - With its integrated courseware system, TBS1000B-EDU series helps students learn while minimizing time instructors need to spend on lab sessions. Models of TBS1000B series, addressing basic R&D, service/repair, manufacturing, and electronics hobbyist applications, come with such functions as data logging, limit-test feature, and TrendPlot™ for capturing and monitoring small measurement changes over long time periods. Dual-channel oscilloscopes have 50–200 MHz bandwidth range.

Original Press Release
Tektronix Adds New Features, Performance to World's Best Value, Entry Level Oscilloscopes
Press release date: March 18, 2014
New TBS1000B-EDU, TBS1000B 2-Channel Oscilloscopes Offer Improved Learning Experience for Students, Expanded Capabilities for Basic R&D

BEAVERTON, Ore. – Tektronix, Inc., the world's leading manufacturer of oscilloscopes, today introduced the TBS1000B-EDU and TBS1000B series of 2-channel oscilloscopes. Featuring across-the-board enhancements such as a high-resolution 7-inch display, dual channel frequency counter and 34 automated measurements, the new instruments represent the best value entry level oscilloscopes for students and teachers and support a wide range of general commercial applications including basic research and development.

With digital technologies and systems continuing to make inroads into every aspect of daily life, there is a strong demand around the world for affordable - yet highly capable - oscilloscopes that can help engineers and technicians design, verify and debug these electrical systems. Similarly, there is strong global interest in giving students hands on experience with oscilloscopes. Tektronix first responded to this need with the TBS1000 Series introduced in November 2012. Now, Tektronix is increasing its focus on education while adding new capabilities that further improve convenience, efficiency and versatility for all users.

"As the introduction of the TBS1000B series illustrates, Tektronix is committed to driving innovation throughout our entire range of products," said Jeff Yost, director, Basic Oscilloscopes at Tektronix. "While many vendors overlook the entry level, we are delivering important innovations like integrated courseware, 10x oversampling on all channels for improved signal accuracy, and the most advanced analysis capabilities in this class."

Integrated Courseware for Faster Learning
The TBS1000B-EDU series are the first oscilloscopes in the industry with an integrated courseware system designed to help students learn more efficiently and effectively while minimizing the time instructors need to spend preparing and conducting lab sessions. With integrated courseware, instructors can make their lab exercise content viewable on the oscilloscope and students can conveniently capture lab results straight from the instrument.

To further extend learning options, Tektronix is developing an integrated content ecosystem that includes PC-based courseware editing software and a Tektronix website where a selection of pre-made course content can be downloaded for use on a TBS1000B-EDU instrument for free. Instructors can also use this platform to upload their own course material, viewable on other TBS1000B-EDU instruments, to share with the wider education community.

Best-Value, Most Capabilities
The TBS1000B models address basic R&D, service and repair, manufacturing and electronics hobbyist applications. These oscilloscopes are designed to perform daily measurement tasks more accurately, efficiently and conveniently than comparable oscilloscopes in this class.

Instead of the education courseware, the general purpose models come equipped with additional functions. These include enhanced data logging, a limit-test feature to define pass/fail masks for complex signals, and TrendPlot™ for capturing and monitoring small measurement changes over long time periods.

All models of the TBS1000B-EDU and TBS1000B series raise the bar for performance and function in this market segment. Distinctive capabilities include an always-on sampling rate of up to 2 GS/s providing 10X oversampling on all channels all the time, a 7-inch high-resolution WVGA display and 34 automated measurements types to maximize efficiency. Bandwidths range from 50 MHz to 200 MHz and all models come with an unrestricted 5 year warranty, the leading warranty in the industry for this class of instrument.

Pricing & Availability
TBS1000B and TBS1000B-EDU are available worldwide through authorized Tektronix partners. Prices start at $520 US MSRP.

Wondering what else Tektronix is up to? Check out the Tektronix Bandwidth Banter blog and stay up to date on the latest news from Tektronix on Twitter and Facebook.

About Tektronix
For more than sixty-five years, engineers have turned to Tektronix for test, measurement and monitoring solutions to solve design challenges, improve productivity and dramatically reduce time to market. Tektronix is a leading supplier of test equipment for engineers focused on electronic design, manufacturing, and advanced technology development. Headquartered in Beaverton, Oregon, Tektronix serves customers worldwide and offers award-winning service and support. Stay on the leading edge at www.tektronix.com.

Tektronix is a registered trademark of Tektronix, Inc. All other trade names referenced are the service marks, trademarks or registered trademarks of their respective companies.

CONTACT:
Amy Higgins
PR Manager
Tektronix
ahiggins@tektronix.com
503.627.6497