Product News: Chemical Processing & Waste Management
Engineered TPEs are available in medical grade versions.
Press Release Summary: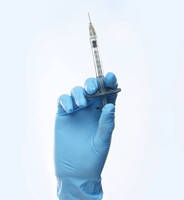 March 27, 2014 - Able to be processed by injection molding, extrusion, coating, and blow molding, medical grade engineered TPEs (thermoplastic elastomers) are available in Shore Hardness range of 35A to 74D and offer soft, flexible feel. These FDA-compliant TPEs can be used on their own or overmolded to provide tactile or functional features on components molded from other polymers, such as PP, PE, ABS, PC, SMMA, POM, and Nylon.
Original Press Release
APS Elastomers Provides Medical Grade Engineered TPEs
Press release date: March 25, 2014
APS Elastomers offers medical grade engineered TPEs (thermoplastic elastomers) that can easily be processed by injection molding, extrusion, coating, and blow molding. Features include: soft flexible feel, excellent grip characteristics, low specific gravity, easy to process and color, FDA compliant, and good compression set.  "Our unique class of polymer material combines the elastomer properties of thermoset rubbers with the processing efficiency of thermoplastics," says Stephane Morin, owner of APS Elastomers.

With ongoing product innovation TPEs continue to replace traditional elastomers and thermoplastics in a variety of medical applications- making them a cost-effective alternative to natural rubber and silicone.  Available in Shore Hardness range of 35A to 74D, the  high performance and versatile TPE material can be used on their own or overmolded to provide tactile or functional features on components molded from other polymers such as PP, PE, ABS, PC, SMMA, POM, and Nylon.

For more information on medical grade TPEs, as well as other grades for your unique applications, contact APS Elastomers Marketing Department. Email: info@apstpe.com, Web: www.apstpe.com