Product News: Safety & Security Equipment
Emercency Locator Transmitter has Cospas-Sarsat and FAA approvals.
Press Release Summary: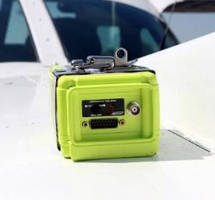 June 19, 2014 - As retrofit for obsolete 121.5 MHz ELTs in general aviation aircraft, ARTEX ELT 1000 is built under AS9100C quality certification standards and accommodates multiple installation configurations. Electronics maximize frequency stability and power, while built-in GPS navigational interface allows search and rescue personnel to determine location within 100 m in <1 min. Single antenna output is capable of emergency transmission on 406 and 121.5 MHz frequencies.
Original Press Release
ACR Electronics, Inc. Launches the ARTEX ELT 1000
Press release date: June 11, 2014
FORT LAUDERDALE, Fla. -- ACR Electronics, Inc. announces today that the all-new ELT 1000 (Emergency Locator Transmitter) has received its Cospas-Sarsat and FAA approvals and is now available for sale.  The ARTEX ELT 1000 is competitively priced and designed with multiple installation configurations to reduce overall installation cost.

The state of the art electronics maximize frequency stability and power while incorporating a new, built-in GPS navigational interface.  Including GPS data in the emergency transmission allows Search and Rescue personnel to know your location within 100 meters in less than a minute.   Designed to accommodate multiple installation configurations, the new ELT 1000 is a quick, easy and affordable retrofit for obsolete 121.5 MHz ELTs.

"We are very excited to announce this new ELT to the general aviation market. This is the first new ELT from the ARTEX family in many years and the first we have designed and certified at ACR. We feel we are bringing an ELT that offers excellent value, along with the highest quality workmanship available to the market," said Gerald Angeli, President and General Manager.

Built under the exacting standards of AS9100C quality certification, the ELT 1000 exceeds all government and regulatory standards including the latest FAA guidelines with its new robust stainless steel mounting strap.

The ARTEX ELT 1000 features and specifications are listed below:

--  Quick and easy retrofit for general aviation aircraft
--  Single antenna output for emergency transmission on both 406 MHz (Cospas-Sarsat) and 121.5 MHz frequencies (local Search & Rescue)
--  Enhanced positional accuracy with a built-in GPS interface that does not require aircraft power
--  Encoded digital message broadcasts aircraft identification/registration and owner/emergency contact details
--  New stainless steel mounting strap for increased stability that complies with the most current FAA guidelines
--  Simple self-testing from the cockpit. When combined with 406Test.com, the self-test will provide SMS/e-mail confirmation within seconds that the ELT signal reached the satellites successfully
--  New hermetically sealed G-Switch for increased reliability

ARTEX designs and manufactures an array of ELT's, battery packs and ELT accessories. ARTEX products serve a wide category of aircrafts ranging from general aviation to the world's leading airframe manufacturers, large commercial airlines and government aircraft. ELT 1000 product launch video .

About ACR Electronics, Inc.
ACR designs and manufactures a complete line of safety and survival products under the ARTEX and ACR brand names including Emergency Locator Transmitters (ELTs), Emergency Position Indicating Radio Beacon (EPIRBs), Personal Locator Beacon (PLBs), Search and Rescue Transponder (SARTs), Strobe Lights, Life Jacket Lights, Search Lights and safety accessories.  The quality management systems of this facility have been certified by TUV USA to AS9100C / ISO 9001:2008.  Recognized as the world leader in safety and survival technologies, ACR and ARTEX have provided safety equipment to the aviation and marine industries as well as to the military since 1956. The company is headquartered in Fort Lauderdale, Florida and employs over 180 at its manufacturing facility.

Media contact:

Mikele D'Arcangelo
Marketing Director
+1-954-862-2115

Nichole Kalil
Media Specialist
+1-954-862-2180