Product News: Computer Hardware & Peripherals
Embedded System Board supports industrial temperature range.
Press Release Summary: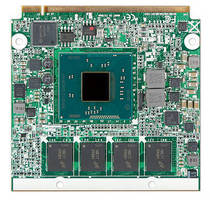 June 12, 2014 - Measuring 70 x 70 mm, PQ7-M106IL Qseven Module Board supports Intel® Atom™ processor E3815/E3825/E3826/E3827/E3845 System-on-Chip and processor speeds from 1.46–1.91 GHz. Product features 8 GB system memory, dual independent displays by LVDS/DisplayPort, one industrial-grade Gigabit Ethernet, 4 USB ports, two SATA ports, HD audio, 3 PCI-E x1, and 1 UART interface. Supporting extended temperature range of -40 to +85°C, board is suitable for transportation and traffic management systems.
Original Press Release
Portwell Takes Intel Atom Processor E3800 Series-Based Ultra Low-Power Qseven Product Portfolio to the Next Level
Press release date: June 10, 2014
New PQ7-M106IL Qseven Module Passes Harsh Environment Tests Supporting Industrial Temperature Range of -40ºC to 85ºC  

FREMONT, CA. -- American Portwell Technology, Inc., (http://www.portwell.com) a wholly owned subsidiary of Portwell, Inc., a world-leading innovator in the Industrial PC (IPC) market and a Premier member of the Intel® Internet of Things (IoT) Solutions Alliance, announces great news for OEMs and ODMs whose applications require an ultra-compact platform and a wide operating temperature range: both the PQ7-M106IL Qseven module board and its companion developer carrier board support an industrial temperature range of -40ºC to 85ºC. The new PQ7-M106IL module board is the very latest in the company's growing portfolio of Qseven module product series. At a mere 70mm x 70mm (2.75½ x 2.75½), the ultra-compact PQ7-M106IL module board supports the Intel® Atom™ processor E3815/E3825/E3826/E3827/E3845 System-on-Chip (SoC) and processor speeds from 1.46GHz to 1.91GHz. The PQ7-M106IL Qseven module board features 8GB system memory; dual independent displays by LVDS/DisplayPort; one Industrial-grade Gigabit Ethernet; four USB ports; two SATA ports; high definition audio; LPC; three PCI-E x1; and one UART interface.

With the introduction of the PQ7-M106IL, Portwell has now fully unveiled its Intel® Atom™ processor E3800 series-based product offering, replacing its Intel® Atom™ processor E6xx series based products. The PQ7-M106IL works with Microsoft® Windows® 7, Windows 8 and Linux™, delivering very strong initial performance.  Furthermore, the board is compliant with the vibration spectrum which exceeds 26rms (root mean squared). It also suitable for transportation and traffic management system embedded in our daily lives.

Efficient, Effective and Economical Solutions Using Qseven Technology  
When designing the PQ7-M106IL, Portwell applied the successful mother-daughter-boards design concept from the COM Express form factor and came up with an even more compact, efficient and economical combination. The ultra low power Intel® Atom™ processor E3800 is housed on the PQ7-M106IL module board, while the necessary connectors are on a development kit carrier board. In this way, Portwell was able to maximize Qseven technology to produce a unit that not only outputs under 5W for fanless applications, but also supports an extended -40ºC to 85ºC industrial temperature range.

Moreover, customers benefit from the PQ7-M106IL's compact, 70mm x70mm, footprint on the overall cost savings Portwell achieved from the smaller components used to make the boards.

Expanding Product Portfolio Based on Intel® Atom™ Processors  
The Qseven module has been enhanced by Portwell in response to market demand for an even smaller form factor to take advantage of the Intel® Atom™ processor's already compact design.

Portwell's innovation efforts are not limited to a single product or product family. Since its initial inception, Portwell's expanding Intel Atom processor-based Qseven portfolio has grown to include industrial temperature range support. Portwell now delivers an extensive and ever-expanding Intel Atom processor-based product portfolio featuring Qseven, Nano-ITX, ETX, COM Express, and Mini-ITX.

Product details: http://www.portwell.com/products/detail.asp?CUSTCHAR1=PQ7-M106IL

Product availability: In addition to American Portwell Technology, Inc., the Portwell PQ7-M106IL Qseven module is also available through Arrow Electronics, Inc. and Avnet, Inc.

About American Portwell Technology
American Portwell Technology, Inc., is a world-leading innovator in the embedded computing market and a Premier member of the Intel® IoT Solutions Alliance. American Portwell Technology designs, manufactures and markets a complete range of PICMG computer boards, embedded computer boards and systems, rackmount systems and network appliances for both OEMs and ODMs. American Portwell is an ISO 9001:2008, ISO 13485:2003 and ISO 14001:2004 certified company. The company is located in Fremont, California. For more information about American Portwell's extensive turnkey solutions and private-label branding service, call 1-877-APT-8899, email info@portwell.com or visit us at http://www.portwell.com.

Intel and Intel Atom are registered trademarks of Intel Corporation in the United States and other countries. All products and company names referred to herein may be trademarks or registered trademarks of their respective companies or mark holders.

Product Contact:
Richard Chang
Product Manager
American Portwell Technology, Inc.
510-403-3332
richard@portwell.com

Media Contact:
Susan Wei
Marketing Executive
American Portwell Technology, Inc.
510-403-3354
susanw@portwell.com