Embedded Board supports Cedar Trail Intel Atom D2550/N2800.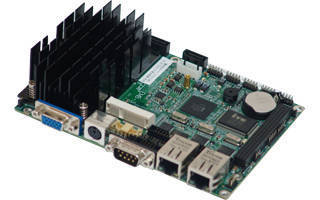 Embedded Board supports Cedar Trail Intel Atom D2550/N2800.
June 19, 2012 - Built with embedded chips, 3.5 in. EMB-3930 comes in commercial- and industrial-grade models that accommodate up to 1.86 GHz IntelŪ Atom(TM) N2800/D2550 CPU. This 5.75 x 4.00 in. board can function in fanless/battery-operated configuration, is based on Intel NM10 chipset, and offers up to 4 GB DDR3 memory. I/O - 2 GbE, 4 RS-232 with 1 full RS-232/422/485, 6 USB 2.0, 1 KB/MS, 2 SATAII, and 1 LPT - fosters machine to machine connection, and support for VGA and LVDS displays is standard.

Original Press release

HABEY USA
19575 East Walnut Drive South
City of Industry, CA, 91748
USA



3.5" Board for Cedar Trail Intel Atom D2550/N2800


Habey USA, a leading manufacturer of industrial chassis and embedded computers, today releases its new 3.5" compact embedded board with enhanced performance from IntelŪ Atom(TM) N2800/D2550 processor offered in both commercial and industrial grade models. Built with embedded chips, the EMB-3930 offers rich connective I/Os for flexible machine to machine connection and provides provide faster processing power to increase efficiency. In addition, the new compact (5.75" x 4.00" or 146mm x 105mm) EMB-3930 embedded fanless board benefits from the Atom processor's 10W power and low heat to function in a fanless and/or battery-operated configuration to provide greater flexibility and cost-savings. Designed to operate in space constrained environments, EMB-3930 is ideal for applications such as medical devices, industrial automation and handheld gaming, home entertainment, network devices, high-end vending machines and in-vehicle infotainment, and non-security-based applications such as VPN, network monitoring and gateway.

Product Highlight

Based off the Intel NM10 chipset, the EMB-3930 is able to use up to 4GB DDR3 memory with I/Os including 2 Intel 82574L Gigabit Ethernet controllers to ensure network connectivity, 4 RS-232 serial connection with 1 full RS-232/422/485, 6 USB 2.0s, 1 KB/MS, 2 SATAII, and 1 LPT to offer connectivity with a long-life cycle support inherent in every HABEY product. Support for VGA and LVDS displays provides diversified display functionalities including dual independent displays while offering a maximum native resolution of 1440x900 (D2550). For expansion slots, a mini-PCIe slots with option to configure to mini-PCIe SSD, 1 PC/104 slot for expansion cards, and GPIO are given for more flexibility for variety of applications. With ultra low power consumption, the EMB-3930 3.5' uses a 12VDC input for applications that require mobility such as in-vehicle infotainment, transit systems, and much more.

Key Advantages:

Intel NM10, onboard Intel Atom N2800/D2550 up to 1.86 GHz
Low-footprint, Low-power consumption board with 12VDC
1x DDR3 800/1066MHz SO-DIMM, up to 4GB
Support VGA+LVDS dual independent display
2x Gigabit Intel 82574L Ethernet
2x SATAII /6x USB2.0 /4x COM /1x Mini PCIe/1x LPT
Click here for price inquiry
Reviewer, click here to request review sample

Product Showcase

BIS-6763
· Intel HM65; Intel Core i3-2367M 1.4GHz 3MB Cache
· 1 x Gigabit Ethernet; RJ-45
· External access of hard drive/SSD via bottom plate
· 6x USB2.0/1x COM //2xMini PCIe

EPC-6569A
· Onboard IntelŪ Dual Core Atom(TM) N2800 D2700 2.13 GHz w/ Dedicated Nvidia GPU
· 1U rackmount design enclosure
· VGA + HDMI dual display
· Gigabit Ethernet, 6 USBs, 1 COM, 2 mini-PCIe slots, 1 PCI slot

MITX-6930
· Onboard IntelŪ Atom(TM) N2800/D2700 processor
· 1xSO-DIMM DDRIII up to 4GB
· DVI/VGA dual independent display
· 6xSerial Ports, 6xUSB 2.0, 2xGigabit Ethernet, 1xPCI, 2xMini-PCIE, onboard SIM card socket for 3G module

MITX-6932
· Fanless Dual Core IntelŪ Atom(TM) Networking Appliance
· Onboard Atom(TM) N2800 D2700
· Dual Intel Gigabit Ethernet
· 2 mini-PCIe for WiFi/3G connectivity
· VGA + HDMI dual display
· 6 USBs, 6 COM, Audio I/O, GPIO

BIS-6330
· Support 2nd generation IntelŪ Core(TM) i7 processors -QM67 chipset
· In accordance with Intel OPS
· Integrated GMA HD3000 supporting Direct X 10.1
· 1 HDMI , 3 SATA, 2 mini-PCIe slots for WiFi, 3G/4G, etc.

POS-7893
· Intel G41+ICh7 Chipset, onboard IntelŪ LGA775 Socket Core 2 Extreme, Core 2 Quad, C2D Processor
· 10x COM ports, 6x USB2.0, 1x LAN, 4x SATA, 2x VGA
· Expansion Slots of 1x mini-PCie, 1x PCI, 1x LPT

- For more product information or pricing, please contact our sales representative at sales@habeyusa.com

Copyright 2012 HABEY USA Inc.. All Rights Reserved.

---