Electromechanical Actuators support diverse applications.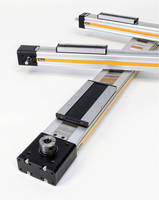 Electromechanical Actuators support diverse applications.
February 25, 2013 - Electric motor-driven actuator systems of OSPE series cover range of light- to medium-load industrial applications. Belt- and screw-driven actuators offer different drive trains to solve varying demands regarding speed, thrust force, length, and precision. Also, flexible design facilitates sizing and†selection as well as design into new/existing machine designs. Options such as choice of bearing systems solve different load requirements. Variable mounting options are also available.

Original Press release

Parker Electromechanical Automation
5500 Business Park Drive
Rohnert Park, CA, 94928
USA



Parker Releases Full Production of All OSPE Origa System Plus Electromechanical Actuator Series Built in the USA


Multiple options significantly reduce time to market

Rohnert Park, CA – Parker's Electromechanical Automation Division, a leading supplier of motion control technology, is pleased to announce the North American release of its OSPE electric actuator series. The OSPE series is the newest family of electric motor-driven actuator systems from Parker.

Developed for reliability in industrial light- to medium-load applications, the OSPE belt- and screw-driven actuators offer different drive trains to solve varying demands regarding speed, thrust force, length and precision. The flexible design of the Origa System Plus series OSPE offer actuators that are easy to size, select and design into new or existing machine designs. Multiple options like a choice of bearing systems to solve different load requirements or variable mounting options make machine integration flexible and reduce the effort to find the right product and deliver it to your market in less time.

The belt-driven actuators solve high dynamic, speed, length and load requirements in light- to heavy-duty applications, while the screw-driven actuators are designed for high thrust force transmission in precise, reliable positioning applications. The OSPE series offers short lead times and an expanded motor and gearbox mounting as standard options to make the designing process easier than ever before.

"The Origa System Plus as a world-leading brand for electromechanical and pneumatic actuation is well known in markets like materials handling, packaging and labeling, machine tool transfer and many others in demanding environments for process motion, wide speed processes or point to point applications," says Denis Eckstein, Parker product manager. "If expectations for an application include reliability, flexibility, sustainability or optimal return on investment, the OSP rodless series and its proven history in thousands of worldwide, robust industrial applications is the ideal choice."

With global availability and manufacturing locations in US, Europe and Asia, the OSPE provides a truer cost of ownership through local support, reduced shipping costs and fast response times.

The OSPE Series includes:

OSPE B Belt Actuator
The Parker OSPE B belt-driven linear actuator is a cost-effective solution designed for light to medium industrial applications requiring high speeds and long travels.

OSPE BHD Belt Actuator with Integrated Ball Bearing
The Parker OSPE BHD belt-driven actuator is the highest performing series from the Origa System Plus family. This actuator, which comes standard with an integrated ball bearing guide, uses a side-driven belt design, offering such desirable features as high rigidity and a low-profile design.

OSPE SB Ball Screw Actuator
The Parker OSPE SB ball screw driven Rodless actuator is designed for light to medium industrial applications requiring precise positioning and high thrust forces at 100% duty cycle.

OSPE ST Trapezoidal Screw Actuator
The Parker OSPE ST trapezoidal (lead) screw driven Rodless actuator is a cost effective solution utilizing a trapezoidal screw, which is ideal for lower speed and highest thrust force transmission with no back drive.

About Parker Electromechanical Automation
A division of Parker Hannifin Corporation's Automation Group since 1987, Electromechanical Automation is a pioneer, developer and manufacturer of full-spectrum computer-based motion controllers, servo/step motor drives, servo motors and human-machine interfaces, positioning systems, gearheads and gear motors.† These products automate the manufacturing of a significant fraction of the world's goods and services.† Electromechanical Automation products are sold via independent authorized Automation Technology Centers—a group of nearly 100 professional, highly trained organizations with more than 135 points-of-presence throughout the world—or directly from Electromechanical Automation by logging on to buy.compumotor.com.† An informative and up-to-date Web site with downloadable libraries, tutorials, and background information on motion control and automation is located at www.parkermotion.com.

About Parker Hannifin
With annual sales exceeding $10 billion, Parker Hannifin is the world's leading diversified manufacturer of motion and control technologies and systems, providing precision-engineered solutions for a wide variety of commercial, mobile, industrial and aerospace markets. The company employs more than 57,000 people in 43 countries around the world. Parker has increased its annual dividends paid to shareholders for 50 consecutive years, ranking it among the top five longest-running dividend-increase records in the S&P 500 index.†† For more information, visit the company's Web site at parker.mediaroom.com or its investor information site at www.phstock.com.

---


Start Your

Free


Subscription to


Industry Market Trends

.