Electromagnetic Flowmeter suits water/wastewater markets.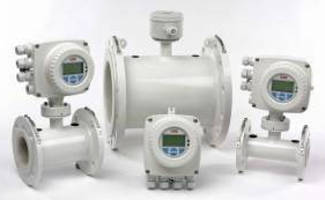 Electromagnetic Flowmeter suits water/wastewater markets.
July 14, 2009 - Available in 1.5-84 in. sizes, WaterMaster magmeter is inherently submersible (IP68) unit but may also be buried and incorporates DSP to promote performance as well as enable real-time measurements. Octagonal sensor design for sizes up to 8 in. optimizes flow profile while reducing upstream and downstream piping requirements. Signal filtering also improves measurement accuracy by reducing fluid and electrode noise. HART protocol enables online parameter modification/monitoring.

(Archive News Story - Products mentioned in this Archive News Story may or may not be available from the manufacturer.)
Original Press release

ABB Instrumentation
125 E. County Line Rd.
Warminster, PA, 18974
USA



New Electromagnetic Flowmeter Design Aimed at the Water & Wastewater Market


WARMINSTER, PA July 10, 2009 - ABB Instrumentation today announced the launch of a new range of electromagnetic flowmeters specifically targeted at the water and wastewater markets.

Part of the new FlowMaster portfolio of flowmeters, the WaterMaster magmeter is packed with advanced features and functionality that offer superior measurement capabilities and enable users to operate more efficiently, reduce costs and increase profitably. WaterMaster flowmeters are available in the most commonly installed sizes for this market-1.5 to 84 inch.

For popular sizes up to 8 inch, the new unit incorporates an innovative octagonal sensor design. This improves flow profile and reduces up and downstream piping requirements. Advanced signal filtering for the WaterMaster magmeter also improves measurement accuracy by reducing fluid and electrode noise.

All WaterMaster sensors have a rugged, robust construction to ensure a long, maintenance-free life under the most difficult conditions experienced in the water and waste water industries. The sensors are inherently submersible (IP68, NEMA 6P) as standard, ensuring suitability for installation in any environment liable to flooding.

A unique feature of the WaterMaster sensor is that all sizes may be buried; installation merely involves excavating to the underground pipe, fitting the sensor, cabling to the transmitter and then backfilling the hole. In the field, the WaterMaster flowmeter incorporates many operator-focused features. The backlit, graphical display can be easily rotated through 270 degrees, allowing field teams to customize display orientation to best fits their needs. 'Through-the-glass' control permits operators to quickly input data for all user-specific parameters in the field.

Advanced features built into the new flowmeters include:

WaterMaster flowmeters incorporate the world's first self-calibrating transmitter (patent pending). The automatic calibration process enables the meter to calibrate itself every 45 seconds without interruption to the flow measurement.

The ABB Human Machine Interface (HMI), designed into all new ABB instruments, simplifies operation, maintenance and training. It reduces cost of ownership and provides a common user experience.

All product versions use a common electronics cartridge to simplify installation and lower spare part costs and inventory.

The standard HART protocol enables online modification and monitoring of parameters.

In addition, Digital Signal Processing (DSP) gives improved performance and enables realtime measurements for maximum reliability. DSP allows the transmitter to separate the real signal from the noise, providing high quality outputs-especially in harsh environments involving vibration, hydraulic noise and temperature fluctuations.

'Fit and Flow' data storage inside WaterMaster flowmeters eliminates the need to match sensor and transmitter in the field. On initial installation, the self-configuration sequence automatically replicates into the transmitter all calibration factors, meter size and serial numbers as well as customer site-specific settings. This avoids the opportunity for errors and leads to increased speed of start-up. Synchronized storage of data in both the sensor and transmitter memory is continually updated during all operations to ensure total integrity of the measurement. The on-board sensor memory eliminates the possible problems associated with pluggable data memory modules.

WaterMaster flowmeters are proven to be robust and reliable, with unmatched diagnostic capabilities providing the right information to keep the process up and running. Alarms and warnings are classified in accordance with NAMUR NE107. The meter is also verified to OIML R49 type 'P' requirements to ensure the highest accuracy and long term performance of the system by continuous self checking the sensor and transmitter in the field. Additionally, the low end of the accuracy range follows OIML standards. All ABB flowmeters are designed and manufactured in accordance with international quality procedures (ISO 9001) and are calibrated on NIST-traceable calibration rigs to provide the end-user with complete assurance of both quality and performance.

ABB (www.abb.com) is a leader in power and automation technologies that enable utility and industry customers to improve their performance while lowering environmental impact. The ABB Group of companies operates in around 100 countries and employs about 115,000 people.

For more information please contact:
ABB Instrumentation
Rob Mapleston
Tel: 1-215-674-6580 or 1-800-829-6001
robert.mapleston@us.abb.com
www.abb.com/instrumentation

---


Start Your

Free


Subscription to


Industry Market Trends

.