Electric Vehicles run 24 hours a day.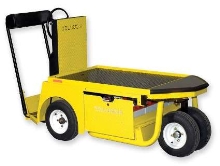 Electric Vehicles run 24 hours a day.
July 20, 2005 - Capable of towing 6,000 lb, IT34 TUGR(TM) utilizes 48 V electric power system with built-in motor braking to control rolling loads on level ground. Utilizing 24 or 48 V power, IR23 ROVR(TM) vehicle collects and tows shopping carts in medium or large shopping centers. With 48.5 x 29.5 in. load deck, IS12 StockChaser(TM) carries 1,200 lb and is offered with 24 or 48 V power system. All include NEMA motor, programmable motor controller, and microprocessor controlled charger.

(Archive News Story - Products mentioned in this Archive News Story may or may not be available from the manufacturer.)
Original Press release

Columbia ParCar Corp.
350 N. Dewey Ave., P.O. Box 30
Reedsburg, WI, 53959
USA



COLUMBIA® Adds Versatile Electric Vehicle to Product Line


Versatile Vehicle in One Small Package

CONTACT FOR FURTHER INFORMATION:
Scott Breckley, Vice President of Sales & Marketing
608-524-8888 Ext. 6214

Reedsburg, WI - July 12, 2005: Columbia proves, once again, that great things do come in small packages by introducing three distinct models based on the same versatile platform. Capable of towing 6,000 pounds, the IT34 Columbia TUGR(TM) utilizes a 48 volt, advanced electric power system with built-in motor braking to effectively control rolling loads on level ground. Able to collect and tow more shopping carts than any competitive product, Columbia's IR23 ROVR(TM) vehicle utilizes either a 24 or 48 volt electric power system built for the demands of medium or large shopping centers. And finally, Columbia's IS12 StockChaser(TM) is equipped with a 48.5 inch long by 29.5 inch wide load deck and efficiently carries an industry leading 1,200 pounds on the same basic chassis and is also available with a 24 or 48 volt electric power system.

"One of the best features designed into all three models is the ability to equip each vehicle to run in 'around-the-clock' operations" said Scott Breckley, Columbia's Vice President of Sales and Marketing. Columbia is a leader in battery exchange systems which allow customers to run their vehicles 24 hours a day, 365 days a year.

Unlike similar models from others which use only three wheels, each of the new models features a heavy duty front fork equipped with two tires and wheels as standard for increased stability. Additionally, a NEMA class H temperature rated motor is part of the standard equipment package which also includes a programmable solid state motor controller, a micro-processor controlled built-in charger that can be plugged in to virtually any AC power outlet, dual mechanical rear drum brakes and heavy-duty 14 gauge diamond plate steel unitized body and chassis for single person stand-up operation. Also standard on this vehicle are a battery discharge indicator, horn, reverse warning alarm, adjustable back rest, and a diamond plate steel covered deck board. Multiple options finish out this product line's offering including Columbia's exclusive ACE Plus(TM) regenerative braking electric power system, various axle ratios, enlarged cargo deck, side rails, hitches and more.

Regarding the new vehicle, Todd Sauey, Columbia's President/CEO noted, "Industry has been evolving in the way they handle materials at the shop floor level by recognizing that forklifts are costly and require much more care in operation and maintenance. Many operations have eliminated the use of forklifts from everywhere but the warehouse. This demands that the vehicle we design be able to operate in a 24/7 environment. This one does." He added that "the challenge was designing a battery exchange package that could be exchanged in less than five (5) minutes time. Accomplishing this objective was easy; virtually any adult, of any size, can do it."

When asked in what other applications the vehicles might be used, Sauey responded, "The users are very diverse. A manufacturer uses the IT34 to tow trailers loaded with plates of glass. A number of hospitals use the IR23 to transport goods from the receiving dock to the central kitchen and distribution points within the facility. One interesting use is - a furniture manufacturer tows trailers with the IS12 from the end of the assembly line to the warehouse. In all cases, we have replaced the use of the traditional forklift at considerable cost savings to the customer." Sauey added, "The other major use is by Big Box outlets and grocery stores that use the IR23 for shopping cart retrieval. You should see this vehicle pull the carts through the snow! Something no other shopping cart retrieval vehicle can do!"

For pricing information or the location of your nearest Columbia Dealer, you may visit www.parcar.com, or contact Columbia ParCar Corp. by phone at (800) 222-4653 or e-mail: info@parcar.com. Columbia ParCar Corp. is a Wisconsin based manufacturer of gasoline and electric powered golf cars, utility, industrial, commercial and passenger vehicles. Columbia distributes their products through an international network of independent Dealers. Columbia ParCar Corp. is a member of the Nordic Group of Companies, a family-owned management and manufacturing business headquartered in Baraboo, Wisconsin. Manufacturing operations of the Nordic Group extends throughout the United States, Mexico and Europe and includes Flambeau, Inc. and Seats Incorporated.

Columbia ParCar Corp. o A member of the Nordic Group of Companies 1115 Commercial Avenue o Reedsburg, WI 53959 o USA o 800-222-4653 o 608-524-8888 o Fax 608-524-8380 o www.parcar.com

---


Start Your

Free


Subscription to


Industry Market Trends

.