Elastomer Technology provides grip even in wet conditions.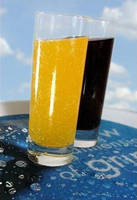 Elastomer Technology provides grip even in wet conditions.
January 24, 2012 - Use of Wet Grip elastomer technology, offered under THERMOLAST® W trade name, increases coefficient of friction (COF) in TPE materials for greater degree of grip in dry and wet applications without any negative impact on physical and rheological performance. Wet Grip compounds, which are available in 25-60 Shore A hardness and meet FDA approvals, also enhance surface smoothness, sealing, bonding, transparency, and coloring. They can also be made to adhere to engineering thermoplastics.

(Archive News Story - Products mentioned in this Archive News Story may or may not be available from the manufacturer.)
Original Press release

KRAIBURG TPE Corp.
2625 N. Berkeley Lake Rd., Suite 100
Duluth, GA, 30096
USA



KRAIBURG TPE's Innovative Elastomer Technology Delivers Optimum Grip Even When Wet


New Wet Grip Compounds Provide Three-Fold Increase In Coefficient of Friction versus Conventional TPEs

DULUTH, Ga. - KRAIBURG TPE, a leading supplier of thermoplastic elastomers (TPEs), has launched ground-breaking elastomer technology which results in TPE materials with optimum grip even in the presence of moisture for a range of consumer, industrial and medical applications. Wet Grip technology, offered under the THERMOLAST® W trade name, boasts up to three times the coefficient of friction (COF) of conventional TPE's for both dry and wet applications with no negative impact on physical and rheological performance. That gives consumer product companies a competitive advantage in their industry or could even allow the access of new market areas with their products.

The Wet Grip technology, based on styrenic block copolymers (SBS), is permanent and incorporated throughout the matrix. It does not migrate to the surface and dissipate over time and has no negative impact on processability in multi-component injection molding or extrusion processes. KRAIBURG has the ability to adapt the technology to its broad portfolio of THERMOLAST® branded SEBS elastomer compounds.

THERMOLAST® W - A New Dimension of Grip
"We've developed a one-of-a-kind material solution that gives products a firm grip even when wet," said Keith Dunlap, KRAIBURG TPE's Director of Sales and Marketing for Americas. "This is a major development for consumer product companies who want to have a competitive advantage, enabling them to make products that are safer and easier to handle."

KRAIBURG's technology can be used to eliminate the tackiness found in prior competing material solutions which use tackifiers to achieve the wet grip, or it can be used along with tackifiers to improve COF performance. KRAIBURG TPE THERMOLAST® W - Wet Grip compounds also can be made to adhere to a range of engineering thermoplastics including acrylonitrile-butadiene-styrene (ABS) and polycarbonate (PC).

KRAIBURG expects the Wet Grip technology to be adapted for a range of hand-held uses for diverse markets including sporting goods, lawn and garden, and watercraft. Possible uses for Wet Grip could potentially include anti-slip mats; tool handles; fitness equipment; serving trays for caterers; orthopedic aids such as crutches; medical, dental, and surgical instruments; kitchen utensils; children's toys; and a range of household goods.

Wet Grip compounds are available in 25-60 Shore A hardness and meet FDA approvals. Along with the unique Wet Grip performance, THERMOLAST® W compounds also provide standard performance advantages such as smooth surface, optimum sealing, versatile bonding, high transparency, and easy coloring.

KRAIBURG has teamed up with a global partner to launch the new technology and is currently working to make it available to other global OEMs and processors.
Wet Grip compounds are currently manufactured at KRAIBURG TPE's facilities in the U.S. and Germany.

About KRAIBURG TPE
KRAIBURG TPE (www.kraiburg-tpe.com) is a leading manufacturer of thermoplastic elastomers based on hydrated styrene block copolymers (HSBC), supplying customers all over the world. Apart from custom-engineered solutions, the company provides a wide range of tailor-made products for a large number of applications under the brand name THERMOLAST®. With its high-performance TPE HIPEX® range, KRAIBURG TPE offers elastomer processors access to the world of rubber. KRAIBURG TPE operates production plants in Germany, the U.S., and Malaysia. Its sales network covers the UK, France, Italy, Spain, China, and India.


---


Start Your

Free


Subscription to


Industry Market Trends

.