Product News: Test & Measuring Instruments, Computer Hardware & Peripherals, Software
Eight-Channel 8-bit PCIe Gen2 Digitizer occupies one slot.
Press Release Summary: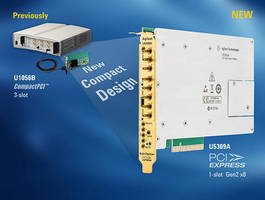 April 28, 2014 - Featuring on-board processing, U5309A immediately provides 8 channels of simultaneous acquisition with rates to 1 GS/s once plugged directly into computer PCIe® slot. Channels can be interleaved to reach 2 GS/s sampling rate, and applications benefit from data throughput provided by Gen2 eight-lane PCIe bus as well as possibility to implement real-time signal processing algorithms into on-board FPGA.
Original Press Release
Agilent Technologies Announces Single-Slot Eight-Channel 8-bit PCIe Gen2 Digitizer
Press release date: April 14, 2014
Minimum-Footprint Solution Delivers Unprecedented Channel Density

SANTA CLARA, Calif. — Agilent Technologies Inc. (NYSE: A) today introduced an eight-channel version of its U5309A 8-bit single-slot PCIe® Gen2 digitizer with on-board processing, providing unprecedented channel density and minimum footprint at this level of performance.

Until now, customers requiring an eight-channel data acquisition system had to order a three-slot cPCI chassis, including two digitizer modules and an interface card to the computer. Today they can select the single-slot, eight-channel U5309A PCIe digitizer, which has multiple advantages in cost, reliability and performance-as well as the tremendous size reduction into a single slot card. The installation is as simple as a direct plug into the computer PCIe slot, immediately providing eight channels of simultaneous acquisition.

Figure 1: Harmonics from Trueform technology using a 33500B Series Trueform waveform generator

Size evolution from cPCI to Agilent's new single-slot eight-channel 8-bit PCIe Gen2 digitizer

"This eight-channel product should interest universities and research institutes looking for a cost-effective, high-density, very reliable and high-performance high-speed digitizer," said Agilent's Jean-Luc Lehmann, product manager, Embedded OEM. "New applications will certainly benefit from this product, leveraging its high-channel density-particularly for OEM customers, where small footprint is an important factor."

The eight channels at 1GS/s version increases the offering of the U5309A product recently launched with its two-channel version. Channels can be interleaved to reach a 2 GS/s sampling rate. Applications will also benefit from the high data throughput provided by the Gen2 eight-lane PCIe bus and the possibility to implement real-time signal processing algorithms into the on-board FPGA. Custom processing for the PCIe digitizer family (U5309A and U5303A) is created using the U5340A FPGA development kit.

The eight-channel option is available now on the U5309A, 8-bit, high-speed PCIe high-speed digitizer; please contact digitizers@agilent.com.

Information about product configuration is available at www.agilent.com/find/U5309A.

High-resolution images are available at www.agilent.com/find/U5309A_8ch_images.

About the Agilent High-Speed Digitizers Team
Agilent high-speed digitizers are the result of more than 300 years of cumulative research and development experience in analog-to-digital conversion technology. This ensures the ability to achieve the most effective and reliable analog-to-digital conversion at high resolution and fast sampling rates. Information on the technology and its applications is available at high-speed-digitizer.tm.agilent.com.

About Agilent Technologies
Agilent Technologies Inc. (NYSE: A) is the world's premier measurement company and a technology leader in chemical analysis, life sciences, diagnostics, electronics and communications. The company's 20,600 employees serve customers in more than 100 countries. Agilent had revenues of $6.8 billion in fiscal 2013. Information about Agilent is available at www.agilent.com.

On Sept. 19, 2013, Agilent announced plans to separate into two publicly traded companies through a tax-free spinoff of its electronic measurement business. The new company is named Keysight Technologies, Inc. The separation is expected to be completed in early November 2014.

Contact:
Janet Smith, Americas
+1 970 679 5397
janet_smith@agilent.com
Twitter: @JSmithAgilent