Product News: Test & Measuring Instruments
EXM Wireless Test Set supports 4x4 true MIMO evolution.
Press Release Summary: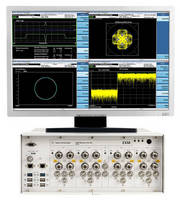 May 30, 2014 - EXM wireless test set supports 4x4 True MIMO capability for WLAN design and validation with up to 4 TRXs testing multiple-input, multiple-output antenna characteristics simultaneously. WLAN combined measurements support transmitter beam-forming test for device calibration testing, while independent source and analyzers for parallel receiver and transmitter testing further accelerate and optimize WLAN device manufacturing. TRX modules are upgradable up to 160 MHz bandwidth and 6 GHz frequency.
Original Press Release
Agilent Technologies Announces 4x4 True MIMO Evolution on EXM Wireless Test Set
Press release date: May 20, 2014
New Features Include Enhanced Capabilities for WLAN R&D, Manufacturing

SANTA CLARA, Calif. — Agilent Technologies Inc. (NYSE: A) today announced that its EXM wireless test set now supports 4x4 True MIMO capability for WLAN design and validation, with up to four TRXs testing multiple-input, multiple-output antenna characteristics simultaneously. This capability further advances the gigabit era for WLAN evolution, especially the rapidly evolving 802.11ac technology.

Other new features for the EXM include WLAN combined measurements that support transmitter beamforming test for device calibration testing, and independent source and analyzers for parallel receiver and transmitter testing to further speed up and optimize WLAN device manufacturing.

The 4x4 True MIMO enhancements allow the EXM to support the design and validation characteristics of multiple antennas in mobile devices, access points, and WLAN adapters used in R&D and manufacturing environments. The EXM versatility across the various stages of the product lifecycle allows code to be leveraged, expediting the process from new-product development to manufacturing and facilitating the ramp-up to full-volume production.

"Cellular and WLAN device manufacturers can benefit from the EXM's broad application support but can also further optimize the test instrument's usage across the design validation and production process," said Joe DePond, vice president and general manager of Agilent's Mobile Broadband Operation. "The EXM gives manufacturers a platform that protects their test system investment and easily adapts to needs that keep pace with chipset advances. This is the underlying tough goal of maximizing throughput in high-volume device manufacturing."

For manufacturing, the EXM's individual TRX modules are upgradable to up to 160 MHz bandwidth and 6 GHz frequency range with a license key. The EXM's ultimate port density and extensibility supports any combination of up to four TRX modules, which can enable up to 16 connections without the use of extra external fixtures and provides up to 32 devices with customizable multi-port adapting technology.

The EXM has the industry's broadest application coverage, with support for 2G, 3G and 4G, including LTE-A, and wireless connectivity, including WLAN 802.11ac.

Additional Information

Pricing for the EXM wireless test set is based on customer-specific test system requirements; contact Agilent at (800) 829-4444 for more information. Detailed product information is at www.agilent.com/find/exm. High-resolution images are at www.agilent.com/find/exm_images.

About Agilent Technologies
Agilent Technologies Inc. (NYSE: A) is the world's premier measurement company and a technology leader in chemical analysis, life sciences, diagnostics, electronics and communications. The company's 20,600 employees serve customers in more than 100 countries. Agilent had revenues of $6.8 billion in fiscal 2013. Information about Agilent is available at www.agilent.com.

On Sept. 19, 2013, Agilent announced plans to separate into two publicly traded companies through a tax-free spinoff of its electronic measurement business. The new company is named Keysight Technologies, Inc. The separation is expected to be completed in early November 2014.

Contact:
Janet Smith
Americas
+1 970 679 5397
janet_smith@agilent.com
Twitter: @JSmithAgilent