Product News: Computer Hardware & Peripherals, Sensors, Monitors & Transducers, Electronic Components & Devices
EEPROM-Configurable IC enables development of TPMS modules.
Press Release Summary: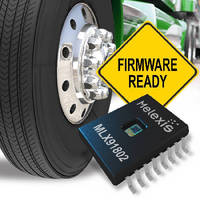 December 17, 2012 - Housed in pressure-ported, plastic SO16 package with operating temperature of -40 to 125°C, MLX91802 combines analog pressure sensor and low power sensor interfaces with MLX16 16-bit RISC-based microcontroller. MLX91802 Uni-ROM provides complete firmware solution for TPMS based on 6 modes: storage, parking, driving, pressure alert, fault, and test. It allows setting of main parameters, and defining features of different modes and transitions between them.
Original Press Release
EEPROM-Configurable IC Enables Easier Development of TPMS Modules
Press release date: December 11, 2012
Tessenderlo, Belgium, –The MLX91802 is a system in package solution for tire pressure monitoring system (TPMS) implementations that combines an analog pressure sensor and a low power sensor interface with an MLX16 16-bit RISC-based microcontroller. It is housed in a compact, pressure ported, plastic SO16 package and has an operational temperature range of -40 °C to 125 °C.

The MLX91802Uni-ROM concept makes available Melexis' ready-to-use firmware. This means that any TPMS incorporating this device can be fully developed without the need for custom software engineering. By using simple configuration tools, operating behaviors can be set so that the MLX91802 can be deployed in a customized TPMS module without writing any code.

It provides a complete firmware solution for TPMS based on 6 modes: Storage, parking, driving, pressure alert, fault and test.

•  Storage mode minimizes power consumption until sensor is installed and activated on a vehicle.
•  Driving and parking are the main operational modes supporting transmission of the measured pressure, temperature and battery voltage to the vehicle computer via the RF channel with programmable periodicity.
•  Pressure Alert mode ensures a quick response to a detected rapid pressure drop.
•  Fault mode appears if any available sensor or is faulty.
•  Test mode facilitates EOL module testing and diagnostics.

The Uni-ROM allows setting of the main parameters, defining the features of the different modes and the transitions between them. Configuration and customer data are stored in the internal EEPROM memory of the MLX91802. As well as shortening design time, utilizing Uni-ROM instead of a custom ROM permits ordering of low unit volumes.

As Melexis Product Manager Ivan Zagan notes "The need to simplify and accelerate the design in of TPMS functionality requires an approach that eliminates complex custom software engineering and development. The MLX91802 Uni-ROM is a complete solution through which engineers can leverage the experience and knowledge of Melexis in order to realize the high performance TPMS sensors their customers want in much shorter design cycles" he concludes.

The MLX91802 Uni-ROM samples are available now.

For more information go to our website www.melexis.comor contact your nearest Melexis sales office via www.melexis.com/contact.

Contact Melexis
Marketing Communications
Peter Riendeau                                                             
Melexis Inc                                                                   
15 Trafalgar Sq., Ste. 100
Nashua, NH 03063
USA
Tel: 603-204-2900
Fax: 603 578-1270 
pre@melexis.com

Sales Leads
Susan Brocious
Melexis Inc
15 Trafalgar Sq., Ste. 100
Nashua, NH 03063
USA
Tel: 603-204-2900
Fax: 603 578-1270
sbr@melexis.com

About Melexis
Melexis Microelectronic Integrated Systems N.V. (Euronext Brussels:MELE) imagines, creates and delivers innovative mixed signal integrated circuits. Melexis ICs are driving green solutions that enable our customers to bring more energy efficient automotive systems to market. Melexis product portfolio addresses 4 classes of ICs; Sensor, Optoelectronic, Wireless and Actuators. Sensors include magnetic, MEMs, and sensor interface ICs. Optoelectronic products encompass linear arrays, single point sensors, infrared thermometers and CMOS wide dynamic range and night vision cameras. Wireless ICs focus on RKE, TPMS, ISM band applications, NFC, RFID reader and smart tag solutions. Actuator ICs cover LIN and CAN bus networking ICs and advanced BLDC motor driver technology. Melexis is proud of its participation toward reducing the human race's global environmental footprint.

For more information visitwww.melexis.com