Dust Filters are made to withstand harsh environments.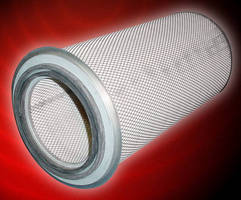 Dust Filters are made to withstand harsh environments.
March 13, 2013 - Suited for dust streams containing moist fumes, heat, chemicals, and abrasive particulate, Astech spunbond polyester cartridges are engineered for durability in tough manufacturing environments. These washable and reusable filters, temperature rated up to 200°F, are 100% non-woven polyester and offer efficiencies up to 99.9%. Intended for manufacturing filtration applications, products are resistant to abrasion and chemicals.

Original Press release

Astech, Inc.
5512 Scotch Rd.
Vassar, MI, 48768
USA



ASTECH Announces New Efficient Filter Line


VASSAR, MICHIGAN – ASTECH Inc., recently announced a new line of spunbond polyester cartridges for demanding manufacturing filtration applications.

Characterized by a high burst strength, these spunbound filters are ideal for dust streams containing moist fumes, heat, chemicals and abrasive particulate.

These filters are extremely durable for tough manufacturing environments and are temperature rated up to 200°F.  They are washable and reusable, making them an ideal longer lasting filter.

Advantages:
• 100% Non-Woven Polyester
• Washable and Reusable
• Increased Filter Life
• Efficiencies up to 99.9%
• Temperatures up to 200° F
• Abrasion and Chemical Resistant

"Our spunbound filters are easily installed and last longer versus paper and felt media. Our expertise as a foundry puts us in an ideal testing environment.   We were so pleased with the results, that we added it to our line," said Alan Bukach, President, Astech Inc.

About Astech, Inc.
Astech is a manufacturer of high performance blast replacement parts for metal casting and the power industry as well as a steel jobbing foundry specializing in the production of castings for heat, wear and corrosion resistance.  In additional to blast parts, Astech now offers a complete line of filters designed to lower energy costs and increase efficiency.

Alloys cast include: manganese steel, carbon steel, low alloy steel, stainless steel, tool steels, high chromium white irons and many nickel based alloys. Replacement blast parts are manufactured in the USA for these OEM blast machines: Wheelabrator, Pangborn, BCP, Goff and others. Sales service and support, to USA, Canada, Mexico, Brazil and Europe.

Company Contact:
Alan Bukach
alan@astechblast.com

ASTECH
5512 Scotch Rd.
Vassar, MI 48768
TEL: 800-327-8474
www.astechblast.com

Public Relations:
Barbara Castilano
Marketing Options LLC
937-436-2648
bcast@moptions.com

Marketing Options LLC
Marketing Consulting Services
7986 Clyo Rd. Ste B.
Dayton, OH 45459
Tel: 937/436-2648
Cell: 937/654-4614
Fax: 937/436-6156
SKYPE: barb.castilano
Email: bcast@moptions.com
Web: www.moptions.com

---


Start Your

Free


Subscription to


Industry Market Trends

.