Product News: Electronic Components & Devices
Dual N-Channel Power MOSFET features low on-resistance.
Press Release Summary: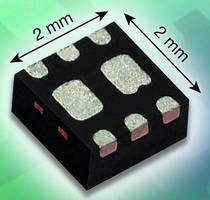 March 31, 2014 - Integrating 2 MOSFETs into one PowerPAK® SC-70 package with 2 x 2 mm footprint, halogen-free and RoHS-compliant SiA936EDJ helps conserve PCB space, simplify designs, and increase power efficiency in portable electronics. This dual n-channel TrenchFET® power MOSFET offers low on-resistance for 20 V (12 and 8 V VGS) devices at 4.5 and 2.5 V gate drives. On-resistance is 34 mΩ (4.5 V), 37 mΩ (3.7 V), and 45 mΩ (2.5 V), and built-in ESD protection is rated at 2,000 V.
Original Press Release
Vishay Intertechnology's 20 V Dual TrenchFET® Power MOSFET Offers Industry-Low RDS(ON) in 2 mm by 2 mm Footprint Area
Press release date: March 27, 2014
Device Features RDS(ON) Down to 34 mΩ at 4.5 V and 45 mΩ at 2.5 V in PowerPAK® SC-70 Package

MALVERN, Pa. — Vishay Intertechnology, Inc. (NYSE: VSH) today introduced a new dual n-channel TrenchFET® power MOSFET in the ultra-compact, thermally enhanced PowerPAK® SC-70 package. Designed to save space and increase power efficiency in portable electronics, the Vishay Siliconix SiA936EDJ features the industry's lowest on-resistance for 20 V (12 V VGS and 8 V VGS) devices at 4.5 V and 2.5 V gate drives in the 2 mm by 2 mm footprint area.

The device released today is optimized for load and charger switches, DC/DC converters, and H-bridges and battery protection for power management in smartphones, tablet PCs, mobile computing devices, non-implantable portable healthcare products, and handheld consumer electronics with small brushless DC motors. For these applications the SiA936EDJ offers extremely low on-resistance of 34 mΩ (4.5 V), 37 mΩ (3.7 V), and 45 mΩ (2.5 V) and built-in ESD protection of 2000 V. Its on-resistance at 2.5 V is 11.7 % lower than the closest competing 8 V VGS device — while providing higher (G-S) guard band — and 15.1 % lower than the closest competing device with a 12 V VGS.

The device's industry-low on-resistance allows designers to achieve lower voltage drops in their circuits and promote more efficient use of power and longer battery run times. By integrating two MOSFETs into one compact package, the dual SiA936EDJ simplifies designs, lowers the overall component count, and saves critical PCB space. The MOSFET is 100 % Rg-tested, halogen-free according to the JEDEC JS709A definition, and compliant to RoHS Directive 2011/65/EU.

Samples and production quantities of the SiA936EDJ are available now, with lead times of 12 to 14 weeks for larger orders. Pricing for U.S. delivery only starts at $0.12 per piece in 100,000-piece quantities.

Vishay Intertechnology, Inc., a Fortune 1000 Company listed on the NYSE (VSH), is one of the world's largest manufacturers of discrete semiconductors (diodes, MOSFETs, and infrared optoelectronics) and passive electronic components (resistors, inductors, and capacitors). These components are used in virtually all types of electronic devices and equipment, in the industrial, computing, automotive, consumer, telecommunications, military, aerospace, power supplies, and medical markets. Vishay's product innovations, successful acquisition strategy, and "one-stop shop" service have made it a global industry leader. Vishay can be found on the Internet at www.vishay.com.

TrenchFET and PowerPAK are registered trademarks of Siliconix incorporated.

http://twitter.com/vishayindust
http://www.facebook.com/VishayIntertechnology