Product News: Computer Hardware & Peripherals, Electronic Components & Devices, Green & Clean
Dual-Core MCUs suit functional safety applications.
Press Release Summary: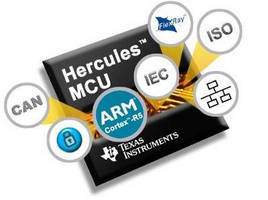 June 3, 2014 - Based on 32-bit lockstep ARM® Cortex®-R5 cores in cached memory architecture, Hercules™ RM57Lx and TMS570LCx support speeds up to 330 MHz, delivering 550 peak DMIPS, 660 peak MIPS, and up to 330 MFLOPS. RM57Lx models help developers meet IEC 61508 functional safety standards, while TMS570LCx MCUs help meet ISO 26262 functional safety standard. Floating point devices support up to 4 MB of integrated program Flash, 512 KB of on-chip RAM, and 128 KB of data Flash for EEPROM emulation.
Original Press Release
TI Introduces Fastest Hercules(TM) MCUs Targeted at Developers' Functional Safety Industrial, Medical, Automotive and Transportation Designs
Press release date: May 22, 2014
Hercules RM57Lx and TMS570LCx ARM® Cortex®-R5 MCUs are 50 percent faster with enhanced features for functional safety and largest on-chip memory

HOUSTON, – Adding to its portfolio of SafeTI™ design components, today Texas Instruments Incorporated (TI) (NASDAQ: TXN) introduces its latest 32-bit dual-core lockstep Hercules™ RM57Lx and TMS570LCx microcontrollers (MCUs) for developers' functional safety applications. Unique to the Hercules MCU platform, these two new floating-point devices offer a 50 percent increase in computational performance over any of TI's current ARM® Cortex™-R MCUs, allowing system designers to utilize a single Hercules MCU to replace several discrete MCUs or an FPGA-MCU combination. These new Hercules MCUs also provide the largest available on-chip flash and RAM in the Hercules platform, along with several safety feature enhancements.  System and software developers will enjoy an insightful, efficient and powerful debug experience for code profiling and greater execution visibility, enabled by integrated real-time instruction and data trace support.

Easing development reuse and product scalability, the new lockstep and cached MCUs are software- and pin-compatible with TI's existing Hercules MCU portfolio. The new Hercules RM57Lx MCUs help developers more easily and quickly meet IEC 61508 functional safety standards for a variety of applications, including railway signaling, aviation anti-skid, programmable logic controllers, motors and drives and medical equipment. The new Hercules TMS570LCx MCUs will likewise help designers more easily and quickly meet the ISO 26262 functional safety standard for transportation applications like advanced driver assistance systems, domain control, electric propulsion systems and off-road vehicles.

Features and benefits of the new Hercules RM57Lx and TMS570LCx MCUs:

--  Address greater application performance needs with lockstep ARM Cortex-R5 cores in a cached memory architecture with speeds up to 330MHz that delivers 550 peak DMIPS, 660 peak MIPS and up to 330 MFLOPS  These MCUs help further improve system performance with a new memory architecture supporting additional parallel bus master accesses and a multi-port direct memory access (DMA) controller.
--  Support ever-increasing application code size requirements and expand system functionality with the largest ECC enabled on-chip memory in the Hercules lineup with up to 4 MB of integrated program Flash, 512 KB of on-chip random access memory (RAM) and 128 KB of data Flash for EEPROM emulation.
--  Accelerate IEC 61508 SIL-3 and ISO 26262 ASIL-D compliance and end product application certification with Hercules MCUs and the accompanying SafeTI design package components, which includes: TI's safety-related semiconductor components, quality manufacturing process, safety development process, safety-related documents, tools and software.
--  Ease software development with TI's diagnostics library and HALCoGen driver software. In addition, TI provides MCAL supporting AUTOSAR 4.0.3 for the TMS570LC devices. TI's ARM Compiler Qualification Kit helps developers document, analyze, validate and qualify use of the TI ARM compiler to help meet the requirements of the IEC 61508 and ISO 26262 standards.
--  Simplify functional safety application design with enhanced on-chip diagnostics. Building on current Hercules MCU safety features, the new devices add a new lockstep vectored interrupt manager, new on chip interconnect diagnostics and expanded memory protection for the CPU and bus masters. These devices also include single-bit error correction an double-bit error detection via ECC for instruction and data caches and select peripheral RAM buffers.
--  Enable networking, data collection and field software upgrades with on-chip Ethernet, FlexRay and CAN connectivity.
--  Utilize TI's complementary TPS65381-Q1 multi-rail power supply (PMIC) for a SafeTI chipset for functional safety designs requiring multiple power supply rails, integrated sensor supply, functional safety diagnostics and supporting documentation
--  Jumpstart development with full-featured Hercules Development Kits (TMDXRM57LHDK or TMDXTMS570LCHDK) that include a development board, TI's Code Composer Studio™ integrated development environment (IDE), timer coprocessor IDE, HALCoGen peripheral configuration tool and safety demo.
--  Gain enhanced debug experience with out-of-the-box real-time trace capabilities. Hercules RM57Lx and TMS570LCx MCUs support cycle-accurate instruction and data trace capability via ARM's Embedded Trace Macrocell™ (ETM) at 6 Gbps bandwidth. Get a Hercules Trace Development Kit bundle today (PN: RM57-PROTRACE, 570LC-PROTRACE).

Pricing and availability
New Hercules RM57Lx MCUs are priced at $28.32 USD and FlexRay-enabled, Q100 qualified Hercules TMS570LCx MCUs are $32.15 USD in 10KU quantities and are immediately available for order in sample quantities. A variety of tools ranging from $199 to $3,699 USD (for full-featured real-time debug trace) and free software listed above are available today.

Innovation is at the core of TI MCUs
Beginning with the foundation of leading process technology and adding unique system architecture, intellectual property and real-world system expertise, TI continues its 20+ years of MCU innovation with ultra-low-power MSP MCUs, real-time control C2000™ MCUs, Tiva™ ARM® MCUs and Hercules™ safety MCUs.  Designers can accelerate time to market with TI's ecosystem of tools, software, wireless connectivity solutions, extensive Design Network offerings and technical support.

About Texas Instruments
Texas Instruments Incorporated (TI) is a global semiconductor design and manufacturing company that develops analog ICs and embedded processors.  By employing the world's brightest minds, TI creates innovations that shape the future of technology.  TI is helping more than 100,000 customers transform the future, today.  Learn more at www.ti.com.

Trademarks
MSP430, C2000, Tiva, Hercules, MotorWare and Code Composer Studio are trademarks of Texas Instruments Incorporated.  All registered trademarks and other trademarks belong to their respective owners.

CONTACT:
Randi Williams
Texas Instruments
(214) 567-4640
rwilliams@ti.com