Product News: Computer Hardware & Peripherals, Machinery & Machining Tools
Dual-Band Outdoor Access Points suit high-density venues.
Press Release Summary: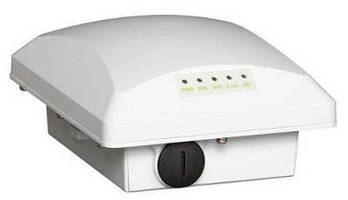 June 25, 2014 - Measuring 7 x 5.9 x 3.4 in. and 7.6 x 9.4 x 4.3 in., respectively, omnidirectional ZoneFlex™ T300 and narrow band ZoneFlex T301n integrate BeamFlex+™ technology for interference mitigation in challenging RF environments as well as ChannelFly™ for predictive channel selection based on real-time capacity analysis of all RF channels. Purpose-built to withstand harsh environments, both IP67-rated 802.11ac APs support 300 Mbps at 2.4 GHz (802.11b/g/n), and up to 900 Mbps at 5 GHz (802.11ac).
Original Press Release
Ruckus Wireless Launches Industry's Lightest, Smallest 11ac Outdoor Access Points - the ZoneFlex T300 Series
Press release date: June 17, 2014
Industry's First Outdoor 802.11ac APs with Embedded Adaptive Antennas in Incredibly Lightweight, Small Form Factors that are Designed for High Density Venues

SUNNYVALE, Calif., – Ruckus Wireless, Inc. (NYSE: RKUS) announced today the launch of the first two models in a line of new Ruckus ZoneFlex™ T300 Series outdoor 802.11ac access points (APs), the ZoneFlex T300 omnidirectional and ZoneFlex T301n narrow band models.  These are concurrent, dual-band APs featuring the industry's smallest and lightest form factors. Both are designed specifically for high density user environments such as stadiums, railway station platforms, dense metro/urban hot zones, and other outdoor venues such as outdoor college campuses, business parks, and town squares.

The ZoneFlex T300 Series access points are the only outdoor 802.11ac APs on the market to integrate patented Ruckus BeamFlex+™ technology for optimal performance and interference mitigation in challenging RF environments as well as ChannelFly™ for predictive channel selection based on real-time capacity analysis of all RF channels.

The most groundbreaking features of both the ZoneFlex T300 and ZoneFlex T301n are their lightweight and ultra compact form factors. At just 2 and 2.1 pounds (0.9 kg and 1 kg) respectively including built-in BeamFlex antennas, the ZoneFlex T300 and T301n are significantly lighter than other outdoor 802.11ac APs. With total dimensions, including their internal antennas, of 7"w x 5.9"d x 3.4"h (18cm x 15cm x 8.6cm) for the ZoneFlex T300, and 7.6"w x 9.4"d x 4.3"h (19.5cm x 23.9cm x 11cm) for the ZoneFlex T301n, these are among the smallest outdoor 802.11ac APs in the market. Form factor is a critical requirement for many outdoor Wi-Fi applications where aesthetic considerations or minimal visual impact is required. The light-weight feature of the ZoneFlex T300 and T301n dramatically eases installation and reduces deployment time and labor costs.

"Our ZoneFlex T300 Series combines carrier-class, high-capacity, high-density outdoor Smart Wi-Fi radio technologies with incredibly lightweight and compact form factors," said Greg Beach, vice president of Product Management, Ruckus Wireless. "Both are easy to install, and are ideal for service providers and venue owners looking to quickly deploy reliable outdoor Wi-Fi networks in environments such as stadiums, train stations, and parks. They're 50 percent lighter, significantly smaller in overall size, and offer a much lower total cost of ownership, compared with other products on the market that aren't nearly as feature-rich."

Fitting Outdoor Environments to a T

The Ruckus ZoneFlex T300 is an entry-level outdoor 2x2:2 stream 802.11ac access point with an omnidirectional aggregate antenna coverage pattern, featuring a compact form factor and 802.3af Power over Ethernet (PoE). It can operate as a standalone AP, or be centrally managed by a Ruckus ZoneDirector™ controller, Ruckus SmartCell™ Gateway (SCG) 200, virtual SmartCell Gateway (vSCG), or FlexMaster software for maximum scalability. The ZoneFlex T300 is ideal for providing coverage over a wide outdoor area.

In addition to the features of the ZoneFlex T300, the Ruckus ZoneFlex T301n outdoor 2x2:2 stream 802.11ac access point also features internal narrow beam antennas (30 x 30 degree aggregate coverage pattern @ 2.4 GHz, 15 x 15 degrees @ 5 GHz) in order to provide narrow sector coverage for very high performance, directed coverage applications. The narrow beam antennas in the ZoneFlex T301n are ideal for very high density venues like stadiums, where RF energy must be very narrowly focused to maximize capacity. High density Wi-Fi network design typically calls for a large number of APs to get the needed capacity, but care must be taken to limit co-channel interference. The narrow beam, adaptive antennas in the ZoneFlex T301n are able to focus RF energy into a specific area while delivering flexible, directed coverage that adapts in real time to reduce interference and increase network performance. The ZoneFlex T301n is well suited for extremely high density deployments, delivering the best coverage and capacity, and is highly scalable, making it cost-effective for high density network deployments.

Both the ZoneFlex T300 and T301n are rugged outdoor APs purpose-built to withstand harsh environments. They feature IP-67 water and dust proof plastic enclosures, operating temperatures of from -4 up to 131 degrees Fahrenheit (from -20 up to 55 degrees Celsius), and wind survivability of up to 165 mph. Both models also offer flexible wall, pole or ceiling mounting options that ensure no distortion of Wi-Fi signals is introduced, delivering performance of up to 1,200 Mbps total WLAN RF capacity, with up to 300 Mbps at 2.4 GHz (802.11b/g/n), and up to 900 Mbps at 5 GHz (802.11ac). The ZoneFlex T300 and T301n also include/ship with mounting brackets, and the integrated antennas in the ZoneFlex T301n eliminate the need to buy external antennas, reducing cost and making installation easier.

Both models also support up to 500 concurrent users per AP and are easy to install using standard 802.3af PoE switches or PoE injectors. They also support co-location operation with distributed antenna systems (DAS) and small cell radios. The ZoneFlex T300 Series 802.11ac outdoor access points also meet stringent EN 61373:2010, EN 50121-1:2006, and EN 50121-4:2006 test requirements overseen by CENELEC, through its close collaboration with the International Electrotechnical Commission (IEC), for use by various U.S. railway systems in their commuter train and subway stations and platforms across the country.

Superior 802.11ac Performance with BeamFlex+

The ZoneFlex T300 Series APs feature Ruckus BeamFlex+ technology, which enables their antennas to adapt to a mobile device's orientation and location. All antennas have a property called polarization, which refers to the physical orientation of the wireless signal that each antenna is configured to receive or transmit. For best performance, the antenna polarizations of the two sides of a wireless link (e.g. AP and client) should be aligned. In practice, the respective antenna polarizations of APs and clients are seldom aligned, especially for mobile device clients that users frequently rotate and hold in different orientations (i.e. smartphones and tablets).

BeamFlex+ adaptive antennas feature a mix of two distinct polarizations (vertical and horizontal) across antenna elements. The signals received on these antennas, across the two distinct polarizations of BeamFlex+, are combined by the AP in such a way as to maximize the received signal-to-noise ratio, allowing the best possible performance. This has the same effect as if the AP were physically aligning its antennas with the client device. The adaptive nature of BeamFlex+ means that the antennas adapt to client device orientation in real-time.

BeamFlex+ can enhance the user experience by ensuring a consistent wireless signal. Without it, changing client device orientation can cause up to 2.5x performance difference. BeamFlex+ eliminates this variability and ensures optimum performance for any client device orientation, making the ZoneFlex T300 Series perfectly suited for serving mobile devices.

Cloud-enabled Technology

Offering maximum deployment flexibility and management options, the Ruckus ZoneFlex T300 Series APs support Ruckus Smart Wireless Services. These Cloud-based Smart Wi-Fi technologies include: Ruckus Smart Positioning Technology (SPoT™) service, the industry's first Cloud-based Smart positioning location-based service (LBS); the Ruckus Smart Access Management Service (SAMs) for better enabling public Wi-Fi hotspots; and the Ruckus virtual SmartCell Gateway (vSCG), the industry's first carrier-grade Network Functions Virtualization (NFV) solution for mobile network operators (MNOs), multiple system operators (MSOs), managed service providers (MSPs) and enterprises designed to streamline the creation of highly scalable and resilient cloud-based wireless LAN (WLAN) services.

Pricing and Availability
The new Ruckus ZoneFlex T300 has an MSRP of $1,295 (USD), with Ruckus ZoneDirector-managed and standalone availability in North America and EMEA starting July 1, 2014.  The new Ruckus ZoneFlex T301n has an MSRP of $1,495 (USD), with Zone Director-managed and standalone availability in North America and EMEA starting August 1, 2014.  Ruckus SmartCell Gateway (SCG) 200 and vSCG support will become available for both models in Q3 2014. The ZoneFlex T300 and T301n will become available in APAC and Latin America later this year. Both the ZoneFlex T300 and T301n are available through authorized Ruckus Big Dog resellers.

ABOUT RUCKUS WIRELESS
Headquartered in Sunnyvale, CA, Ruckus Wireless, Inc. (NYSE: RKUS) is a global supplier of advanced wireless systems for the rapidly expanding mobile Internet infrastructure market. The company offers a wide range of indoor and outdoor "Smart Wi-Fi" products to mobile carriers, broadband service providers, and corporate enterprises, and has over 36,000 end-customers worldwide. Ruckus technology addresses Wi-Fi capacity and coverage challenges caused by the ever-increasing amount of traffic on wireless networks due to accelerated adoption of mobile devices such as smartphones and tablets. Ruckus invented and has patented state-of-the-art wireless voice, video, and data technology innovations, such as adaptive antenna arrays that extend signal range, increase client data rates, and avoid interference, providing consistent and reliable distribution of delay-sensitive multimedia content and services over standard 802.11 Wi-Fi. For more information, visit http://www.ruckuswireless.com.

BeamFlex, ChannelFly, Ruckus, Ruckus Wireless, SPoT, SmartCell, ZoneDirector, and ZoneFlex are trademarks of Ruckus Wireless, Inc. in the United States and other countries. All other product or company names may be trademarks of their respective owners.

Media Contact
Mark Priscaro
Ruckus Wireless
mark.priscaro@ruckuswireless.com
+1 925-367-5505