Product News: Test & Measuring Instruments
Dual Axis Inclinometers include RS 232/RS 485 communications.
Press Release Summary: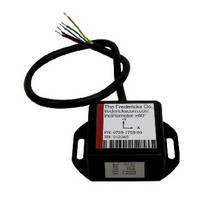 February 15, 2013 - Equipped with microprocessor-based electronics, Model 0729-1755-99 provides 0–5 V outputs for each axis and for temperature, while Models 0729-1759-99 and 0729-1760-99 are available with RS 232 and RS 485 communications, respectively. All offer angle range of ±60° in X and Y axes, 0.2 arc min resolution, and ±0.1° repeatability. RoHS-compliant units are suited for aerial lift platform leveling, crane boom angle measurement, robotic controls, and alarm system activation.
Original Press Release
Fredericks Expands Line of Microprocessor-Based Output Dual Axis Inclinometers to Include RS 232 and RS 485 Communications
Press release date: February 8, 2013
The Fredericks Company, a leading ISO9001:2008 manufacturer of electrolytic tilt sensor and inclinometer products, has announced an expansion of their microprocessor-based analog output Dual Axis Inclinometer line.

In addition to their Dual Axis Inclinometer (Part #0729-1755-99) with 0-5 V outputs for each (x & y axis) and for temperature, the company now offers a Dual Axis Inclinometer (Part #0729-1759-99) with RS 232 Communications and a Dual Axis Inclinometer (Part # 0729-1760-99) with RS 485 Communications.

All three (3) inclinometers are designed for easy use and interface with all types of instrumentation and equipment, offer an angle range of +/- 60º in two axis, x and y, 0.2 arc minutes resolution (.003 degrees), and +/- 0.1 degree repeatability. Custom angle ranges are available.

The inclinometers' compact robust housing encloses microprocessor-based electronics that provide long-term reliability and environmental durability. The inclinometers are all RoHS compliant, consume low power, provide higher ingress protection (IP) rating, and offer minimal drift over lifetime compared to MEMs devices.

Typical applications include but are not limited to aerial lift platform leveling, monitor or control, crane boom angle measurement, robotic controls, satellite dish alignment, solar panel position and elevation control, wheel alignment systems, alarm system activation, machine tool leveling, and medical equipment positioning and monitoring.

For more information, call 215/947-2500, Fax: 215/947-7464, e-mail: sales@frederickscom.com  , visit www.Frederickscom.com , or write The Fredericks Company, 2400 Philmont Avenue, Huntingdon Valley, PA 19006-0067.