Product News: Lubricants, Green & Clean
Dual-Action Penetrant/Lubricant is VOC-compliant in all 50 states.
Press Release Summary: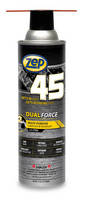 March 26, 2014 - Dual-action penetrant and lubricant with PTFE, Zep® 45 DualForce™, penetrates into tight spaces to loosen stuck parts and lubricates to protect surfaces. With <10% VOCs, industrial-grade solution also incorporates rust-prevention technology to promote corrosion resistance. Once applied, product continues to penetrate for 10 min or longer while minimizing wear. Large pad actuator with fan mist spray aids wide area application, while straw enables pinpoint stream accuracy in narrow areas.
Original Press Release
Zep Inc.'s New Dual-Action Penetrant/Lubricant, Zep® 45 DualForce(TM) Compliant in All 50 States
Press release date: March 17, 2014
(ATLANTA) – Zep Inc. (NYSE:ZEP), a leading consumable chemical packaged goods company that manufactures a wide variety of high-performance maintenance and cleaning chemicals, today launched Zep® 45 DualForce™, a long-lasting, dual-action penetrant and lubricant with PTFE.

"Test data proves that Zep® 45 DualForce™ penetrates into tight spaces to loosen stuck parts and lubricates to protect most surfaces," explains Steve Nichols, Group President, Zep Inc. "It's truly industrial grade, performs exceptionally well and will save customers time and energy."

Patent-pending Zep® 45 DualForce™ was developed by Zep Inc's Research & Development team and features superior penetrant properties and the newest anti-wear and rust-prevention technology offering excellent corrosion resistance. It is ideal for applications including loosening rusty and seized bolts and screws, sticky pivot points, minimizing friction, moisture/rust protection for door hinges, roll-up doors, and more.

50-State Compliant Exceeds California 2014 VOC Requirements

With less than 10% VOCs, Zep® 45 DualForce™ exceeds California's 2014 VOC requirements of 25% and will maintain compliance with the state's 2016 VOC requirements of 10%.

Superior Penetration and Lubrication

Unlike some competitive products, Zep® 45 DualForce™ continues to penetrate for 10 minutes or longer while delivering the lowest percentage of wear among tested competitors. In addition, its improved odor was preferred in field test surveys.

Large Pad Actuator w/Fan Mist Spray and Included Straw

Zep® 45 DualForce™ has a large pad actuator with a fan mist spray for wide areas. A straw is provided for pinpoint stream accuracy in narrow areas, and the product's slotted stacker cap allows for easy straw storage.

Availability & Purchase

Zep® 45 DualForce™ is available in a 20-ounce aerosol can and a 1-gallon liquid can.  For more information on this new product and Zep's entire line of penetrants and lubricants, visit www.zep.com or call 1-877-I-BUY-ZEP.

About Zep Inc.

Zep Inc., with fiscal year 2013 net sales of approximately $690 million, is a leading consumable chemical packaged goods company selling a wide variety of high-performance chemicals that help professionals and prosumers clean, maintain and protect their assets. The company is focused on the attractive industry dynamics of the transportation market and the industrial maintenance and repair operation ("MRO") market, which together now comprise approximately 60% of its revenue with the balance derived from sales into the facilities maintenance vertical. Zep markets these products and services under well recognized and established brand names, such as Zep®, Zep Commercial®, Zep Professional®, Enforcer®, National Chemical™, Selig™, Misty®, Next Dimension™, Petro®, i-Chem®, TimeMist®, TimeWick™, MicrobeMax®, Country Vet®, Konk®, Original Bike Spirits®, Blue Coral®, Black Magic®, Rain-X®, Niagara National™, FC Forward Chemicals®, Rexodan®, Mykal™, and a number of private label brands. Some of Zep Inc.'s brands have been in existence since 1896. Founded in 1937, Zep Inc. is headquartered in Atlanta, Georgia. Visit the company's website at www.zepinc.com.

Investor Contact:                                         

Don De Laria
VP, Investor Relations & Communications
404-350-6266
don.delaria@zep.com

Linda Barlow
Marketing & PR Copywriter LLC
www.barlow-writer.com 
lbarlow416@gmail.com
Phone: 267-481-0502