Drill Unit allows holemaking in tight installations.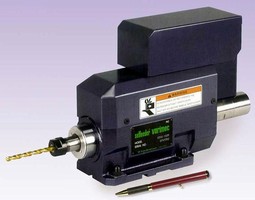 Drill Unit allows holemaking in tight installations.
August 5, 2008 - Varimec(TM) SSV2 1/8 hp quill-fed drill unit is capable of drilling, counterboring, and burnishing and supports end-milling and facing operations. Servo-controlled Selfeeder features 3.15 in. stroke length, 7.87 ips approach and return speed, and 0.65 ips max cutting speed. Unit is programmed via RS232C port and controller stores up to 99 programs. It measures 12 x 4 x 9 in., and low speed/high-torque and high-speed/low-torque versions are offered.

(Archive News Story - Products mentioned in this Archive News Story may or may not be available from the manufacturer.)
Original Press release

Sugino Corp.
1380 Hamilton Parkway
Itasca, IL, 60143
USA



New Sugino Mini Varimec(TM) Drill Unit Maintains Precision Holemaking/Machining Capabilities in Tight Manufacturing Installations.


Itasca, Illinois. Sugino Corp. recently added the smallest Selfeeder to their line of Varimec(TM) servo-controlled drill units that is designed to meet manufacturers' need for high precision holemaking requirements in close installations for a wide range of metals and other materials, announced Sales Manager John Fischer.

Fischer reports that the Varimec SSV2 drill unit is especially useful for a wide range of applications in aerospace and automotive industries, in electron, computer and medical devices and instrumentation, and in other areas where high precision, repeatability and reliability are essential.

As the previously introduced larger Varimec drill units, the 1/8-HP SSV2 quill-fed Varimec Selfeeder is capable of drilling, counterboring and burnishing and is excellent for end-milling and facing operations.

The collet chucking capacity for the low speed, high-torque SSV2 unit is 0.0494" - 0.3937" (0.5mm - 10.0mm) with spindle speeds ranging between 390 to 2,950 RPM and torque rated at 3.05Nm. The chucking capacity for the high-speed, low-torque unit is 0.0393" - 0.2755" (0.5mm - 7.0mm) with spindle speeds between 2,000 and 15,000 RPM and torque rated at 0.6Nm. Torque drops to 0.15Nm when the high 20,000 RPM is achieved.

Total stroke length for each of the SSV2s is 3.15" (80mm). The rapid advance adjustment length is variable through the entire stroke length. The rapid approach and return speed is 7.87"/sec. (200mm/sec.). Maximum cutting speed is 0.65"/sec. (16.7mm/sec.).

Spindle runout for the SSV2 Varimec is under 0.0004" TIR. Innovative features incorporated in the SSV2 are internal linear slides used to guide the quill and integrating the spindle motor within the moving Z-axis quill and other proprietary features has reduced the size to 12" x 4" x 9". Nominal weight is 33 Ibs.

The extreme rigidity of the Varimec drill unit parallels the rigidity of machining centers. The small size of the SSV2, coupled with the high rigidity, reduces potential for side-load chattering and enhances its versatility to perform precision drilling, end milling and face-milling.

Fischer reports, "the SSV2 was engineered with an AC servo motor-driven ball screw. The size, accuracy and reliability will prove valuable to manufacturers using multi-process machining equipment. These drill units offer an economical option to CNC machining centers for high-quality production without the high-cost burden. And, by using a Sugino multi-spindle head, production time will drop further and profits will increase."

"There are manufacturers who are concerned with consistent hole quality, burr reduction and improved tool-life when drilling in the toughest metals including titanium, high nickel steel and exotic alloys".

Programming is accomplished through the RS232C port for use with laptop computer or with an available hand-held PC-03 Programming Console to input information.

The unit's controller can store up to 99 individual programs. There are 13 pre-programmed drill modes including standard, step, dwell, skip, spot-face, inverse spot-face and other drill modes to simplify set-up and production.

The SSV2 is furnished with a feed controller, an inverter for spindle operation, all interfacing cables and hardware necessary for easy integration into any manufacturing operation, cell system or dedicated machinery. The unit can be mounted directly to a machine base or to an adjustable column for accurate drilling at any angle.

The SSV2 is warranted to be free from defects in materials and workmanship for one year from date of purchase.

About Sugino Corp.

Sugino Corp. manufactures and markets Selfeeder automated drilling and Synchro- Tapper tapping machines, Self-Center machining centers, Superoll roller-burnishing tools, Jet-Clean Center high-pressure water-jet cleaning and deburring systems, U-Jet high-pressure water-washing systems and other metalworking and maintenance tools.

For more information, contact:

Mr. John Fischer

National Sales Manager

Sugino Corp.

1380 Hamilton Parkway

Itasca, IL 60143

Phone: (630) 250-8585

Fax: (630) 250-8665

www.suginocorp.com

mach@suginocorp.com

---
See related product stories


Start Your

Free


Subscription to


Industry Market Trends

.