Product News: Chemical Processing & Waste Management, Machinery & Machining Tools, Mounting & Attaching Products
Double-Deck Screener utilizes end-tensioned screen panels.
Press Release Summary: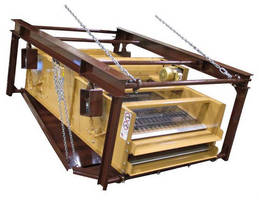 March 14, 2014 - Engineered for conveyor-type installations, 84 x 48 in. MR-7 allows materials to be separated from ~1 in. opening on top deck down to 1/8 in. opening on bottom screening deck. Deck combination, with end-tensioned panels, effectively screens diverse materials, and entire width is utilized to full capacity. Additional features include 2 hp, 230/460 V, 3-phase, 60-cycle, 1750 rpm motor; V-drive components, and belt guard and conveyor installation carriage members.
Original Press Release
Midwestern Industries Introduces the MR-7 Double-Deck Screener; Features End-tensioned Screen Panels for Efficient Material Discharge
Press release date: March 12, 2014
Massillon, Ohio – The new Model MR-7 Screener with its compact, highly-efficient design is specially engineered for conveyor-type installations.  The double-deck MR-7 from Midwestern Industries allows materials to be separated from an approximately 1" opening on the top deck to a separation down to 1/8" opening on the bottom screening deck.

This deck combination with end-tensioned panels provides a screening unit that can effectively handle sand, gravel, crushed stone, coal, slag, topsoil, mulch, ash, recycled asphalt or concrete and many other industrial-type materials. The MR-7 Screener (48" W x 84" L) comes complete with 2 HP, 230/460-volt, 3-Phase, 60-cycle, 1750-RPM motor, V-drive components, and belt guard and conveyor installation carriage members.

"The design of the MR-7 allows you to move the screener / conveyor combination to multiple job sites, thus giving a plant operator greater flexibility in handling different applications," says Chip Painter, vice president of manufacturing for Midwestern Industries. "The MR-7 features high load capacity, high screening efficiency, quick set-up and low maintenance. It's the ideal screening solution for a variety of industries that want to separate materials for re-use or obtain saleable products."

One unique aspect of the MR-7 is the end-tensioned screen panels, which enable conveyed materials to move along the full-screen surface until discharge. The entire width of the MR-7 is utilized to full capacity, virtually ensuring the elimination of dead areas. The end-tensioned screen panels are easily changed for screening without costly downtime.

Crossbars support the end-tensioned screens and create a flat screening surface for the material to travel. Where most other makes of rectangular models have a crown that pushes the material outward, the MR-7 utilizes the entire screen deck, giving the screener the ability to handle the job of a larger screener in a more compact design. The end-tensioning panels are designed to fit both square opening and slotted screens.

The pedestal-mounted MR-7 Screen can be retro-fitted with the Midwestern Converta-Screen Heating transformer to eliminate blinding because of damp material. By applying a low-voltage current through the screen mesh, the surface tension is broken and the damp material is unable to stick to the wire mesh, thus maintaining higher production rates. The MR-7 can handle wash applications by applying easily adaptable spray bars.

The MR-7 is ideal for material screening in harsh conditions because the unit can be made from stainless steel or carbon steel with corrosion-resistant coatings. The MR-7 can be outfitted with a variety of screens depending upon the application.

Midwestern Industries screens designed for the MR-7 are available in impact-resistant high carbon wire, abrasion resistant oil tempered wire or stainless steel. The company also offers its Interkleen® Screen, an elongated slotted screen designed to maximize throughput and reduce material plugging.

Midwestern has a free, full-scale test facility on-site to assist in determining the optimal configuration of the MR-7 Screen.

Midwestern is a U.S. screening equipment manufacturer and weaves wire cloth for most makes and models including both end-tensioned and side-tensioned screeners. Custom woven screens are created specific to applications and designed to maximize screening efficiency.

For more information on the MR-7 Screener, visit: https://www.midwesternind.com/conveyor_screener_mr7.html

About Midwestern Industries
Midwestern Industries has been a leader in the screening industry for more than 60 years. The company designs, manufactures, fabricates and assembles screening and sizing equipment, circular and rectangular vibrating machines, as well as replacement screens and parts. Midwestern Industries has headquarters in Massillon, Ohio, with a southern facility in Macon, GA.

For more information, contact Scott Mazon, Advertising/Marketing Associate, at 877-474-9464 or smazon@midwesternind.com. The Midwestern Industries website can be found at www.midwestind.com.

Agency contact:
Jim DiFrangia
Account Executive
Stevens Strategic Communications, Inc.
Phone (440) 617-0100 ext. 208
E-mail jdifrangia@stevensstragegic.com