Domeloaded Pressure Regulators .exhibit minimal droop.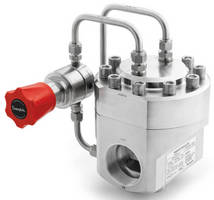 Domeloaded Pressure Regulators .exhibit minimal droop.
May 2, 2011 - Used to control pressure of liquids and gases, RHPS series features domeloaded design that relies on pressurized chamber above elastomer diaphragm to operate regulator. Inlet pressures range to 5,800 psig, and regulated pressures spans include 1.4-29 psig, 0-1,000 psig, 0-2,900 psig, and 0-5,800 psig. Available for pipe sizes from ¼-4 in. with corresponding Cv values from 0.1-73, regulators use 316L stainless steel for body, dome, and trim.

(Archive News Story - Products mentioned in this Archive News Story may or may not be available from the manufacturer.)
Original Press release

Swagelok Company
31400 Aurora Road
Solon, OH, 44139-3492
USA




Swagelok RHPS Series Domeloaded Pressure Regulators


SOLON, Ohio - Swagelok® RHPS series domeloaded pressure regulators permit high flows and exhibit less droop than spring-loaded designs in controlling the pressure of liquids and gases. The domeloaded design relies on a pressurized chamber above an elastomer diaphragm in place of a spring to operate the regulator. Depending on regulator size and configuration, inlet pressures can range to 5800 psig (400 bar). Regulated pressures span 1.4 to 29 psig (0.10 to 2.0 bar), 0 to 1000 psig (0 to 70 bar), 0 to 2900 psig (0 to 200 bar), and 0 to 5800 psig (0 to 400 bar).

Swagelok domeloaded regulators are available for pipe sizes ranging from 1/4 to 4 in. with corresponding Cv values ranging from 0.1 to 73. End connections include NPT female, BSPP female, and ANSI and DIN flanges. Body, dome, and trim material for all models is 316L stainless steel. Operating temperatures range from -4 to 176° F (-20 to 80° C). Seal, O-ring, seat, and diaphragm material options include nitrile, EPDM, and fluorocarbon FKM. (Seat materials also include PCTFE and PEEK.)

Larger models, 1-1/2 in. and above, include an integral pilot regulator to keep the dome pressure constant. The dome can be energized by system pressure or an external pressure source. Special external feedback configurations which require no external power are available which permit even finer control of pressures. All models, regardless of size, include connections for installation of pressure gauges or other pressure measurement devices.

Headquartered in Solon, Ohio, U.S.A., Swagelok Company is a major developer and provider of fluid system solutions, including products, assemblies, and services for the research, instrumentation, pharmaceutical, oil and gas, power, petrochemical, alternative fuels, and semiconductor industries. Its manufacturing, research, technical support, and distribution facilities support a global network of more than 200 authorized sales and service centers in 57 countries. For more information about Swagelok, visit the company's Web site at www.swagelok.com.

---