Documentation Automation Software increases engineering efficacy.
Press Release Summary: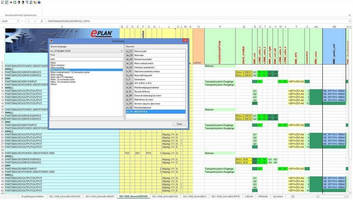 March 7, 2014 - Available in 17 languages, EPLAN Engineering Center One (EEC One) reduces detail engineering and associated time via comprehensive frameworks. Users can directly access EPLAN parts database and transfer parts along with their reference data, negating transmission errors and improving efficiency. Based on macro technology, creation of schematics in electrical and fluid power engineering can be automated. Supports international standards and norms for global market is included.
EPLAN Software und Service GmbH & Co. KG
Original Press Release
EEC One: Automation of Documentation Increases Engineering Efficiency
Press release date: February 26, 2014
The new version of EPLAN Engineering Center One (EEC One) has arrived. Detail engineering and hence engineering times can be drastically reduced with comprehensive frameworks. Now available in 17 languages, the software supports important international standards and norms for the global market.

What started with English, Spanish, Russian and Chinese at the Hanover Trade Fair in 2013 is now being expanded: EEC One, the automation software from solutions provider EPLAN, is now available in all 17 platform languages. The newly integrated dictionary function also ensures direct access to the EPLAN dictionary and hence to translations of the entire documentation of the schematics in all possible languages. At the same time it ensures consistency in the descriptions due to the use of uniform terms, phrases or special characters. Language barriers are removed and the efficiency level of the software usage increased. In particular, international companies with sites in multiple countries will appreciate this benefit.

Excel environment for automation

Efficient engineering is not only reflected in streamlined, automatic processes but also in the user-friendliness of the software. Furthermore, EPLAN continues to use the tried & tested Excel environment with the EEC One, which allows intuitive use. New coloring supports the error search function. Additionally, in the current version a fixed value can be specified for the position of macros with respect to the predecessor macro. This supports rapid and clear positioning.

Integrated instead of just linked

The deep connection to the EPLAN Platform is also reflected in the integrated parts selection. The EEC One directly accesses the EPLAN parts database and transfers parts and their reference data. Transmission errors can be avoided due to the automated data transfer, and efficiency can be increased at the same time. Moreover, the new EEC One version is compatible with the current EPLAN Platform 2.3 and the predecessor version 2.2.

First stage of automation

Nowadays, efficiency in engineering is no longer a supplementary benefit for most companies; it is necessary to remain nationally and internationally successful. Software tools that relieve the user from routine tasks are an important building block on the way to the efficient engineering process. This leaves more time for innovative developments and problem solving. Based on the macro technology that already offers options for standardisation within the EPLAN Platform, the creation of schematics in electrical and fluid power engineering can be automated via EEC One.

EPLAN Software & Service develops engineering solutions, which accelerate the product development process. Interdisciplinary expert systems assure the highest degree of productivity and data integration. The solution provider develops customer-specific and tailor-made PDM and PLM concepts and provides comprehensive services such as customizing, consulting and training. Innovative development competence, a consistently practical approach, and international presence are the resulting success factors. EPLAN is part of Rittal International and thus of the Friedhelm Loh Group with 11,500 employees worldwide and generated revenues of about 3 billion USD in 2011. EPLAN is therefore synonymous with continuity and investment security. Eight offices in North America and company presence in 50 countries support 40,000 customers with 100,000 installations worldwide.  The corporate motto - 'Efficient Engineering' - underlines the proficiency of optimized, efficient processes, which keep companies competitive in the long term.

EPLAN Software & Services LLC
37000 Grand River Ave., Suite 380
Farmington Hills, MI 48335
USA
Christine KNAPIK
Phone: +1-630-408-3863
Fax: +1-248-945-9210
Knapik.c@eplanusa.com