Dispensing Station prevents variations in adhesive deposits.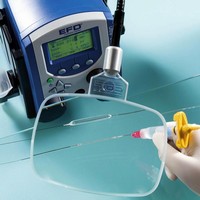 Dispensing Station prevents variations in adhesive deposits.
September 22, 2006 - Using precisely timed air pulse to determine amount of material to be dispensed, Model Ultra® 2415 Workstation is designed to deposit identical amount of adhesive on every assembly. Cyanoacrylate or super glue is dispensed from syringe barrel that can be hand-held or mounted on optional arm. Features include 0-15 psi pressure regulator, microprocessor-based digital timer, and simultaneous digital display of all dispensing parameters.

(Archive News Story - Products mentioned in this Archive News Story may or may not be available from the manufacturer.)
Original Press release

EFD Inc.
977 Waterman Ave.
East Providence, RI, 02914-1342
USA



Cyanoacrylate Dispensing Station's Consistent Shots Improve Process Control, Eliminate Rework & Rejects


East Providence, RI USA -- By making it possible to dispense an identical amount of cyanoacrylate adhesive or "super glue" on every assembly, EFD's Ultra® 2415 Workstation improves process control and product appearance, and eliminates costly rework and rejects.

The Ultra 2415 Workstation prevents variations in the size of adhesive deposits and makes application foolproof by using a precisely timed air pulse instead of guesswork to determine how much material is dispensed. Its controlled, waste-free application makes it a highly accurate, cost-effective alternative to squeeze bottles, hand syringes and other manual applicators.

For better control of thin fluids like cyanoacrylate, the 2415 Workstation features a 0-15psi pressure regulator instead of the standard 0-100psi configuration, and uses a microprocessor-based digital timer with four decimal places to provide exceptional control of shot size.

Cyanoacrylate is dispensed from a syringe barrel that can either be held like a pen or mounted on an optional arm to leave the operator's hands free to manipulate parts. To apply a uniform amount on each part, the user just places the dispense tip attached to the syringe in position and presses the electric foot pedal.

Other features that improve process control and simplify operation include simultaneous digital display of all dispensing parameters (including air pressure, shot count, dispense time and vacuum), and a convenient "Teach" function that streamlines initial setup. For companies with facilities throughout the world, the 2415 Workstation can be programmed on-site in 9 languages, provides automatic voltage conversion, and includes power adapters for virtually every industrialized country.

Each 2415 Workstation includes a complete introductory supply of syringe barrels, pistons and dispense tips matched to the user's specific application, along with a 10-year, No Fault warranty.

For more information contact EFD at 800-556-3484, 401-434-1680, info@efd-inc.com or visit their website at www.efd-inc.com.

EFD Inc. is a wholly owned subsidiary of Nordson Corporation, the world's leading producer of precision dispensing equipment. Nordson and EFD systems apply adhesives, sealants and other assembly fluids to a broad range of consumer and industrial products during manufacturing operations, helping customers meet quality and productivity targets.

---


Start Your

Free


Subscription to


Industry Market Trends

.