Product News: Mechanical Power Transmission
Disc Magnet Motor delivers dynamic performance.
Press Release Summary: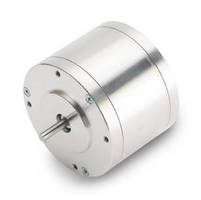 April 29, 2014 - By combining disc magnet technology with optimal number of pole pairs, closed loop P760 series delivers high torque and acceleration up to 5,000 rpm. High-speed stepper motor can deliver torque of 0.7 Nm with inertia as low as 17E-7 Kgm2. Performance meets needs of applications, such as electronic yarn guides, medical XY tables, and robotics, where rapid changes in acceleration and direction of rotation are required in shortest possible time.
Original Press Release
P760 Disc Magnet Motor with Exceptional Dynamic Performance
Press release date: April 16, 2014
Portescap introduces our P760 series disc magnet motor, which outperforms standard Brushless DC motors in various applications. The unique thin disc magnet motor has been optimized to deliver high torque and acceleration up to 5,000 rpm.  The performance has been accomplished by combining the Disc Magnet technology with an optimization of the number of pole pairs.  The Disc Magnet technology provides very low inertia while the optimization of pole pairs balances the iron losses versus the joule losses.  This high speed stepper motor can deliver a boosted torque of 0.7 Nm with inertia as low as 17E-7 Kgm2.

The closed loop P760 series motor offers exceptional dynamic performance to meet challenging applications where rapid changes in acceleration and direction of rotation are required in the shortest possible time. Applications that can benefit from the P760 include electronic yarn guides, medical XY tables and robotics.

"Our P760 series motor has a unique multipolar design with extremely low rotor inertia. Unlike other motor technologies, the rotor does not require an additional iron structure to achieve flux variations.  Closing the loop with the encoder, it is capable of exceptional accelerations which, together with a high peak speed, make this motor technology suitable for fast incremental motion."  Says Anant Bhalerao – Associate Product Line Manager

With its unique design and encoder as a standard feature, the P760 series disc magnet motors allow machine builders to improve overall design efficiency of their machine. As a result, these RoHS-compliant step motors are an ideal solution in textile, life science, medical, fluid handling and industrial automation equipment.

About Portescap
Portescap offers best-in class solutions to meet the motion needs of medical and industrial applications.  We serve performance-critical applications with a broad offering of electronic miniature product technologies - brush DC, brushless DC, stepper can stack, digital linear actuators, disc magnet and gearhead/encoder/drive technologies.  Portescap products have been serving diverse motion control needs in wide spectrum of medical and industrial applications - medical, life sciences & clinical diagnostics, instrumentation, automation, aerospace and security applications, for more than 70 years.

Portescap has manufacturing centers in the United States and India, and utilizes a Global Product Development network with research and development centers in the United States, China, India, and Switzerland.

Portescap
110 Westtown Road
West Chester, PA 19382
610-235-5499
fax: 610-696-4598
sales.america@portescap.com
www.portescap.com