Product News: Computer Hardware & Peripherals, Electronic Components & Devices, Green & Clean
Digital Signal Processors target hearing aid market.
Press Release Summary: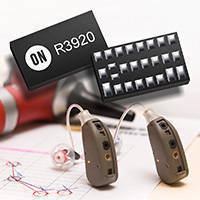 April 1, 2014 - Featuring 16 channels of wide dynamic range compression, RHYTHM R3920 provides audiologists freedom of fine granularity fitting. Impulse noise reduction monitors and attenuates sharp, impulsive noises, while iSceneDetect™ algorithm discerns various sound environments and selects most appropriate mode automatically. With pre-fit set of audiology parameters, RHYTHM R3110 brings noise reduction and feedback cancellation to hearing aids in emerging geographies and entry-level markets.
Original Press Release
ON Semiconductor Expands RHYTHM Portfolio of Digital Signal Processors for Hearing Aid Market
Press release date: March 25, 2014
New 16-channel DSP system supports superior sound quality and comfort in high-end designs, while new pre-fit DSP offers common digital features without the need for computer fitting

AudiologyNOW! – Orlando, Florida – ON Semiconductor (Nasdaq: ONNN), driving energy efficient innovations, has added two new devices to its RHYTHM™ family of preconfigured Digital Signal Processing (DSP) systems designed specifically for use in hearing aid devices.

RHYTHM R3920 is a 16-channel device that is equipped with advanced algorithms for high-end applications. RHYTHM R3110, meanwhile, brings new features such as noise reduction and feedback cancelation to the entry-level market sector. Both new devices meet the stringent demands of hearing aid designs in all form factors, balancing high performance with energy efficiency. 

R3920 supports today's advanced hearing aids with its feature set and flexibility. The device features 16-channels of wide dynamic range compression (WDRC), providing audiologists the freedom of fine granularity fitting. The iSceneDetect™ environmental classification algorithm on R3920 discerns various sound environments and then selects the most appropriate mode automatically for a high-quality, custom audio experience. Impulse noise reduction, another new feature on R3920, monitors and attenuates sharp, impulsive noises such as clattering dishes that could otherwise be very uncomfortable for hearing aid users. For hearing aid manufacturers, R3920 can use the same shells, schematics and designs as the existing R3910 eight-channel DSP from ON Semiconductor, which can help an existing customer get product to market very quickly and easily.

R3110 brings noise reduction and feedback cancellation to hearing aids in emerging geographies and entry-level markets. R3110 is a turnkey solution that does not require computer fitting or extensive infrastructure, facilitating adoption in these markets. With a pre-fit set of audiology parameters, R3110 eliminates the need for software tools and training, simplifying the deployment process.  A number of modes can be configured, such as single or dual-microphone, tinnitus masking, or telecoil.

"I am thrilled about the expansion of our RHYTHM family with two new devices that truly complement our existing portfolio of preconfigured DSPs," said Michel De Mey, senior director, hearing solutions and consumer health at ON Semiconductor. "These products will provide manufacturers with the ability to address additional markets and meet the specific needs of more hearing aid users."

The complete portfolio of hearing aid products from ON Semiconductor includes both programmable and preconfigured DSP systems, featuring high-precision sound, ultra-low power consumption, and wireless capability, to address the needs of all hearing aid manufacturers. For more information, visit www.onsemi.com/rhythm.

Follow @onsemi on Twitter: www.twitter.com/onsemi

About ON Semiconductor
ON Semiconductor (Nasdaq: ONNN) is driving energy efficient innovations, empowering customers to reduce global energy use. The company offers a comprehensive portfolio of energy efficient power and signal management, logic, discrete and custom solutions to help design engineers solve their unique design challenges in automotive, communications, computing, consumer, industrial, LED lighting, medical, military/aerospace and power supply applications. ON Semiconductor operates a responsive, reliable, world-class supply chain and quality program, and a network of manufacturing facilities, sales offices and design centers in key markets throughout North America, Europe, and the Asia Pacific regions. For more information, visit http://www.onsemi.com.

ON Semiconductor and the ON Semiconductor logo are registered trademarks of Semiconductor Components Industries, LLC. All other brand and product names appearing in this document are registered trademarks or trademarks of their respective holders. Although the company references its Web site in this news release, such information on the Web site is not to be incorporated herein.

Contacts:
Beth Johnston 
Media Relations 
ON Semiconductor                  
(208) 234-6738
Beth.Johnston@onsemi.com