Digital Pressure Test Gauges expand functionality via software.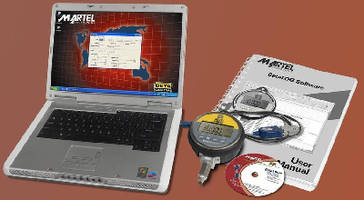 Digital Pressure Test Gauges expand functionality via software.
October 15, 2009 - BetaGauge PI and BetaGauge PI Reference Class gauges are offered with BetaLOG(TM) software, which can be used to configure operation for ad-hoc or download mode to deliver complete data logging flexibility. Enabling simultaneous recording of temperature and pressure, gauge/software combination supports data logging runs from seconds to several weeks covering all data or specific points of interest. BetaGauge PI supports multiple data sets that can be mixed between modes as needed.

(Archive News Story - Products mentioned in this Archive News Story may or may not be available from the manufacturer.)
Original Press release

Martel Electronics
P.O. Box 770
Londonderry, NH, 03053
USA



BetaGauge PI and BetaGauge PI Reference Class Digital Pressure Test Gauges


Martel Electronics Corporation is releasing a new data logging feature for its popular BetaGauge PI and BetaGauge PI Reference Class digital pressure test gauges. The feature is available in concert with the new BetaLOG(TM) data logging software application. Visitors to ISA Expo 2009 in Houston will be able to see live demonstrations of the new package at booth 2316.

BetaLOG is the high performance answer for pressure data logging applications. Whether the need is to log data on one BetaGauge PI or one hundred, the easy to use, low cost application handles the entire requirement. BetaLOG configures the gauge to operate in demand ad-hoc mode (field configuration) or download mode (computer configuration) for complete flexibility in configuring the data logging application.

A unique feature of the BetaLOG/BetaGauge combination is the ability to simultaneously record ambient temperature along with pressure. This feature facilitates the performance of hydrostatic testing where the relationship of temperature data to pressure data is critical.

Using the download operational mode allows a wide range of configuration settings, including multiple interval selection options from 1 second to 1 hour. Data logging runs can range from only a few seconds to several weeks.

Four types of data capture mode allows the user to log either all data or only the points of interest. The types of capture available are continuous (log all data at defined intervals), data high (log data at defined intervals only when it rises above a preset value), data low (log data at defined intervals only when it falls below a preset value) and delta trip (for detecting noise or transients in the pressure signal).

The number of data points to be recorded (up to the maximum of 8500 points) is also user selectable.

Six types of data can be collected: interval end, average, minimum, maximum, median and a combination type of average/minimum/maximum.

When set to demand mode data logging, the user can easily set up and initiate data logging in the field using the BetaGauge PI keypad with a few easy key presses. The field is where BetaGauge PI excels with its rugged stainless steel rubber booted housing, durable Lexan® faceplate, IP 65 rating and extremely long battery life. It is also CSA and ATEX rated for use in hazardous areas.1

The BetaGauge PI supports multiple data sets. Data sets can be mixed between Demand mode and Download mode as needed.

Once the data is logged in the gauge's non-volatile memory, a quick RS-232 connection allows BetaLOG to retrieve the data and store it on your computer in a variety of formats: plain ASCII text (.TXT), comma delimited text (.CSV), Microsoft(TM) Excel(TM) Spreadsheet (requires Excel 2002 or later on the host PC) or Microsoft Excel Spreadsheet with template formatting (sample templates come with the BetaLOG application and users can create new templates to meet specific requirements).

The combination of BetaLOG and BetaGauge PI provides data that is reliable, accurate, easy to acquire and manage for a tremendous variety of applications, such as hydrostatic pressure testing, leak detection, transient pressure spike detection and well head pressure monitoring among others.

BetaLOG software is not only easy to use and runs quickly on any modern Windows(TM) based PC. The basic requirements are: 1.0 GHz CPU, 512 MB RAM, 5 MB disk storage plus additional storage for logged data and Windows XP, Vista Business or Ultimate operating system. Optional Microsoft Excel spreadsheet software provides data analysis in spreadsheet format. A BetaGauge PI or PIR with firmware revision 3.00 or higher is the companion hardware element.

BetaLOG is provided with the software on CD media, RS-232 cable to connect to the gauge, USB/Serial adapter for use on computers without a standard serial port and complete printed user guide.

Caution: The BetaGauge PI serial port must not be connected when operating in hazardous locations.

Martel Electronics Corporation offers a diversified line of hand-held and bench calibrators, process instruments, process indicators, power supplies, meters and displays, and test and measurement instruments manufactured to the highest quality standards for the process industry and OEM applications.

1 The specific approval is II 3 G EEx nA IIB T6 - KEMA 06ATEX0014 X - Ta=-10°C... +55°C or Class I, Div. 2, Groups A-D, CSA LR110460.

Press Contact:

Mr. Bill Modlin

Martel Electronics Corporation

3 Corporate Park Drive

Unit 1

Derry, NH 03038 USA

Toll Free: (800) 821-0023 extension 105

Phone: (603) 434-1433 extension 105

Fax: (603) 434-1653

Email: bill@martelcorp.com

---


Start Your

Free


Subscription to


Industry Market Trends

.