Product News: Test & Measuring Instruments, Sensors, Monitors & Transducers, Electronic Components & Devices
Digital Power Monitors support wide common mode input voltage.
Press Release Summary: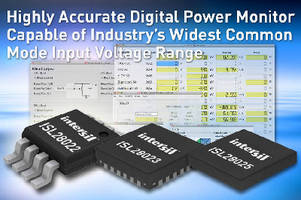 July 25, 2014 - Specified for temperature range of -40 to 125°C, Series ISL2802x comprises 3 devices offering bi-directional, high-side, and low-side digital current sense and voltage monitoring with serial interface. Devices deliver high-accuracy measurements through integrated 16-bit sigma-delta ADC with gain error of ±0.05% in wide input common mode voltage range of 0–60 V. Providing real-time alerts with response time of 500 ns, monitors are suited for telecom, industrial, and consumer applications.
Original Press Release
Intersil Announces Highly Accurate Digital Power Monitor Capable of Industry's Widest Common Mode Input Voltage Range
Press release date: July 21, 2014
--New ISL2802x Family Offers Broad Feature Set and Highest Level of Integration, Ideal for Telecom, Industrial and Consumer Applications --

Milpitas, Calif. —  Intersil Corporation (NASDAQ: ISIL), a leading provider of innovative power management and precision analog solutions, today announced the ISL2802x family of digital power monitors capable of supporting a wide common mode input voltage range of 0V to 60V. The ISL2802x family is comprised of three devices offering a range of capability including full featured bi-directional, high-side and low-side digital current sense and voltage monitors with a serial interface with a high level of integration. Precision measurements are enabled by an integrated 16-bit ADC. Available in a tiny solution footprint and with a wide specified temperature range, the ISL2802x digital power monitor family is ideal for telecom, industrial and consumer applications.

Current, voltage and power measurements are fundamental to monitoring electronics and are critically important to measuring the health of a power system. Basic op amps and current sense amplifiers can be used for this purpose, but require complicated analog design while providing limited real-time system information. Through key architectural innovations, Intersil's ISL2802x digital power monitors integrate many common electronic building blocks resulting in system designs that have reduced complexity without compromising performance.

The ISL2802x family consists of the three unique products. The ISL28023 is a full featured PMBus compatible digital power monitor that integrates the analog comparators, a voltage regulator, a DAC and a low voltage auxiliary channel in a single chip. The ISL28025 is a high precision digital power monitor with integrated analog comparators and an integrated voltage regulator. The integrated analog comparators for the ISL28023/5 allow for continuous monitoring of the inputs. This results in a very fast response time (500nS) enabling real-time alerts for rapid system shut off if necessary. The ISL28022 is a highly efficient digital power monitor ideal for cost constrained applications.

The ISL2802x family delivers high accuracy measurements through an integrated 16-bit native resolution sigma-delta ADC (gain error = +/- 0.05% Typ) in a wide input common mode voltage range (0Vto 60V) providing designers with a high level of safety margin that is often necessary in wired, wireless and data infrastructure applications. In addition, the wide specified temperature range from -40ºC to 125ºC provides greater design flexibility.

"We've taken the best of our current sense amplifier technology and augmented it with digital power monitoring to deliver a robust and highly accurate, but simple to use family of digital power monitors," said Philip Chesley, vice president of Precision Products for Intersil. "Customers get all of the benefits of advanced features while simplifying their design efforts." 

Features and Specifications:
• Monitors supply voltages up to 60V
• Digital output via serial interface that is I2C and SMBus  and PMBus compatible
• I2C operates  down to 1.2V
• Operating voltages from 3V to 5.5V and consuming an average current of just 800µA
• User defined threshold alerts (OV,OC,UV)
• Integrated 8-bit voltage output margin DAC
• Internal 3.3V voltage regulator
• Auxiliary channel for monitoring current and voltage on additional channels
• Auxiliary channel can be configured as an external temperature sensor with an addition of a diode
• Real-time alerts (500ns response time)
• Internal temperature sensor with average accuracy of +1C
• Wide specified temperature range (-40 to 125ºC)

Availability: The ISL2802x family is available now. Pricing for the ISL2802x devices starts at $0.95 USD in 1k quantities. The ISL28023 full-featured digital power monitor is offered in a 24 lead 4x4mm QFN package. The ISL28022 digital power monitor for cost sensitive applications is offered in a 16 lead QFN or 10 lead MSOP, and the compact ISL28025 for portable and space-limited applications is offered in a 16 ball WLCP.

The ISL2802x family is supported by the ISL28022EVKIT1Z, ISL28023EVKIT1Z and ISL28025EVKIT1Z evaluation kits available for $70 USD each. 

For more information on the ISL2802x digital power monitors, please visit: http://go.intersil.com/digital-power-monitor.html.

For more information on the evaluation kits, please visit: http://www.intersil.com/en/tools/reference-designs/isl2802xevkit1z.html.

About Intersil
Intersil Corporation is a leading provider of innovative power management and precision analog solutions. The company's products form the building blocks of increasingly intelligent, mobile and power hungry electronics, enabling advances in power management to improve efficiency and extend battery life. With a deep portfolio of intellectual property and a rich history of design and process innovation, Intersil is the trusted partner to leading companies in some of the world's largest markets, including industrial and infrastructure, mobile computing, automotive and aerospace. For more information about Intersil, visit our website at www.intersil.com.

Intersil and the Intersil logo are trademarks or registered trademarks of Intersil Corporation. All other brands, product names and marks are or may be trademarks or registered trademarks used to identify products or services of their respective owners.

Join the Conversation
Twitter
Facebook
LinkedIn

Media Contact
Shannon Pleasant
Intersil Corporation
+1 (512) 382-8444
spleasant@intersil.com