Digital Media Camera is capable of 100x total zoom.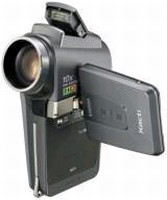 Digital Media Camera is capable of 100x total zoom.
March 1, 2006 - With 16:9 widescreen format, Xacti HD1 records 720 p high-definition video and 5.1 megapixel digital still images to standard SD flash memory card. It features 2.2 in. OLED display with 210,000 total pixels that flips out from camera and rotates 285° on axis for taking images in difficult locations. Built from 12 elements designed in 9 groups and with built-in neutral density filter, 10x zoom lens has max aperture of f/3.5 in wide and telephoto angles.

(Archive News Story - Products mentioned in this Archive News Story may or may not be available from the manufacturer.)
Original Press release

Sanyo Fisher (USA) Corp.
21605 Plummer Street
Chatsworth, CA, 91311
USA



Sanyo Introduces the World's Smallest and Lightest High-Definition Digital Media Camera


Pocket-sized, Tapeless SANYO Xacti HD1 Brings High-Definition Video Recording to the Mass Consumer Market in a Stylish, Feature-Rich and Affordable Package

LAS VEGAS, Jan. 3, CES Booth #11017 / -- Making its debut at the 2006 International CES, the SANYO Xacti HD1 is the world's first high-definition compact digital media camera.* Offering advanced, next-generation video performance, the SANYO Xacti HD1 is the world's smallest and lightest high-definition digital media camera, ideal for recording today with the future in mind.

SANYO, the world's leading manufacturer of digital cameras and components, designed the Xacti HD1 Digital Media Camera to easily record both 720p high-definition video and 5.1 megapixel digital still images to a standard SD flash memory card. The SANYO Xacti HD1 will be available in the U.S. in late March at an MSRP of $799.99**

Key to the Xacti HD1's ability to record high-definition video is its high-precision LSI (large-scale integration) for image processing. This powerful "high-definition engine" executes a vast number of calculations in a short period of time. It enables the HD1 to realize image processing functions such as high-definition 720p processing, real-time MPEG-4 compression and noise reduction.

The HD1 features an ultra-clear 2.2-inch SANYO-developed OLED (Organic Light-Emitting Diode) display with 210,000 total pixels for exceptional viewability. The display flips out from the camera and rotates up to 285 degrees on axis for taking great video or still images in otherwise difficult locations. Trademark features of OLED display technology are expanded viewing angles and up to 5,000 times faster response speed when compared with conventional display technologies, enabling smooth playback of rapid movements. When not in use, the display nicely tucks back into the side of the camera.

Displayed prominently in the front of the HD1 is a bright, highly efficient 10x optical zoom lens. Built from 12 elements designed in 9 groups and with a built-in neutral density filter, the 10x zoom lens has a maximum aperture of f/3.5 in both wide and telephoto angles, allowing for clear images in lower light situations. Combined with a 10x digital zoom capability, the HD1 is capable of a total 100x zoom.

As with all previous SANYO Xacti digital media cameras, the HD1 can record still images in addition to video clips. A newly developed 5.36 megapixel (total) CCD captures beautiful 5.1 megapixel still images which are recorded directly onto a standard SD memory card. The camera can record both 5.1 megapixel still images and high-definition (1280 x 720-pixel) digital video at the same time with a simple press of the shutter button during the shooting of a video clip.***

The HD1 can record over 21 minutes of 720p HD video on a 1-Gigabyte SD card or over 42 minutes on a 2-Gigabyte card. Alternatively, HD1 users can select to record in Standard Definition mode (640 x 480 pixels at 30fps progressive) for up to two hours on a 2-Gigabyte SD card. Users can easily switch between high-definition and standard-definition recording modes by simply pressing the "HD/Norm" button located on display side of the camera body. SD cards sold separately.

An ergonomic, one-handed grip and convenient, thumb-operable controls makes the SANYO HD1 exceptionally easy to use whenever inspiration strikes. Lightweight at only 8.3 ounces (including battery and a standard SD memory card), the HD1 measures 3.1. W x 4.7. H x 1.4. D.

Other SANYO Xacti HD1 features include:
- 16:9 widescreen format (HD-SHQ / HD-HQ modes)
- 60 fps Fluid Motion Recording (640 x 480 TV-HR Mode)
- Rapid Continuous still shooting
- Pop-up flash with double the brightness of conventional models
- Anti-shake digital image stabilizer
- Talking navigation guide for first-time users
- Super Macro shooting down to 1 cm (W) / 1 m (T)
- Self timer (2 seconds / 10 seconds)
- Voice recorder function: over 33 hours recording time with optional 2 GB SD Memory Card
- Red-eye reduction mode
- Multifunction docking station
- High-capacity SANYO rechargeable Lithium-ion battery
- Remote control included- Exif Print and Print Image Matching III
- PictBridge-capable for PC-Free printing with PictBridge-compatible printers

SANYO Electric Co., Ltd. (NASDAQ:SANYY) is a $23 billion manufacturer and distributor of consumer and commercial electronics, including multimedia and telecommunication products. Based in Chatsworth, California, SANYO Fisher Company (a division of SANYO North America Corporation, a subsidiary of SANYO Electric Co., Ltd.) markets digital cameras, PCS phones, audio systems, portable and mobile electronics, televisions, DVD players, dictation devices, home appliances, LCD projectors, security video equipment and air conditioning systems.

For more information and additional specifications, please visit www.sanyodigital.com. Visit www.sanyodigital.com and click on "HD1" > "Dealer Images" for downloadable hi-res product images.

All products and trademarks are the property of their respective owners. Because its products are subject to continual improvement, SANYO reserves the right to modify product design and specifications without notice and without incurring any obligations.

* Among commercially available high-definition media cameras, as of January 2006.
** Estimated Selling Price: Actual prices set by dealer are subject to change.
*** Depending on the mode used to take still images, simultaneous video clip shooting may be interrupted.

---


Start Your

Free


Subscription to


Industry Market Trends

.