Digital Gauge measures coating thickness.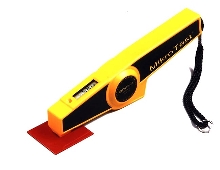 Digital Gauge measures coating thickness.
February 19, 2002 - MikroTest(R) Banana Gauge uses magnetic attraction principle with permanent magnet to make measurements in 2 seconds. It has digital display, 1-hand operation, and does not require calibration. Display can switch from mils to microns, and has audible and light indicator. Readings are activated at touch of button.

(Archive News Story - Products mentioned in this Archive News Story may or may not be available from the manufacturer.)
Original Press release

Paul N. Gardner Co., Inc.
316 N.E. 1st St., Dept. TR
Pompano Beach, FL, 33060 6608
USA




Mikrotest Digital Banana Gage


FEATURES:
* Digital display
* No calibration required
* Electronically controlled readings.
* One hand operation
* Faster readings...less than 2 seconds
* Audible & Light indicator
* Unmatched resolution
* Switchable mils/microns
* improved accuracy and repeatability

Digital Display
readings are digitally displayed which means no more reading interpretation disputes

Improved Accuracy
while the MikroTest(R) Digital utilizes the magnetic attraction principle, measurements are controlled with a patented electronic technique which produces greater accuracy

Higher Resolution
with electronically controlled readings and digital display, the MikroTest(R) Digital provides unmatched resolution previously unattainable with gages using Magnetic Attraction

Faster Readings
readings are activated at a touch of a button and not at the turn of a wheel, readings literally take less than 2 seconds.

No Calibration Required
because the MikroTest(R) Digital utilizes the Magnetic Attraction principle with a permanent magnet, factory settings assure accurate repeatable readings

---


Start Your

Free


Subscription to


Industry Market Trends

.