Digital DC/DC Converters feature 4:1 input range.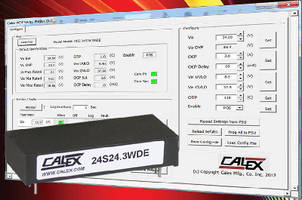 Digital DC/DC Converters feature 4:1 input range.
August 13, 2012 - Housed in encapsulated, 5-sided, 2.5 x 1.1 x 0.55 in. shielded enclosure, 75 Watt WDE Series features 9-36 and 18-75 Vdc input range and output voltages of 24, 28, and 48 Vdc. Units offer remote sense, trim, and analog On/Off. Available with RoHS or non-RoHS construction, converters provide 90% efficiency with 0.2% line and load regulation, 0.2% output voltage setpoint accuracy, and switching frequency of 275 kHz. Communication and control are achieved via PMBus serial interface.

Original Press release

Calex Mfg. Co., Inc.
2401 Stanwell Dr.
Concord, CA, 94520
USA



Wide Input 75 Watt Digital DC/DC Converter


Calex Mfg. Co., Inc. of Concord, California, announces the 75 Watt 1/8 Brick WDE Series. The WDE Series features an ultra wide 4:1 input range, 9-36 and 18-75VDC. With the initial release of the Series, the output voltages available are 24, 28 and 48VDC. The 3.3V to 15Vout models will be released later this year. All models are fully isolated input to output and housed in an encapsulated, five sided shielded enclosure. Case dimensions are 2.5" x 1.1" x 0.55"H.

The WDE Series offers remote sense, trim and analog ON/OFF. No minimum load is required. Efficiency is 90% typical. Line and load regulation is 0.2% typical.
Output voltage setpoint accuracy is 0.2%. Output noise is typically 1% of Vout. The switching frequency of the WDE Series is 275 kHz. All models are available with RoHS or non-RoHS construction.

In line with today's sophisticated power requirements, the WDE Series offers digital capability to allow the designer in optimize system performance, track and log converter performance and enhance overall system performance and functionality with digital power management capability. Communication and control of the WDE converter is achieved via a PMBus serial interface. The software, data sheet, user's guide and instructional video is available at www.calex.com/wde. Demo boards for each model are
available from Calex. The WDE digital features include a variety of functions which can be managed through a user friendly GUI interface including:

- Precision adjustable over-temperature protection

- Configurable input under and over voltage protection

- Configurable current-limit inception and shut-down delay

- Logging of historical fault events in non-volatile memory

- Precision (+/- 0.2%) ouptut voltage accuracy and trim

- Configurable output overvoltage protection

- Monitoring of Vin, Vout, Iin and temperature

- Digital dynamic adjustment of Vout

- Digital warning thesholds for faults, to avert shutdown

The WDE converter and demo board is available from stock to 8 weeks. All models are manufactured in the USA and backed by Calex's Five Year Warranty. Contact the factory for pricing.

For more information on the WDE Series, go to http://www.calex.com/wde or contact Calex at 800-542-3355/925-687-4411 (phone), 925-687-3333 (fax), sales@calex.com. Calex's corporate headquarters are located at 2401 Stanwell Drive, Concord, CA 94520 USA.

---


Start Your

Free


Subscription to


Industry Market Trends

.