Product News: Test & Measuring Instruments, Welding Equipment & Supplies, Sensors, Monitors & Transducers
Digital Analyzer measures and monitors oxygen during welding.
Press Release Summary: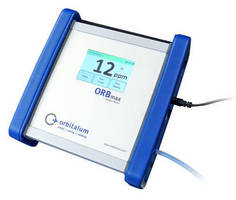 August 4, 2014 - To provide oxidation-free welds, ORBmax measures and monitors oxygen particle counts in PPM range for high-purity welding applications in semiconductor, pharmaceutical, and aerospace industries. This instrument, equipped with maintenance-free optical sensor, shows oxygen PPM level on digital display screen that changes from red to green to let user know predetermined intensities have been obtained. Also, alarm lets user know if PPM rises above preset level.
Original Press Release
Oxygen Analyzer ORBMax by Orbitalum
Press release date: August 1, 2014
The new ORBmax Oxygen Analyzer, manufactured by Orbitalum, is a digital tool that accurately measures and monitors oxygen particle counts.  It is an essential instrument for high purity welding applications in semiconductor, pharmaceutical and aerospace industries.  The ORBmax accurately measures PPM levels in oxygen to provide oxidation free welds, time and time again, equipped with a maintenance free optical sensor.

Its on demand operational feature shows a large digital display screen in oxygen PPM which changes from red to green to the let the user know when predetermined oxygen intensities have been obtained.  An alarm alerts the user if the PPM in the oxygen content rises above a predetermined preset level and an intentional delay mode prevents the welding program to begin until the preset oxygen level has been reached.  The ORBmax works cohesively with Orbimat orbital welding power supply units, Orbitalum 165 CA and Orbitalum 300 CA .

For more information, visit www.ehwachs.com/Industrial-Products/.

E.H. Wachs®
ITW Orbital Cutting & Welding
600 Knightsbridge Parkway
Lincolnshire, IL 60069 USA
+1.847.537.8800
www.ehwachs.com/Industrial-Products/.
info@ehwachs.com