Product News: Health, Medical and Dental Supplies & Equipment
Desktop 90 W Power Adapters are suited for medical equipment.
Press Release Summary: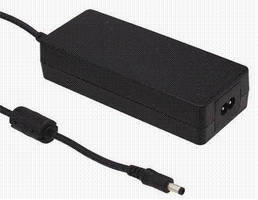 July 7, 2014 - Operating from full 80–264 Vac input, Mean Well GSM90B series offers 12, 15, 19, 24, and 48 V outputs; features cooling by free air convection; and operates from -30 to +60°C. Internationally certified products, with leakage current levels <100 µA, efficiency up to 91%, and no-load power consumption of <0.15 W, incorporate Active PFC function that allows power factor of >0.91. Also, design follows 2xMOPP (Means of Patient Protection). Power is supplied via 2-pole IEC320-C8 AC inlet.
Original Press Release
High Performance 90 W Medical Adapters are Ideal for Hospital, Mobile and In-Home Medical Equipment
Press release date: June 25, 2014
Aldermaston, UK – In response to the medical electrical device market's demand for highly reliable power supplies, Sunpower has released the Mean Well GSM90B series of high performance 90 W desktop type medical adapters. The entire Series has numerous international certifications that qualify it for the most demanding of applications, even those involving patient contact. With ultra-low leakage current levels under 100 µA, high efficiency of up to 91% and a low no load power consumption of below 0.15 W, the Series also achieves the high quality and high safety standards essential for medical power supplies. The built-in Active PFC function allows a power factor of better than 0.91.

Certification includes medical power supply regulation IEC60601 Third Edition, while the design follows 2xMOPP (Means of Patient Protection). The GSM90B Series also complies with the latest energy-saving regulations including ErP Directive Step 2 (Level V) issued by the European Union, the USA EISA 2007 (Energy Independence and Security Act of 2007) and others. Additionally, these efficiency levels allow cooling by free air convection. The operating temperature range is -30°C to +60°C. Power is supplied via a 2-pole IEC320-C8 AC inlet, and a locking DC plug is optionally available.

These medical products operate from a full 80 -264 VAC input range, and offer output voltages including 12 V, 15 V, 19 V, 24 V and 48 V to allow operation with many types of medical device. With no Frame Ground, they are Class ll units, fully enclosed within a UL 94V-0 flame retardant plastic case that also protects users from shock hazard. A LED indicator shows Power On status, and the GSM90B products have short circuit protection, overload protection, over voltage protection and over temperature protection. Safety in using the adaptors is comfortably assured by global safety certificates UL/CUL/TUV/CB/FCC/CE as well as household medical electrical device regulations EN60601-1-11 and ANSI/AAMI ES60601-1-11.

"These new GSM90B desktop medical adaptors are ideal for applications such as automated clinical chemistry analyzers, analysis facilities, portable medical devices, medical computer monitors, home healthcare devices, and in fact any medical equipment requiring low leakage current" commented Andy Wall, CEO of Sunpower Technology, "Additionally, they are the answer for electrical applications where low 'no load' power consumption is an essential requirement. Safety and suitability for these applications is assured by the level to which the range is certified, while its reliability is underwritten by its 100% full load burn-in test and our three-year warranty."

Visit the Sunpower UK website for more information:
GSM90B

About Sunpower
Sunpower Technology LLP is the UK arm of a Taiwanese manufacturer that additionally enjoys extremely strong bonds with other, highly skilled factories and engineers in Taiwan and China. The company delivers a wide range of standard, custom and bespoke power supplies to businesses and organisations across the UK.

Sunpower Technology LLP is also an Authorised Distributor for Mean Well Enterprises, providing customers with cost-effective and direct access to their dependable and high quality power supplies. These products are complemented by Sunpower's unsurpassed level of service, support and product knowledge.

Sunpower Technology LLP's overall range of industrial and commercial power products include DIN rail power supplies, led drivers, industrial power supplies, industrial battery chargers, marine power supplies, ac adapters and plugtops, and sine wave inverters. They are used in rugged, data storage, medical grade, laboratory, EPOS and many other applications. Sunpower's engineers are highly experienced in producing custom design power supplies and their value added service is focused on giving customers 'ready to go' products that resolve all their power supply needs.

Sunpower Technology LLP Ltd's Quality Management System is BS-EN-ISO 9001:2008 certified; its factories are also approved to both ISO-9001 and ISO-14001. The company has been ISO certified since August 1997.

Sales and Technical contact:
Andy Wall
Sunpower Technology LLP
Orion House
Calleva Business Park
Aldermaston
Berkshire RG7 8SN
Tel:         +44(0)845 533 0438
Email:    enquiries@sunpower-uk.com
URLs:     www.sunpower-uk.com
www.meanwelldirect.co.uk

PR Contact:
Nigel Charig
Charig Associates Ltd,
24 Honister Gardens
Stanmore,
Middlesex HA7 2EH
Tel:        +44 (0)208 933 0917
Email:   info@charig-associates.co.uk
URL:       www.charig-associates.co.uk