Dental Milling Software suits Datron and DDL systems.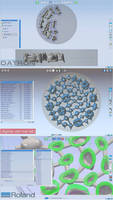 Dental Milling Software suits Datron and DDL systems.
March 4, 2013 - Respectively offered for production of dental restorations on Datron D5 and Digital Dental Lab desktop machining systems, DentMILL for Datron and DentMILL for DDL facilitate dental machining by ensuring user is only presented with machine kinematics, fixtures, and material discs that are relevant and available. Machining efficiency is promoted via included machine-specific templates for automated generation of 3- and 5-axis toolpaths. Management system tracks every stage of process.

Original Press release

Delcam Plc
Small Heath Business Park
Birmingham Hampshir, , B10 0HJ
United Kingdom



Delcam to Launch Dedicated Dental Milling Software for Datron and DDL at IDS


At the IDS exhibition to be held in Cologne, Germany, from 12th to 16th March, Delcam will launch dedicated versions of its DentMILL dental milling software tailored specifically for the production of dental restorations on the Datron D5 and Digital Dental Lab desktop machining systems.  Delcam is currently in discussion with other dental equipment manufacturers to extend further its range of machine-specific software.

"DentMILL for Datron" and "DentMILL for DDL" follow the pattern established by the "DentMILL for Roland" milling software introduced by Delcam last November.  These OEM versions of DentMILL make dental machining easier than ever by ensuring that the user is only presented with the machine kinematics, fixtures and material discs which are relevant and available.  To ensure optimum machining efficiency, they include machine-specific templates for the automated generation of three-axis and five-axis toolpaths for the particular piece of equipment.

The new releases expand further Delcam's comprehensive range of software for the dental industry.  Delcam is the only company able to offer a complete, open implantology solution, from accurately capturing the implant position and orientation, through to the high-precision, multi-axis milling of customised abutments, implant bridges and dental bars, with a management system to track every stage of the process.

All three of the machine-specific milling systems are based on Delcam's PowerMILL CAM system for high-speed and five-axis machining, whose rapidly growing global sales have helped to make the company the world's leading specialist supplier of CAM software and services for the last twelve years.  They have all been developed by Delcam's in-house development team, which is by far the largest in the CAM industry.

Like Delcam's generic DentMILL software, all of the dedicated programs benefit from the many proven strengths of PowerMILL.  These include a range of advanced strategies that offer smoother machining to give the best possible surface finish, plus flexible five-axis techniques that can produce even the most complex restorations quickly and accurately.  In addition, background-processing capabilities mean that toolpath calculations can be started on the first items added to the block, while the remaining restorations are still being positioned.  The technology also allows work to be undertaken simultaneously on a number of projects.  Both capabilities can reduce the overall calculation times significantly for a series of restorations.

The new releases also include all the major developments in the new DentMILL 2013 release.  These include a completely redesigned interface, with a reduced number of toolbars to allow the maximum screen space for toolpath generation and simulation together with bolder and clearer icons.  The new streamlined appearance has been developed in association with dental laboratories and milling centres to ensure that technicians with limited experience of computer-aided machining will find the technology easy to learn and to use.

The efficiency of material use is optimised with automatic nesting tools to position the various restorations within the block.  In addition, the ability to apply part-to-part pinning allows restorations to be nested more closely together.   As well as being positioned in the most efficient 2D arrangement, the restorations are oriented in the optimum 3D alignment so that the most cost-effective thickness of material block can be used.

Each of the programs incorporates a materials stock-management system that allows the user only to select sizes of material block that are currently in stock.  The program then selects the fixture appropriate for that block and the machine from the library supplied with the software, and applies automatically the shrinkage allowance and milling templates for the material.

Partly-used blocks can be added back into the stock-management system so that any remaining material can be used on future projects.

Like DentMILL, the dedicated systems can accept data from all the main dental CAD systems.  However, if required, they can each be supplied with Delcam's DentCAD design software as part of a complete dental CADCAM system.

Close integration is also possible between all the DentMILL variants and Delcam's OrderManager workflow management software so that the management system can be updated automatically with manufacturing data as it is generated.  This high level of integration makes it easy to track both the progress of individual orders and the centre's total order status.  In addition, OrderManager generates business reports automatically for production managers, admin staff and owners allowing them to measure their productivity and, ultimately, their profitablity.

For further information on Delcam's CADCAM software for the dental industry, please contact:-
Peter Dickin, Marketing Manager
Direct phone: 44 (0)121 683 1081  e-mail: marketing@delcam.com

Delcam plc
Small Heath Business Park,
Birmingham, B10 0HJ, UK
www.delcam.com

---


Start Your

Free


Subscription to


Industry Market Trends

.