Delta Sigma ADC offers automatic signal calibration.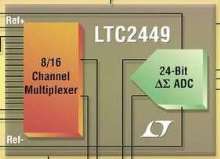 Delta Sigma ADC offers automatic signal calibration.
May 14, 2004 - Housed in 38-pin QFN package, LTC2449 automatically calibrates and removes offsets and drifts from external analog signal chain up to sensor output. Built with multiplexer architecture, 8 kHz, 16-Channel delta-sigma analog-to-digital converter (ADC) employs No Latency Delta Sigma(TM) architecture, along with 4 kHz conversion rate, that allows all 16-channels to be scanned in 4 msec. Features include programmable filter, internal oscillator, and 5 V supply operation.

(Archive News Story - Products mentioned in this Archive News Story may or may not be available from the manufacturer.)
Original Press release

Linear Technology Corp.
1630 McCarthy Blvd.
Milpitas, CA, 95035
USA



16-Channel, 24-Bit Delta Sigma ADC Offers Automatic Signal Chain Calibration


MILPITAS, CA - May 11, 2004 - Linear Technology Corporation introduces the LTC2449, an 8kHz, 16-Channel delta-sigma ADC provides high resolution systems designers with a dramatic improvement in accuracy, precision and drift. The LTC2449 reduces the cost and increases the performance of precision designs by automatically calibrating and removing offsets and drifts from the entire external analog signal chain. The LTC2449's new multiplexer architecture allows external signal chain components to be included within the calibration loop of the ADC. The converter continuously measures and automatically eliminates all offset and drift errors of external amplifiers, filters and other signal conditioning circuits right up to the sensor output. This results in a completely calibrated system, which yields outstanding precision without the need for expensive precision components or complex system hardware and calibration routines.

The LTC2449's flexible input multiplexer allows any combination of 16 single-ended or 8 differential inputs to be accurately digitized. The fast 4kHz conversion rate combined with the patented No Latency Delta Sigma(TM) architecture allows all 16-channels to be scanned in 4msec, avoiding digital filter settling problems inherent in other delta sigma converters.

The LTC2449's programmable filter enables designers to tailor twenty different speed/resolution combinations to individual channels. For low frequency sensors such as RTDs, thermocouples, and strain gauges, the ADC provides 200nV noise, 500,000 counts on a ±50mV sensor output (or 25 million counts on a full scale input) and simultaneous 50Hz and 60Hz line frequency noise rejection. For high-speed sampling, the ADC provides over 17 effective bits at 8kHz output rates.

For reduced channel count applications, the pin-compatible LTC2445 offers 4 differential or 8 single-ended inputs. For applications not requiring the signal chain calibration features, the pin-compatible LTC2444/LTC2448 are available.

The LTC2444/LTC2445/LTC2448/LTC2449 are offered in a 38-pin QFN package, screened for industrial and commercial temperature ranges.

Pricing starts at $6.45 each for the LTC2444, $6.45 each for the LTC2445, $7.15 each for the LTC2448 and $7.15 each for the LTC2449 each in 1,000-piece quantities.

Summary of Features: LTC2444/LTC2445/LTC2448/LTC2449

LTC2445/LTC2449 - 4-Channel/8-Channel 24-Bit Delta Sigma ADCs with Automatic Signal Chain Calibration

LTC2444/LTC2448 - 4-Channel/8-Channel 24-Bit Delta Sigma ADCs

6.9Hz Output Rate, 200nVRMS Noise, Simultaneous 50/60Hz Rejection

2uVRMS Noise at 1.76kHz Output Rate

Up to 8kHz Output Rate

5ppm INL, No Missing Codes

1ppm Offset

Transparent Auto Calibration on Input Chain Components

Differential Input

Differential Reference

Single Cycle Settling - Eliminates Digital Filter Setting Woes

Internal Oscillator - No External Components Required

Autosleep Enables 20uA Operation at 6.9Hz

Single 5V Supply Operation

Tiny 38-Pin QFN Package

Company Background
Linear Technology Corporation was founded in 1981 as a manufacturer of high performance linear integrated circuits. Linear Technology products include operational, instrumentation and audio amplifiers; voltage regulators,power management devices, DC-DC converters and voltage references; comparators; monolithic filters; communications interface circuits; one-chip data acquisition sub-systems; pulse-width modulators and sample-and-hold devices; and high frequencydevices. Applications for Linear Technology's high performance circuits include wireless and broadband telecommunications infrastructure, cellular telephones, networking products and satellite systems, notebook and desk top computers, computer peripherals, video/multimedia, industrial and medical instrumentation, automotive electronics, factory automation, process control, military and space systems, and high-end consumer products including digital cameras, MP3 players and other electronic products.

Note: LT, AND LTC are registered trademarks of Linear Technology Corp.

---


Start Your

Free


Subscription to


Industry Market Trends

.