Product News: Test & Measuring Instruments
Dataloggers offer Ver 3.9 update for Windows 8 and 8.1.
Press Release Summary: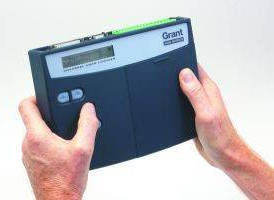 June 13, 2014 - Squirrel SQ2010/SQ2020/SQ2040 support SquirrelView v3.9 (updated for Windows 8.0 and 8.1) and v5.1a firmware upgrade. Used as portable, stand-alone instruments or PC-linked DAQ systems in industrial and scientific research and QA applications, Squirrel 2020 series comprises universal dataloggers with handheld form factor. Features include twin processors, multiple 24-bit ADCs, up to 16 universal channels, choice of communications methods, and 4 alarm/relay outputs.
Original Press Release
Grant Releases SquirrelView Ver 3.9 Update for Windows 8 and 8.1
Press release date: June 12, 2014
For SQ2010, SQ2020 and SQ2040 Squirrel Data Loggers

CHESTERLAND OH—Grant Instruments has released the new SquirrelView V3.9 and V5.1a firmware upgrade for the SQ2010, SQ2020 and SQ2040 Squirrel Data Loggers. SQ v 3.9 is updated for Windows 8.0 and 8.1. If your SQ20xx data logger is running a firmware version of V4.2 or older, you will need to update it to the latest version. CAS DataLoggers is the North American master distributor for Grant data loggers--download the new update from our Grant Downloads page at http://www.dataloggerinc.com/downloads/grant.php.

The Squirrel 2020 series are high-performance universal data loggers packed with powerful features to provide the flexibility to handle a wide range of applications. Hand-held and lightweight, Squirrel 2020 models are easy, fast and convenient to use, either as portable stand-alone loggers or as PC-linked data acquisition systems in industrial and scientific research and quality assurance applications.

Twin processors, multiple 24-bit analog-to-digital converters, up to 16 universal channels and a choice of communications methods ensure that the Squirrel 2020 series provides state-of-the-art data logging. 4 alarm/relay outputs immediately notify users when any monitored value suddenly goes out of specification. A high-speed model and a WiFi wireless logger version are also available for more demanding applications and remote projects.

The Squirrel's universal analog inputs enable connection to a wide variety of sensors including thermistors, thermocouples (types B, C, D), RTDs, voltage/current, resistance, and digital inputs. These dataloggers also include a fully-configurable large graphical LCD display for user-friendly navigation and operation, all fully configurable via the integrated 4-button keypad.

Users can choose to configure Squirrel data loggers either through the built-in interface or via PC. The loggers also offer USB and RS232 connectivity, and onboard RS232 communications features can be connected to a PSTN or GSM modem. SQ2020 data loggers can store up to 14 million points of internal data storage and utilize a removable MMC/SD card. The datalogger can be powered from its internal cells or by an external power supply connection.

The FREE SquirrelView setup and download PC software is similar to spreadsheets allowing users to quickly configure the Squirrel, download all its data and directly export the data to a PC application such as Microsoft Excel™. The optional SquirrelView Plus software offers users advanced features such as graphical data analysis and improved reporting options.

Grant has a collection of videos up on their Squirrel Resources page at http://www.grantinstruments.com/support/downloads/?id=3060. These tutorials demonstrate how to connect sensors, setup and reprogram Squirrel data loggers.

For more information on our portable Squirrel series dataloggers, other Grant products which measure additional values, or to find the ideal solution for your application-specific needs, contact a CAS Data Logger Applications Specialist at (800) 956-4437 or visit the website at www.DataLoggerInc.com.

Contact Information:
CAS DataLoggers, Inc.
12628 Chillicothe Road Chesterland, Ohio 44026
(440) 729-2570
(800) 956-4437
sales@dataloggerinc.com
www.dataloggerinc.com