Data Transmitters operate in hostile environments.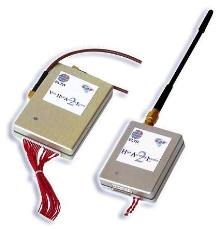 Data Transmitters operate in hostile environments.
July 7, 2005 - Argos High Accuracy Locator, Model HAL-2 pinpoints to accuracy of 1,000–1,300 ft, while Very High Accuracy Locator Model VHAL-2 is fitted with integrated GPS device for pinpointing to within a few feet. Products are virtually compatible and can be integrated into any data collecting system. They can pinpoint any mobile device fitted with transmitter, including devices at sea, on the ground, or in the air.

(Archive News Story - Products mentioned in this Archive News Story may or may not be available from the manufacturer.)
Original Press release

ELTA
14 place Marcel Dassault, BP 48
Blagnac Cedex, , 31702
France


The French Company Elta Presents The Latest Generation Of Argos Data Transmitters: The Hal-2 And Vhal-2
With more than 11,000 active platforms throughout the whole world, Argos has become the system of reference when it comes to observing and monitoring the environment on a worldwide scale. Specializing in the manufacturing of products dedicated to this system for 30 years, the French company Elta is presenting its latest line of Argos data transmitters: the HAL -2 and the VHAL -2. Extremely reliable, these new high-performance products have been designed to operate in the most hostile environments.

The new generation Argos HAL-2 (for High Accuracy Locator) transmitter has an excellent and reliable frequency stability making it possible to pinpoint to an accuracy of 1,000 to 1,300 feet. The VHAL-2 (for Very High Accuracy Locator) transmitter is fitted with an integrated GPS device. It enables even more accurate pinpointing to within a few feet, while at the same time retaining the same general features and overall performances as the HAL-2.

Owing to their very low electric power consumption (less than 50µA), an elaborate miniaturization and their sturdiness, this new line can be adapted to all environmental applications, even the most demanding and most critical.

As a former Argos data collecting platform (DCP) manufacturer, Elta took into consideration all the requirements of DCP integrators and users as early as the design phase of its new transmitters. These products are virtually compatible and can be integrated into any data collecting system: data collecting platform (meteorological, hydrological, seismological, volcano monitoring), collecting or transmission system, mobile device tracking solution, etc.

The Argos system is a worldwide system used for locating and collecting data by satellite. It is related to the satellite positioning systems such as the GPS. The main difference comes from the fact that the position of the mobile devices (Argos beacons) is known to the system (data processing centers) and not to the mobile devices themselves, as is the case with the GPS. This system is dedicated to environmental applications.

Argos is able to pinpoint with an accuracy of less than 1,000 feet any mobile device (at sea (including meteorological buoys, animals, fishing boats, containers, etc); on the ground (containers, trucks, trains, people, etc.); or in the air (balloons, stratospheric probes, animals, etc.) fitted with an Argos transmitter. It also enables data transmitted by sensors connected to the transmitter (temperature of a container, impact, vibration, humidity, toxic fumes, explosions, leaks, rainfall measurements, wind speed) to be retrieved.

Elta is seeking commercial partners to distribute its Argos transmitters internationally, in particular distributors whose customers are integrators or solutions-providers for mobile device tracking, monitoring of the environment, industrial risk management and/or data collection in hostile environments.

About ELTA:

Located in Blagnac, near Toulouse (France), Elta has since 1975 been developing, marketing and maintaining operational electronic equipment systems for severe environments. Building its whole reputation around high-level safety equipment, Elta has been able to win a place as a leader in world markets. The aeronautics and space markets represent 50% of the sales figures, the other 50% coming from the defense, rail transport and energy markets.

Elta is a subsidiary of Technicatome, a business unit of the Areva group, holding 66% of the capital and of the German group OHB Technology holding 34%.

For further information, please contact:

ELTA

Ms. SĂ©verine Bernard

Marketing Department

14 place Marcel Dassault, BP 48

31702 Blagnac Cedex – France

Tel: +33 (0)5 34 36 10 00

Fax: +33 (0)5 34 36 10 01

E-mail: commercial@elta.fr

Web Site: www.elta.fr
---


Start Your

Free


Subscription to


Industry Market Trends

.