Product News: Test & Measuring Instruments
Data Logger accepts up to 5 sensors.
Press Release Summary: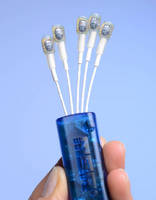 February 13, 2013 - Featuring modular design, Model MSR145 is capable of recording temperature, humidity, pressure, light, and position/acceleration simultaneously. To measure pressure of fluids such as water or oil, logger can be equipped with external pressure sensor for absolute measuring range of 0–3,000 bar or 0–30 bar. In addition, logger can be equipped with external connector for 1 or 4 thermal elements and measurement range of -250 to 1,200°C. Measuring and storage rate ranges from 1/s up to every 12 hr.
Original Press Release
MSR145 Data Logger: Greater Sensor Selection, More Combination Options
Press release date: February 6, 2013
Seuzach, –  Five in one go: The new possibility of selecting up to five sensors of the same measurand affords the user a multitude of new areas of application for the MSR145 mini data logger. Developed by the Swiss technology company MSR Electronics GmbH, the MSR145 can furthermore be equipped with fluid pressure sensors for the first time and temperature measurements are now possible for an extended measuring range from -250°C to 1200 °C.

Four years ago the developers of MSR Electronics GmbH presented the World's first miniature MSR145 quality data logger. The key features of the universal logger were and still are its small housing, exceptionally large memory and high modularity. This product, which is now sold in more than 30 countries, was continuously refined and is available today in almost countless combinations for the most diverse documentation and monitoring tasks.

New: several sensors of the same measurand
You can now select whether you wish to equip the MSR145 data logger with more than one sensor of the same measurand. Optionally, you can now connect up to 5 temperature, humidity or pressure sensors to the MSR145, or you can combine various sensors with one another. In addition to temperature, humidity or pressure you can – depending on the number of channels you have already assigned – further select an acceleration sensor or you can decide on 2 or 4 additional analogue inputs.

New: MSR145 with fluid pressure sensor
In order to measure the pressure of fluids such as water or oil, the MSR145 mini data logger can now be equipped with an external pressure sensor for an absolute measuring range of either 0...3000mbar or 0...30bar. Whether forward or return flow measurements for checking and setting in heating systems or for specific applications in industry and research - the new fluid pressure sensor extends the application possibilities of MSR145 significantly.

New: extended temperature range
Now you can use the MSR145 data logger for applications in the minus range up to -250°C, for example for monitoring refrigerated transport. To this end the MSR145 can be equipped with an external connector for either 1 or 4 thermal elements (Type K) and a measurement range of -250°C to 1200°C. Measuring & storage rate 1/s up to every 12 hours.

CONCLUSION: Currently there are no other comparable dataloggers on the market capable of recording as many measurement parameters (temperature, humidity, pressure, light and position/acceleration simultaneously) from within such a small case and which allows such meaningful long-term measurements to be carried out as can the MSR145 data loggers.

Technical specifications and international distributors: www.msr.ch

About MSR Electronics GmbH
MSR Electronics GmbH, based in Seuzach, Switzerland, was established in 2006 following a management buyout of prospective concepts ag (Zurich, Switzerland). MSR Electronics GmbH took over and broadened all activities of the MSR department (MSR = Modular Signal Recorder) including development, production and marketing, together with sales and support for the MSR products.

The firm's core competencies lie in the development and sale of standard and application-specific dataloggers for a broad range of uses. MSR Electronics' customers include well known firms such as Alstom, BMW, Carl Zeiss, Decathlon, EMPA, Fein, Festo, Novartis, Oerlikon Balzers, Osram, Robert Bosch, Rega (the Swiss air rescue service), Siemens, W.L. Gore & Associates and many more.

Please contact us should you require further information.

MSR Electronics GmbH
Wendelin Egli, Managing Director
Mettlenstrasse 6
CH-8472 Seuzach, Switzerland
Tel. +41 52 316 25 55
Fax +41 52 316 35 21
w.egli@msr.ch
www.msr.ch