Product News: Test & Measuring Instruments, Computer Hardware & Peripherals, Communication Systems & Equipment, Optics & Photonics
Data Converters drive 100G, 300G, and 400G active optics.
Press Release Summary: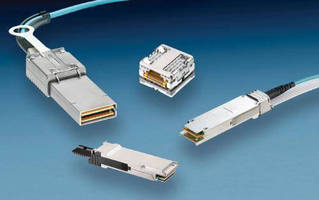 February 28, 2014 - Using 25G VCSEL and PIN devices, TIA amplifier, and driver IC, Coolbit optical engines convert data from electrical signals to optical signals and drive technology behind TE 100G, 300G, and 400G active optics. Platform engines help communication systems conserve power, and QSFP28 modules perform at <1.5 W per transceiver. Optical engines enhance performance while satisfying high density and high bandwidth requirements.
Original Press Release
TE Connectivity Unveils New Active Optics Platform Technology to Drive 100G, 300G and 400G
Press release date: February 20, 2014
Coolbit Optical Engine Increases Speed of Data Transmission and Lowers Power Consumption

HARRISBURG, Pa. -- After two years of incubation and development, TE Connectivity (TE), a world leader in connectivity, today unveiled the company's latest advancement in fiber optics -- Coolbit optical engines. This platform engine, which converts data from electrical signals to optical signals, will be the driving technology behind TE's soon-to-be-released 100G, 300G and 400G active optics. The new platform engine will add to TE's extensive fiber connectivity for central office, data center, enterprise and undersea applications and allow the company to offer stronger solutions for the core network.

"TE is a technology engineering company that operates with the agility of a start-up. Creating 100G to 400G high-speed active optics will enable the industry to create breakthrough platforms and products," said Philip Gilchrist, chief technology officer and vice president of TE Data Communications. "TE makes the hard stuff first. Our long trusted legacy in connectivity, coupled with a dedication to developing the next impossible technology, we've driven active optics to new levels of performance in terms of higher speeds at incredibly lower power consumption. We can't wait to see what radical new products our partners will create with our Coolbit engine-based products."

In 2014, TE will bring to market four active optics products that include Coolbit optical engine platform:

--  100G QSFP28 active optical cables (AOCs)
--  100G QSFP28 transceivers
--  300G Mid board optical modules
--  400G CDFP AOCs

As data center energy consumption concerns rise, along with the need for more data, cooling at the component level will continue to increase in importance. TE's latest 25G active optics will help to achieve this.

Boasting extremely low power consumption, with QSFP28 modules performing at less than 1.5 Watts per transceiver, this new line of 25G active optics is poised to help communication systems achieve up to 60 percent more power savings than existing solutions. At the component level alone, this low power consumption can translate into significant system savings. Additionally, for every watt of power saved at this level, equipment operators realize additional infrastructure OPEX savings.

Preliminary TE tests reveal mid board optics at 5 Watts per port and the CDFP active optical cable assembly (AOC) at 6 Watts per port. The CDFP AOC is part of the MSA that is currently underway. The MSA provisions 8 Watts per port -- TE's CDFP AOC yields 25% power savings over this specification. Coolbit optical engines are the enablers of this performance, satisfying both high density and high bandwidth requirements.

Each Coolbit optical engine, developed in TE's fabrication facility in Jarfalla, Sweden, uses 25G VCSEL and PIN devices, a TIA amplifier and a driver IC. From research to distribution, TE controls the entire manufacturing process of the Coolbit optical engines and active optic end products. This integrated approach allows TE to transfer cost savings to the customer, while helping to ensure the quality and reliability of its products.

TE's 25G active optics featuring Coolbit optical engines will be featured in live demonstrations at OFC, March 11-13, 2014, in booth 1521. For more information, visit http://www.te.com/coolbitgo

ABOUT TE CONNECTIVITY
TE Connectivity (NYSE: TEL) is a $13 billion world leader in connectivity. The company designs and manufactures products at the heart of electronic connections for the world's leading industries including automotive, energy and industrial, broadband communications, consumer devices, healthcare, and aerospace and defense. TE Connectivity's long-standing commitment to innovation and engineering excellence helps its customers solve the need for more energy efficiency, always-on communications and ever-increasing productivity. With nearly 90,000 employees in over 50 countries, TE Connectivity makes connections the world relies on to work flawlessly every day. To connect with the company, visit: www.TE.com.

CONTACT:
Media Relations:
Rachel Benson
(717) 986-7761
rachel.benson@te.com