DIN Rail Mount, 3-Phase Power Supply delivers up to 960 W.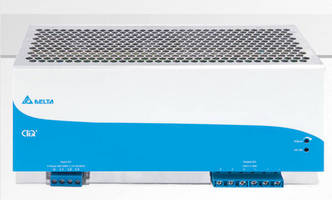 DIN Rail Mount, 3-Phase Power Supply delivers up to 960 W.
October 22, 2013 - Supplied in corrosion-resistant, aluminum body, CLI II model DRIP operates from -25 to +65°C, provides 24 V output, and withstands up to 30 G shock according to EC 60068-2-27. Unit provides operation without power de-rating over input range of 320–600 HVAC for 3-phase or 380–600 HVAC for 2-phase. Other features include 150% Power Boost (5 sec), efficiency of >92%, and 0.95 power factor. Applied on PCBs, conformal coating protects against dust and chemical pollutants.

Original Press Release

Delta Electronics (Thailand) PCL.
909 Soi 9, Bangpoo Industrial Estate
Samutprakarn , , 10280
Thailand



Delta Electronics Introduces 3-Phase 960W CliQ II DIN Rail Power Supply


Taoyuan Country, Taiwan - Delta Electronics has introduced a new 3-Phase 960W power supply to its popular CliQ II DIN Rail Power Supply series. The model is DRP024V960W3BX and will provide 24V output with a full corrosion resistant aluminium body that can withstand up to 30G Shock test according to IEC 60068-2-27 and operates over a wide temperature range from -25°C to +65°C.

The robust product provides operation over a wide input range for 3-Phase at 320Vac to 600Vac or for 2-Phase at 380Vac to 600Vac. There will be no power de-rating throughout the entire input range. This means that users can expect reliable power even at very low AC input voltage.

Other excellent specs in the product include 150% Power Boost lasting for 5 seconds, high efficiency of >92% and 0.95 high power factor. Like the rest of the models in the CliQ series, conformal coating is applied on the PCBAs to protect against dust and chemical pollutants. Hazardous Locations approval for ATEX and Class I, Div 2 are available as optional.

Highlights & Features

- Input voltage range without power de-rating 3 x 320Vac-600Vac (3-Phase) or 2 x 380Vac-600Vac (2-Phase)
- Power Boost of 150% for 5 seconds
- Certified for DC input at 450Vdc to 800Vdc according to ITE standard
- Full corrosion resistant Aluminum chassis
- Conformal coating on PCBA to protect against chemical and dust pollutants

AVAILABLE FOR SHIPMENT FROM NOVEMBER 2013 ONWARDS.

New solutions are introduced on a regular basis. For more information or enquiries, please do not hesitate to contact your local Delta Electronics distributor or visit www.DeltaPSU.com.

---